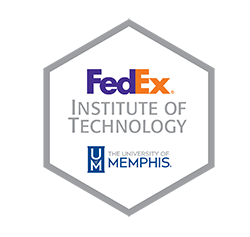 Training at FedEx Institute
Whether developing corporate training, providing technology workforce development, or bringing emerging technology experiences to new audiences, the FedEx Institute of Technology is committed to leading nationally in cutting edge training.
In 2017 the FedEx Institute announced it's new agenda - "Welcome to the SMART Future". The Institute is pushing the SMART future forward by creating opportunities to investigate the next stage of technologies. Led by our research initiatives, the Institute is developing workforce development opportunities in emerging topics including:
Blockchain
Artificial Intelligence
Quantum Computing
Cybersecurity Testing
Biologistics and smart biomaterials
Autonomous Vehicle Integration
Unmanned Aerial Systems
Multifactor Environmental Authentication
Preventative Healthcare Leveraging Mobile Sensors
Scaled Agile Integration and Design Thinking
Robotics and Machine Learning
SMART Cities and IoT
Meeting The Need
The FedEx Institute of Technology is a leader in solving training challenges in emerging technologies and business practices. If you have a technology you want to explore or need to get your team up to speed in the latest best practices, reach out to us. We create bespoke training that meets the unique requirements of corporations while respecting your unique organizational culture.