MemphisEATS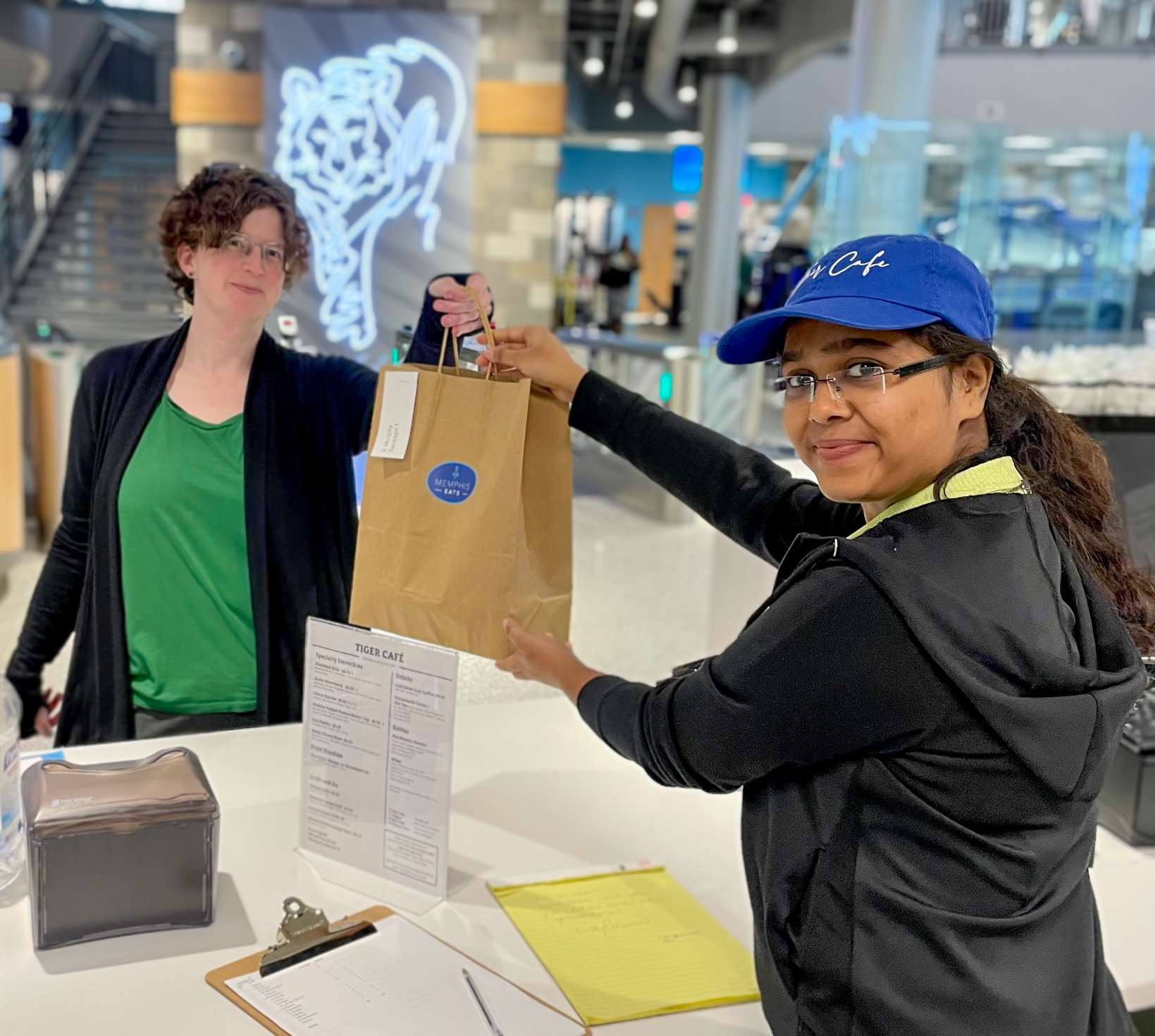 The MemphisEATS pilot project produces healthy, plant-forward meals for students, faculty, staff and community to pre-order and purchase. College of Health Sciences students develop recipes, calculate nutrition information and assist with production to augment their education with a full-circle and robust food experience.
Two menu items are offered each week throughout the eight-week pilot. With a high focus on flavor and biodiversity, the meals are a cost-effective way for you to try vegetables at the center of the plate.
Meals feature five or more vegetables or fruits, lean proteins, healthy fats and whole grains. Each week features a vegetarian and meat option. Meals are one serving per container, fully cooked, perfectly portioned, ready to heat and eat!
Subscribe to our newsletter for weekly menu releases and more.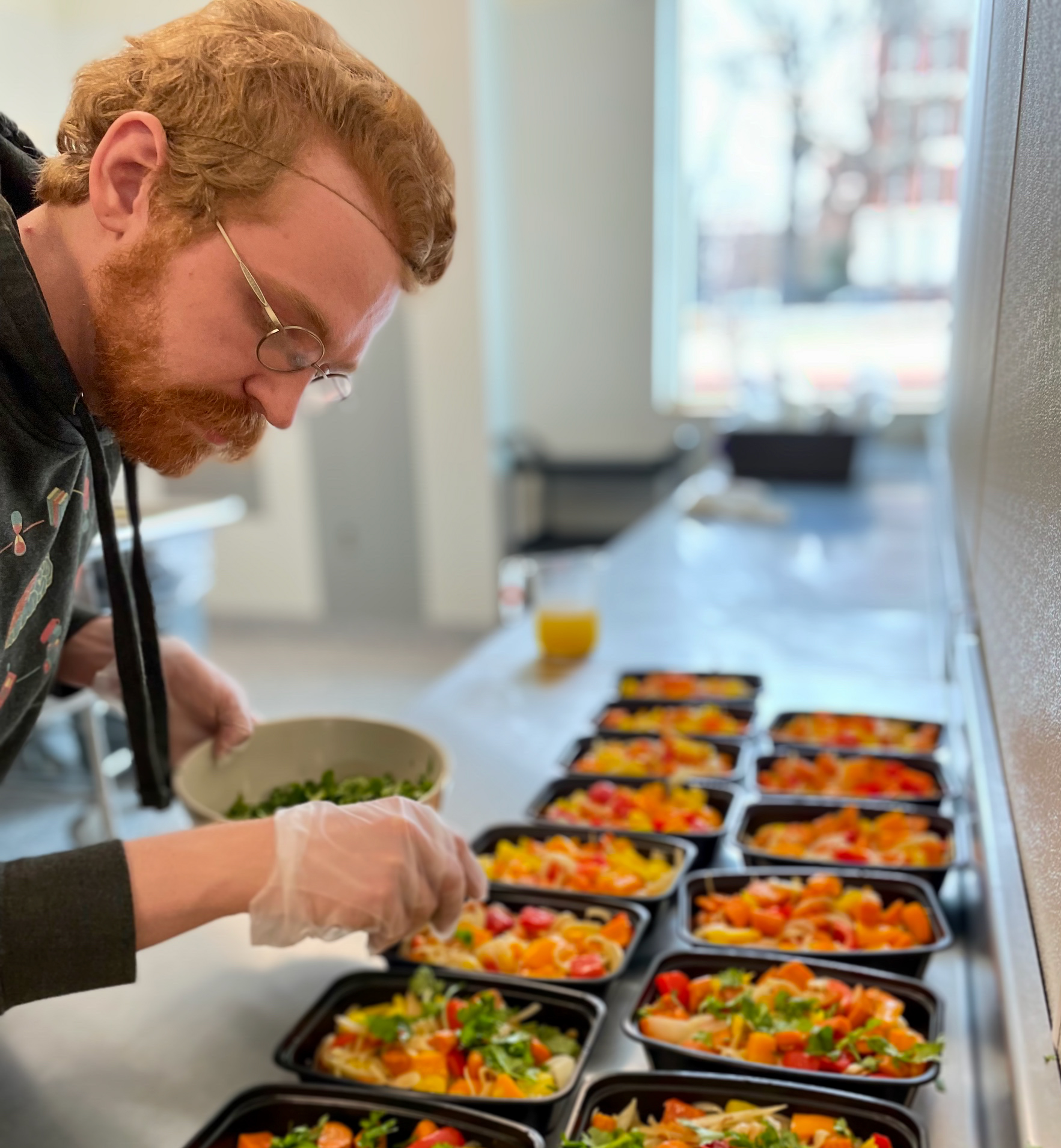 Contact us:
memphiseats@memphis.edu

---
Spring 2023 Menu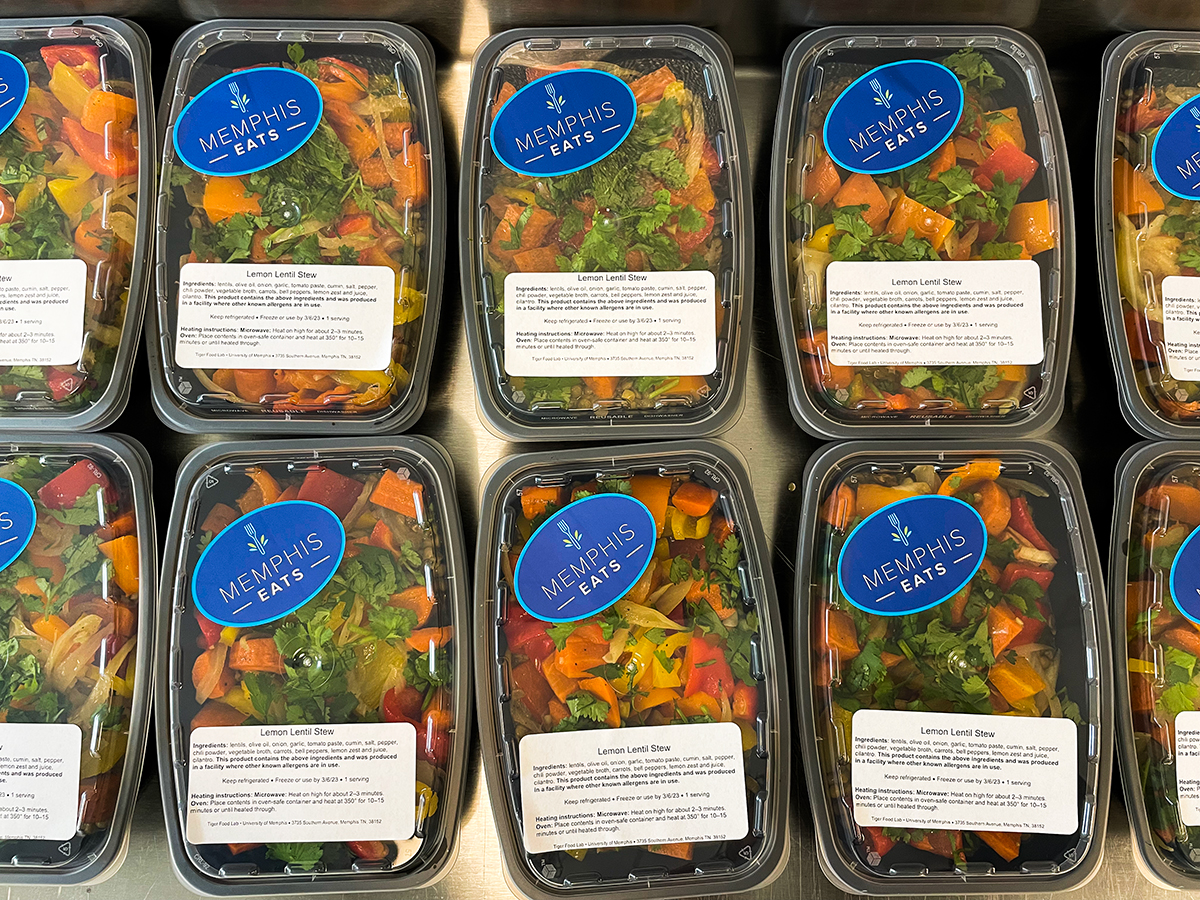 Meals cost $10 per serving.
Order online each week beginning at midnight on Monday through Friday at 11:59 p.m.
Pickup is the following Wednesday or Thursday between 3-5 p.m. at the R. Brad Martin Student Wellness Center Tiger Café.
No refunds. Unclaimed orders will be donated to the UofM Tiger Pantry.
Enjoyed your meal and want to recreate it at home? Recipes for the offerings will be posted after each week.
*There are a limited number of meals available each week. Supply chain issues may cause last-minute substitutions for ingredients.
Week 6
Order April 3-7; Pickup April 12 & 13
Shepherd's Pie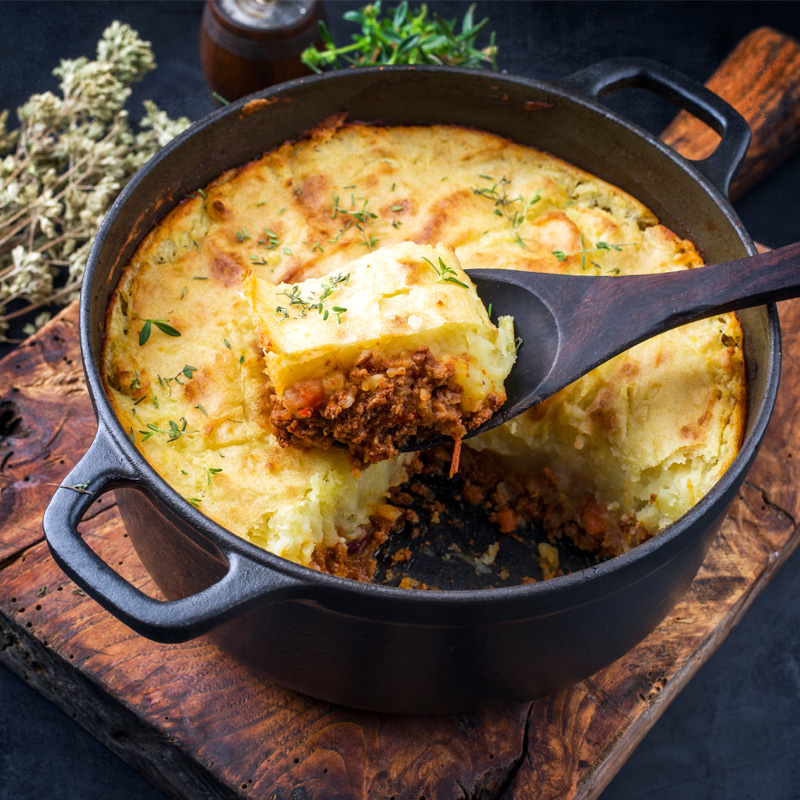 We've lightened up a comfort classic. Ground turkey and tender vegetables with a rich sauce, topped with creamy mashed potatoes.
Ingredients: potatoes, herbs, tomato, cheese, onion, ground turkey, celery, dairy, flour (wheat), carrots, mushrooms, garlic
Stuffed Peppers
(Vegetarian)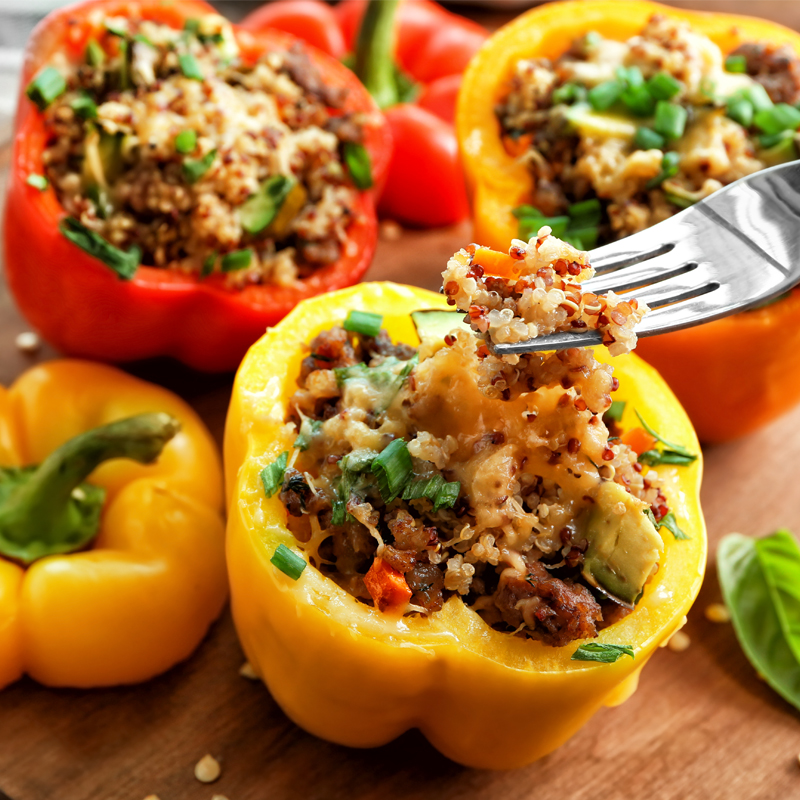 Tender peppers stuffed with quinoa and veggies, topped with a little cheese and a fresh tomato sauce.
Ingredients: quinoa, onion, tomato, garlic, mushrooms, spices, bell peppers, cheese, spinach, chickpeas
---
Week 7
Order April 10-14; Pickup April 19 & 20
Honey Miso Salmon with Grain Salad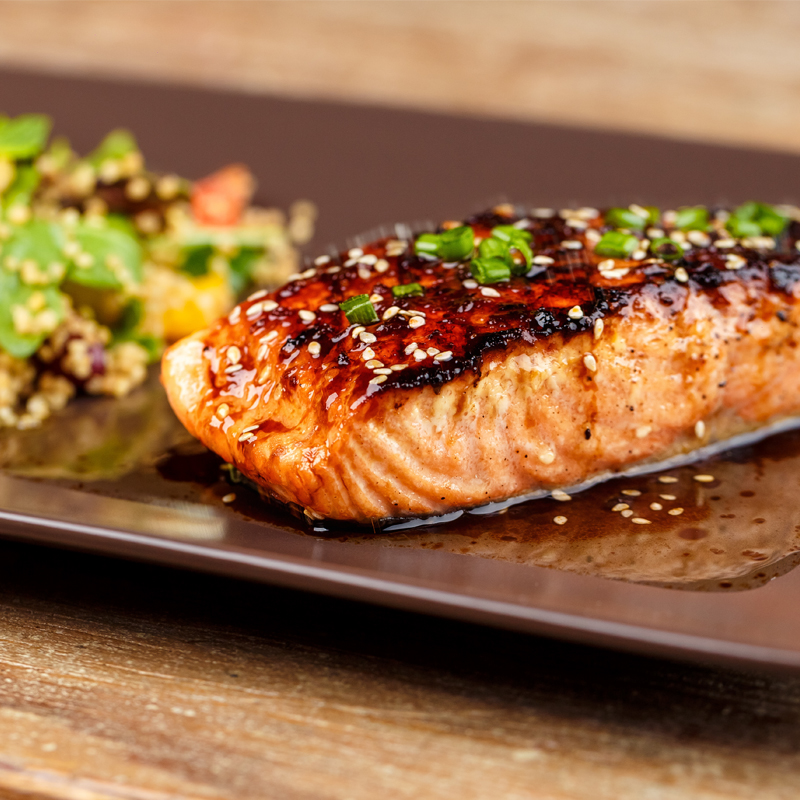 Sweetly seared and glazed salmon is served with a grain (farro) salad that holds zing — artichoke, caper, lemon, dijon — in every bite.
Ingredients: salmon, honey, miso, farro, spinach, bell pepper, onion, artichokes, capers, lemon, Dijon mustard, herbs
Spiced Chickpea Bowls (Vegetarian)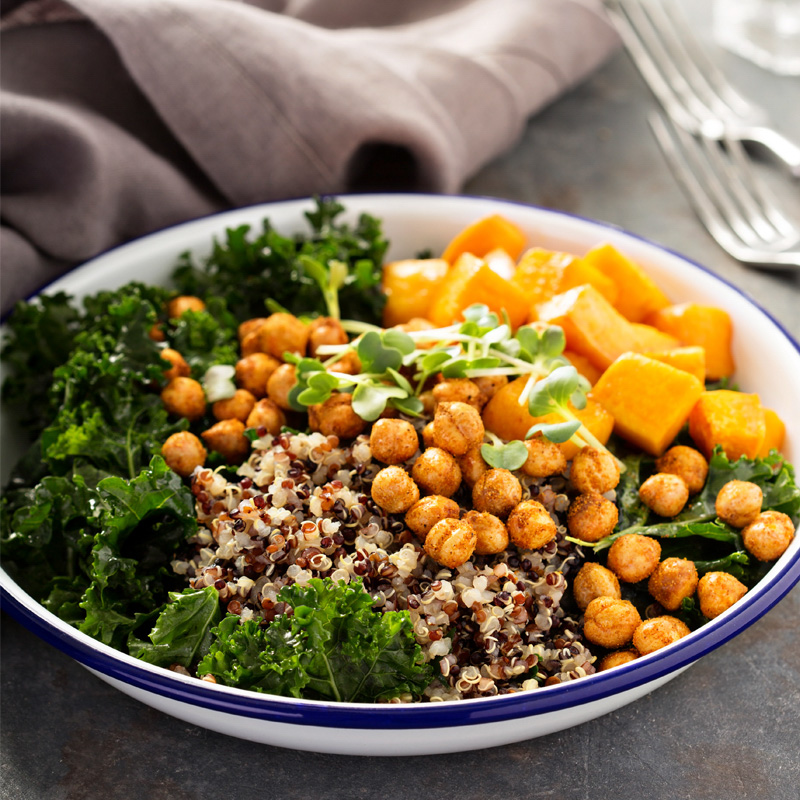 A little bit of spice, a little bit tart, and a little bit creamy, this bowl is packed with bright flavors — lemon, cilantro and spices — and a bit of a kick.
Ingredients: onion, chickpeas, spices, garlic, cilantro, tomato, yogurt, pistachios, lemon, quinoa, sriracha, kale
---
Week 8
Order April 17-21; Pickup April 26 & 27
Lemon Chicken with Zucchini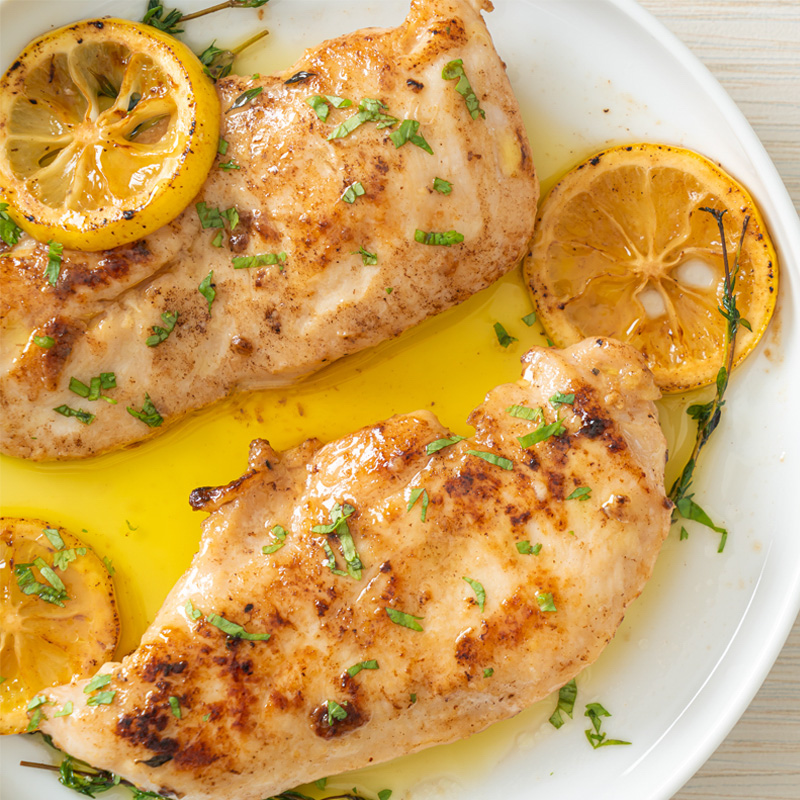 A big flavor boost of lemon, garlic and spices and the added nuttiness of brown rice raises this well above your average chicken and rice.
Ingredients: chicken, lemon, spices, herbs, garlic, onion, zucchini, brown rice
Italian Tomato Bake (Vegetarian)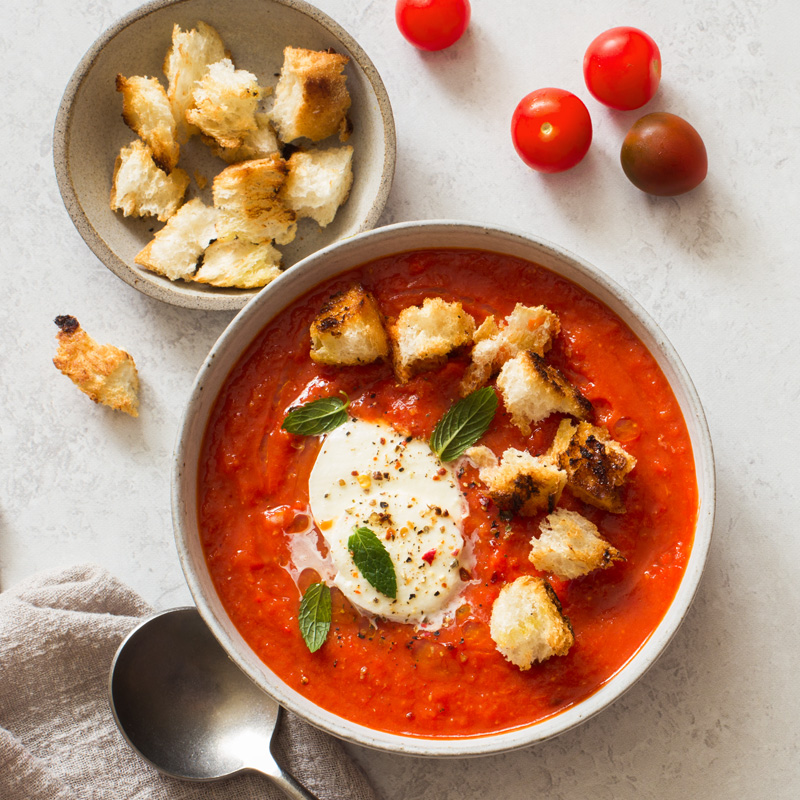 Tender vegetables with a fresh tomato sauce and pillows of ricotta tucked in, this casserole is topped with crusty bread cubes and Parmesan cheese.

Ingredients: onion, zucchini, cannellini beans, herbs, garlic, tomato, mushrooms, ricotta, Parmesan, bread (wheat)
---
Recipes have been adjusted for four servings. Nutritonal information is for one serving. (Grab and go meals are one serving per container.)
Sausage with Smashed Sweets
and Roasted Apples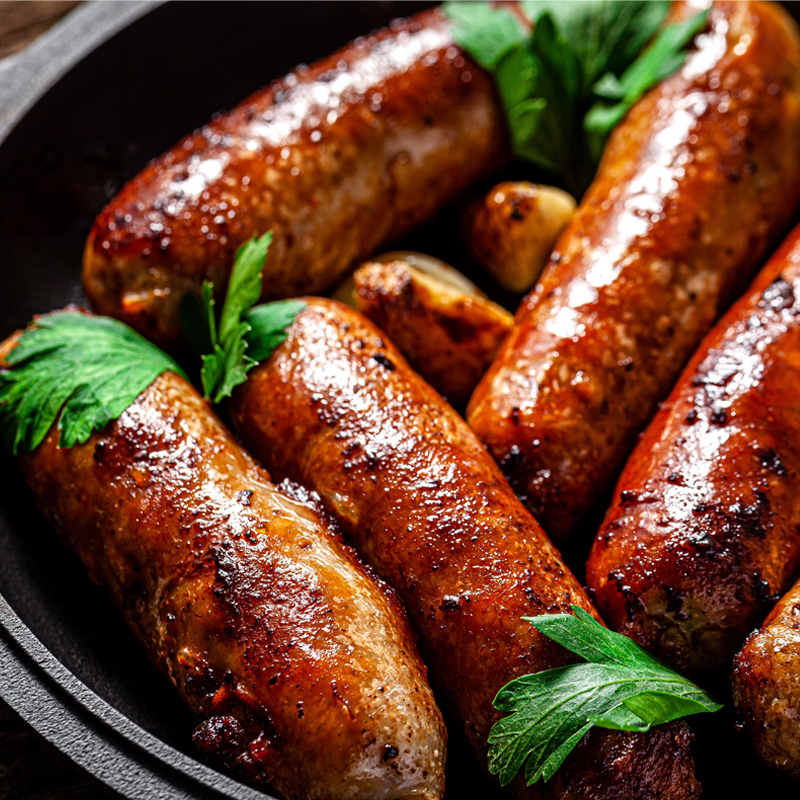 Smoked sausage with tart and tender roasted apples and sweet and rich smashed sweet potatoes.
Ingredients: sweet potatoes, onion, dairy, apples, herbs, spinach, smoked sausage
Lemon Lentil Stew
(Vegetarian)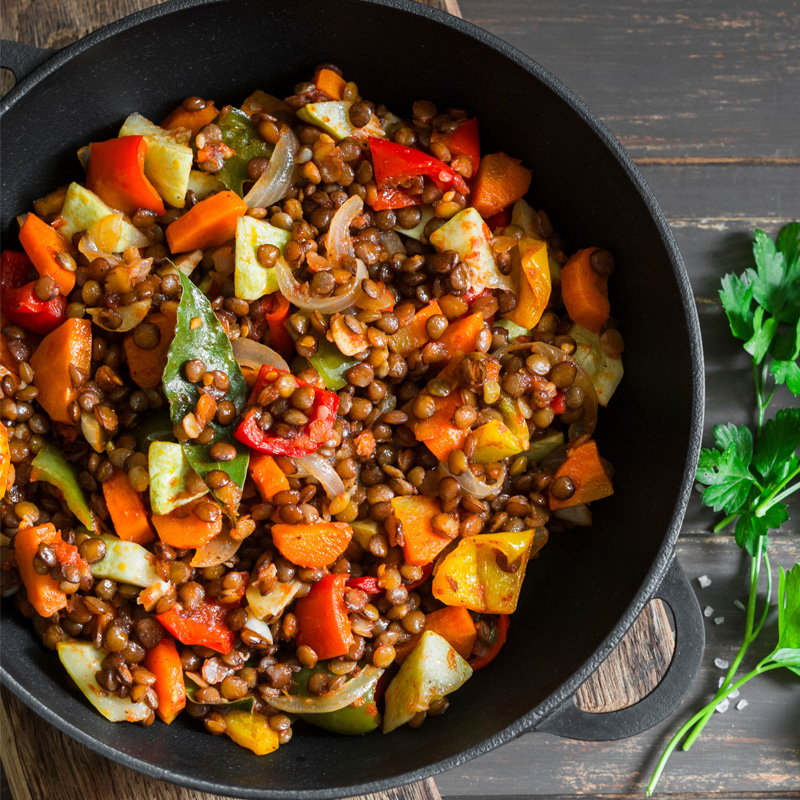 This hearty lentil stew is loaded with tender vegetables and warm spices. Lemon zest and juice provide a bright, fresh taste.
Ingredients: lentils, onion, garlic, cumin, carrots, cilantro, lemon
Turkey Chili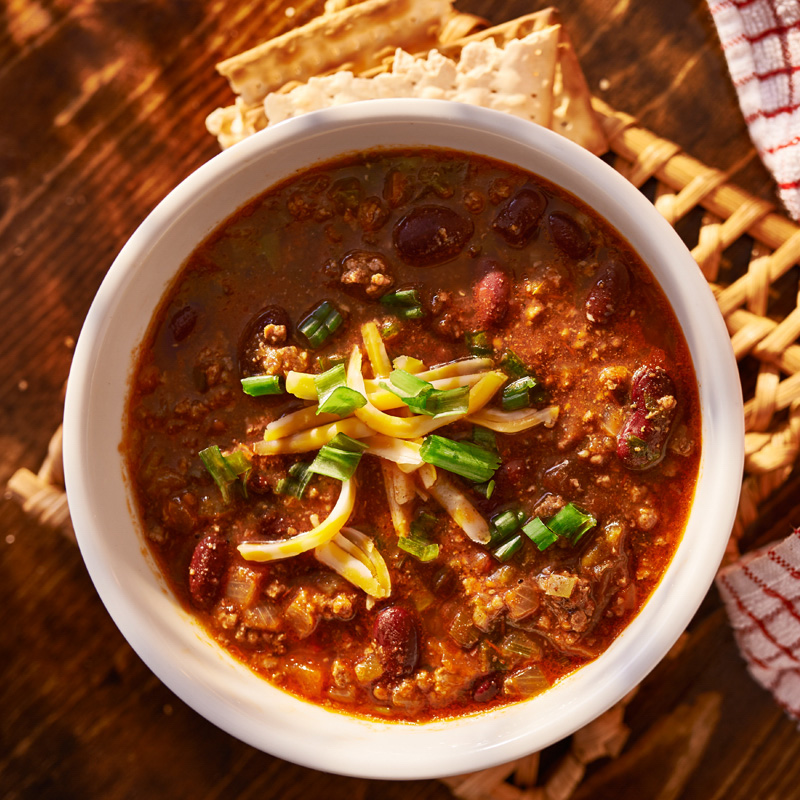 A classic chili made with ground turkey, fiber-rich beans, and a rich, spicy (flavorful, not hot) sauce.
Ingredients: ground turkey, onion, tomatoes, kidney beans, garlic, spices, cheese
Moroccan Cauliflower Bowls (Vegetarian)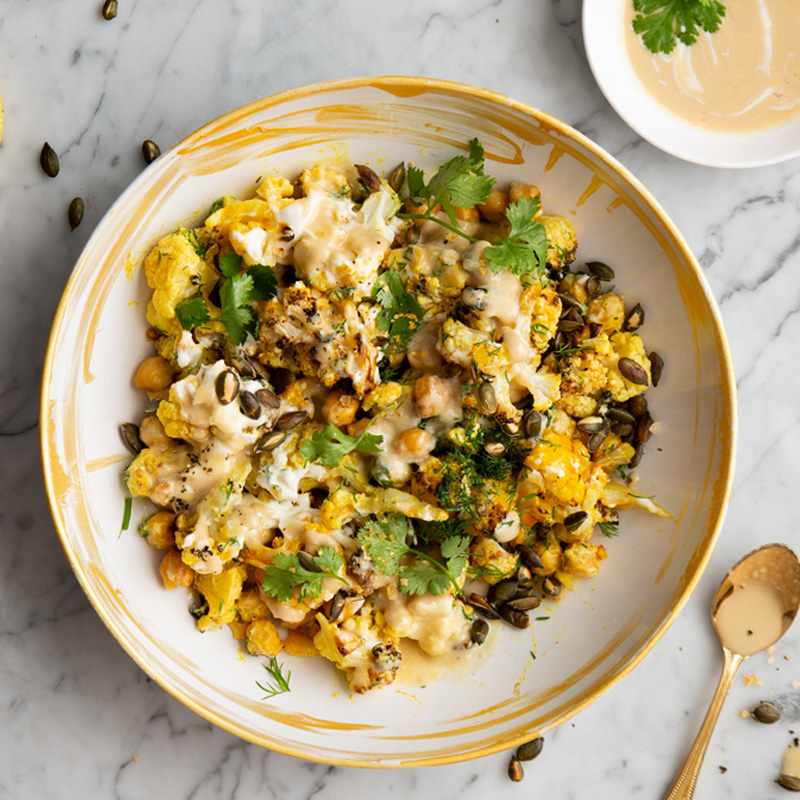 A little bit tart, a little bit sweet, a little bit of spice, and a little bit creamy, this bowl is a riot of flavor, texture and color.
Ingredients: quinoa, yogurt, chickpeas, carrots, onion, cauliflower, almonds, garlic, lemon, raisins, peas
Soulful Bowls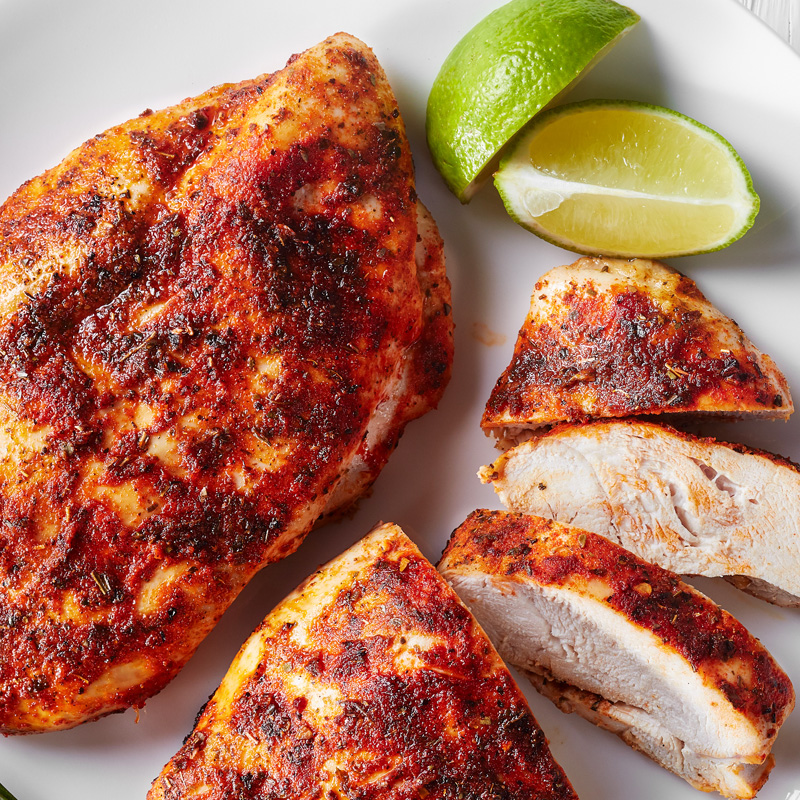 Creamy, cheesy stone-ground grits are topped with citrus greens and smoked-paprika-crusted chicken for a comforting dish with lots of flavor.
Ingredients: chicken, greens, garlic, raisins, tomatoes, orange juice, grits (corn), cheese, dairy, onion
Coconut Lentil Curry (Vegetarian)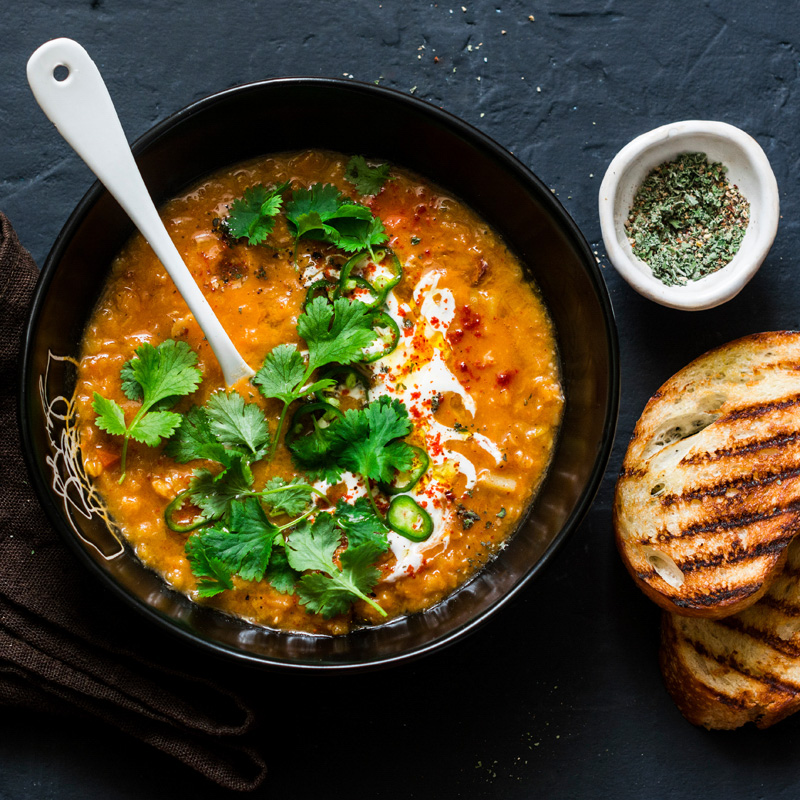 This is a fresh curry with a light coconut-curry sauce and lots of just-tender vegetables.
Ingredients: lentils, spinach, tomatoes, ginger, coconut milk, garlic, lime, spices, sweet Thai chili sauce, mushrooms
Cashew Chicken Stir Fry
A classic stir fry with tender chicken, punchy ginger and garlic, crisp vegetables and just a touch of soy and sesame. Served over brown rice.
Ingredients: brown rice, onion, garlic, ginger, broccoli, mushrooms, cashews, snap peas, soy sauce, sesame oil, celery, chicken
Creamy Polenta with Roasted Vegetables (Vegetarian)
Creamy corn polenta topped with a plethora of just-tender roasted vegetables and a fresh tomato sauce.
Ingredients: polenta (corn), garlic, cottage cheese (dairy), eggplant, zucchini, bell peppers, herbs, mushrooms, spinach, tomatoes
Eggroll in a Bowl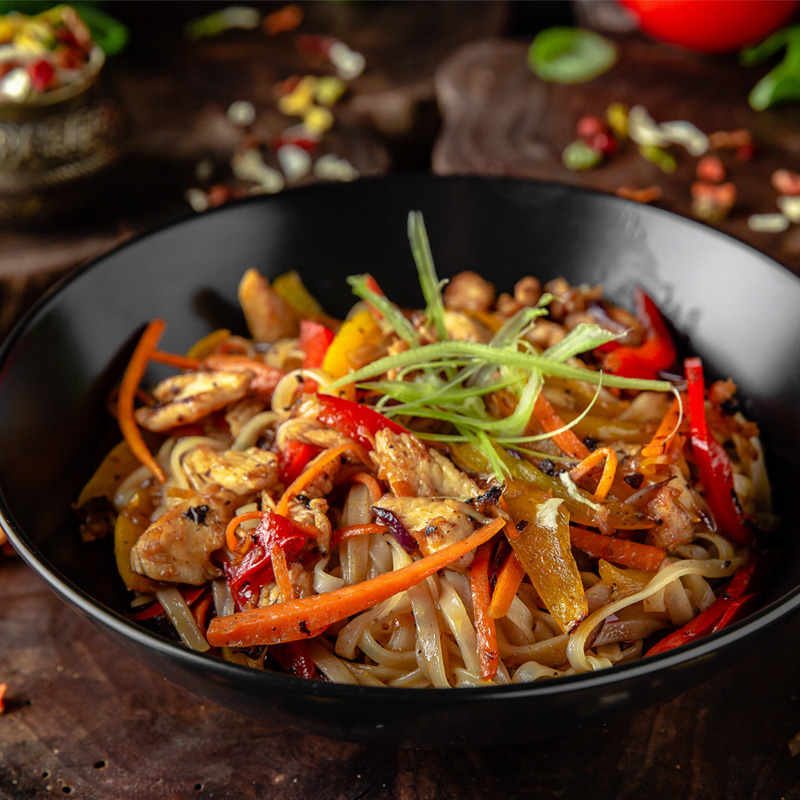 All the great flavors without the restrictive packaging! This bowl includes all the tasty ingredients from an eggroll with a gingery sauce and rice noodles.
Ingredients: ground turkey, onion, carrot, garlic, ginger, cabbage, soy sauce, vinegar, sesame oil, sesame seeds, rice noodles
Black Bean Enchilada Casserole (Vegetarian)
Layered and loaded, this casserole has Mexican flavors and lots of vegetables for a fresh and filling meal.
Ingredients: onion, bell peppers, tomatoes, garlic, spices, black beans, corn tortillas, cheese, cilantro, corn