2013 Learn and Serve Award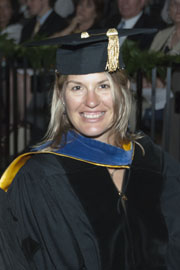 Dr. Keri Brondo, Associate Professor of Anthropology, is the first recipient of the College of Arts and Sciences' Learn and Serve Award. She completed her Ph.D. in Anthropology at Michigan State University in 2006. After first serving as a post-doctoral research fellow at Michigan State University, Professor Brondo joined the faculty at the University of Memphis in 2007.
In addition to being Graduate Coordinator in the Department of Anthropology, she has taken a leadership role in the Engaged Scholarship Committee and with the Environmental Studies Minor. In her letter of support, Dr. Ruthbeth Finerman indicates that Dr. Brondo has a record of developing unique, innovative, and productive service learning activities that engage agencies and community stakeholders as well as having graduate students mentor and supervise less experienced undergraduates.
Dr. Brondo will embed a service-learning component in Anthropology 6631/4631, Culture and Consumerism, in order to conduct two research projects related to food security in Memphis. Collaborating with Shelby Farms Park Conservancy or GrowMemphis, 15 undergraduate students and 5 graduate students will gain research experience by examining the relationship between culture, consumer behavior, and food justice. Specifically, students will be directly involved in research framing, research design, multiple data collection methods, and hands-on data collection. Class exercises/assignments will enable students to reflect on their experience and will be used to evaluate learning outcomes.
For more information about the Learn and Serve Faculty Award through the College of Arts & Sciences, visit the college website.