2013 College of Arts and Sciences Award for Teaching Excellence
In 2005 the College introduced the "College of Arts and Sciences Award for Teaching Excellence" to be presented to two faculty members. The award was created to acknowledge the excellence in teaching that can be found across the college. Selection of the recipients is based first and foremost on nominations by graduating seniors. The award consists of a plaque and a monetary award.
---
Ms. Kendra Murphy
The first recipient this year is Kendra Murphy of the Department of Sociology.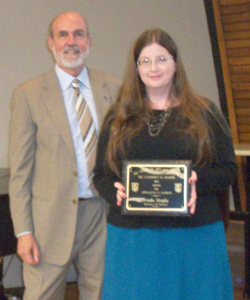 Kendra Murphy earned her B.A. in Sociology from the University of Central Arkansas in 2003 and her M.A. in Sociology from the University of Memphis in 2007. She teaches multiple Sociology courses (both traditional and online) including Introduction to Sociology, Racial and Ethnic Minorities, Sociology of Gender, Sociology of Deviant Behavior and Contemporary Social Problems. She is also the undergraduate advisor for the Department of Sociology.
Ms. Murphy's teaching is focused on helping students develop critical thinking skills that they can use throughout their lives. She is best known for her creative lectures on social deviance, which is her favorite topic to teach. Whether by discussing statistics or bringing furries into the classroom, Ms. Murphy is committed to helping all of her students in developing their sociological imaginations.
---
Dr. Randolph Dupont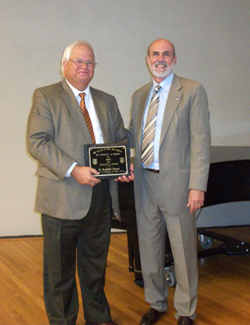 The second recipient this year of the Award for Teaching Excellence is Dr. Randolph Dupont of the Department of Criminology and Criminal Justice.
Dr. Dupont received his PhD in Clinical Psychology from the University of Texas at Austin. He has worked with the Memphis Police Department as instructor and lead consultant to the Crisis Intervention Team (CIT) where he provided consultation to municipalities nationwide. He has been the principal investigator or co-principal investigator on over $10 million in research and program development grants. He has been an invited presenter at a number of national conferences and has published in the fields of officer safety, issues concerning the use of force, jail diversion, victimology and addictive disorders. His current work focuses on the use of technology to enhance police crisis intervention training and CIT program outcomes.
Read more about Dr. Dupont on his web pages.