2013 W. Russell Smith Award for Teaching Excellence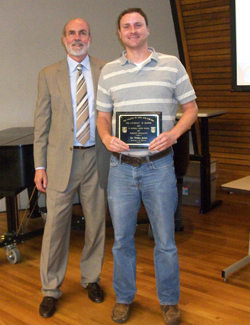 The W. Russell Smith Teaching Award honors a faculty member within the College of Arts and Sciences for teaching excellence. All full-time faculty members with at least four years of service in the College of Arts and Sciences are eligible. The award is selected by vote of the graduating seniors and consists of a certificate and cash payment.
The award is the College's highest honor for teaching excellence. The selection of a recipient is based primarily on nominations by graduating seniors who are asked to nominate up to three of their professors who have taught for at least three years in the College. What adds to the prestige of this award is the number of faculty members who are nominated by students.
The 2013 recipient of the award is Dr. Wesley James in the Department of Sociology.
Wesley James is an Assistant Professor in the Department of Sociology at The University of Memphis. He received his Ph.D. from Mississippi State University in 2009, and served as a Post-Doctoral Research Fellow and Visiting Research Fellow at the Social Science Research Center at Mississippi State during the summers of 2009 and 2010.
Dr. James' primary research interests are medical sociology, demography, and rural health. Currently, his research agenda investigates the relationship between social integration and two behavioral outcomes, suicide and alcohol dependency. He also studies macro-level disparities in cause-specific mortality in the United States using quantitative and spatial statistical models.
His research has been published in American Journal of Public Health, International Journal of Environmental Research and Public Health, Population Research and Policy Review, Journal of Rural Health, Sociological Spectrum, and other sociology and public health journals. Dr. James primarily teaches undergraduate and graduate sections of Medical Sociology, Research Methods, and a special section of Introduction to Sociology for Pre-Meds.