Our New Destination for The Arts Is Underway
---
Virtual Tour
See the excitement
Take Your Seat
Naming Opportunity >
Drive for Excellence
Matching Donation Grant >
---
The University of Memphis and the entire Mid-South are eagerly awaiting the completion of the Scheidt Family Performing Arts Center at the Rudi E. Scheidt School of Music. The Center will provide much-needed facilities for School initiatives and allow us to continue building upon our relationships with other arts programs in the region by hosting many of their performances on our campus.
Your Support Will Change The Face Of Music In Memphis
The new Scheidt Family Performing Arts Center will be equipped with world-class facilities supporting its role as the region's largest and most comprehensive music school. The 82,000-square-foot Music Center boasts state-of-the-art facilities, including a 900+ seat concert hall, expanded stage space, exceptional acoustics, dedicated rehearsal spaces and classrooms and modern music laboratories. The goal is to raise $1 million to ensure students move into the new Scheidt Family Music Center with all the resources they need to succeed. A portion of the funding will equip the Scheidt School of Music with the most up-to-date technology and recording equipment that supports advances such as real-time synchrony with musicians worldwide. Gifts will also be used to purchase instruments and create a borrowing program that will give students who cannot afford instruments the ability to borrow one for a limited time.
---
News & Updates
Six-time Grammy Award Winner Dionne Warwick Announced as Grand Opening Gala Entertainer
Enjoy an evening filled with music from the iconic Dionne Warwick and Memphis' next generation of musical legends at the Rudi E. Scheidt School of Music.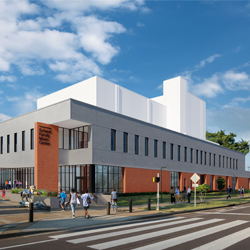 Strike a Chord: Scheidt School of Music Drive for Excellence Fund Launches with Matching Grant
The Scheidt Family Commits $500,000 to create a matching fund to secure donations to support students learning and performing in the new Scheidt Family Music Center.
---
The project's design team, Memphis-based firms Archimania and Fleming Architects, and Chicago-based theater designer Schuler Shook, are nearing completion with an expected opening date later this year.