In an effort to reduce risk on our campus and protect the health and safety of our community, the College of Communication and Fine Arts has cancelled all special events, guest artist visits and concerts for the remainder of the semester.
---
A renowned music school at one of the largest universities in Tennessee.
Located in the heart of music-rich Memphis, Tennessee, The Rudi E. Scheidt School of Music provides the best of both worlds: personal instruction in music from accomplished artist-scholars, and all the benefits of a large, world-class university. With an international reputation for excellence, we have always attracted top talent. Our renowned music program offers bachelor's through doctoral degrees in 29 areas of concentration. As Tennessee's only doctoral degree granting program in music, we are setting the tone for creativity and excellence.
We are a comprehensive music school, known for our diversity and dedication to our role as a cultural and intellectual resource for the university, the city, and the wider musical world. We present more performances than any other music organization in the Mid-South. Our teaching and research are deeply devoted to the preservation and growth of music as an art, a craft, a profession, and a treasury of human wisdom.
What's Happening Now
Memphis Symphony Orchestra and UofM Rudi E. Scheidt School of Music Name Estefan Perez First Fellowship Recipient
The University of Memphis Rudi E. Scheidt School of Music and the Memphis Symphony Orchestra have named cellist Estefan Perez the recipient of The Rebecca Webb Wilson Fellowship. Perez graduated from The Hartt School in May 2020 with an undergraduate degree in cello performance. The newly launched MSO / UofM Fellowship Program is a prestigious two-year performance fellowship program for exceptional graduate and post-graduate violin, viola and cello players coming from African American and Latinx communities that are historically underrepresented in classical music. READ MORE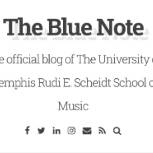 Read the latest version of The Bluenote, the School of Music newsletter.