A renowned music school at one of the largest universities in Tennessee.
Located in the heart of music-rich Memphis, Tennessee, The Rudi E. Scheidt School of Music provides the best of both worlds: personal instruction in music from accomplished artist-scholars, and all the benefits of a large, world-class university. With an international reputation for excellence, we have always attracted top talent. Our renowned music program offers bachelor's through doctoral degrees in 29 areas of concentration. As Tennessee's only doctoral degree granting program in music, we are setting the tone for creativity and excellence.
We are a comprehensive music school, known for our diversity and dedication to our role as a cultural and intellectual resource for the university, the city, and the wider musical world. We present more performances than any other music organization in the Mid-South. Our teaching and research are deeply devoted to the preservation and growth of music as an art, a craft, a profession, and a treasury of human wisdom.
Hear what our students are saying about the School.
What's Happening Now
Add another romantic gesture to flowers and candy this Valentine's Day. Bring your sweetheart to Date Night at the Scheidt, an evening of great love songs. The concert is conveniently scheduled for 7:30 pm so there is plenty of time for that intimate dinner. Make it a complete package...come to Date Night! Thursday, February 14, 7:30 pm, admission is free.
Come enjoy the University of Memphis Symphony Orchestra's performance of Johannes Brahms' Symphony No. 2. Also on the program is Il Covegno, Divertimento for Two Clarinets, Op. 76, by Amilcare Ponchielli, featuring Paul Hafley, clarinet and Jonathan Webber, clarinet, two winners of the School of Music's soloist competition. Monday, February 18 at 7:30 pm. UofM Harris Concert Hall.


Jazz Week at the Rudi E. Scheidt School of Music at the Rudi E. Scheidt School of Music is an annual celebration of everything jazz from singers to combos to big bands. February 26 - March 2. Check our performance listings for all the concerts.
The 2019 Audition Days are:
February 2, 2019
, February 16, 2019 and February 23, 2019.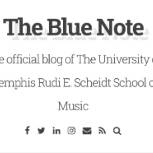 Read the latest version of The Bluenote, the School of Music newsletter.