Adam Johnson
Assistant Director for Recruitment and Enrollment Services, Lambuth Campus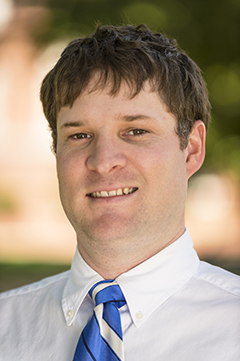 A little about me
My name is Adam Johnson and I have worked in recruitment for 10 years. I have been with the UofM for the past five years. I have the pleasure of promoting the great experience that the UofM has to offer both in Memphis and in Jackson, TN -- at the Lambuth Campus. The UofM offers a great college experience and benefits greatly from having the support of the city of Memphis at its fingertips. Internship and research opportunities along with tons of fun things to do and plenty of great food are just a few of the reasons to consider the UofM. If you want a very unique experience that provides all of the resources that the UofM has to offer on a smaller, picturesque campus, then come and visit us at the UofM Lambuth! We look forward to having you on campus soon!
---
I assist students from:
States
Georgia, Iowa, Maine, Montana, Nevada, New Hampshire, North Carolina, Pennsylvania, Utah, Vermont, and West Virginia
Tennessee Counties
Benton, Carroll, Chester, Decatur, Gibson, Haywood, Henderson, Henry, Humphries, Madison, Perry, Stewart, and Wayne
---
Things I'd recommend to do in Memphis
Visit the Bass Pro Pyramid, Redbirds, Grizzlies and Tigers games! Central and Commissary BBQ are the best!
---
Opportunities available at the University of Memphis
My favorite thing about the UofM is how you can create the ultimate college experience! We literally have something for everyone!
---