TyNia Albea
Admission Counselor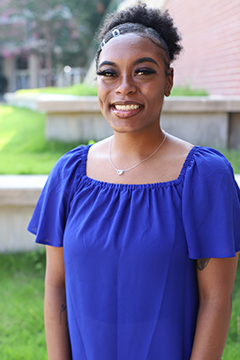 A little about me
Before moving to Memphis in 2015, I resided in a small town two hours north of Memphis. My hometown was very rural and limited, so one of my favorite things about Memphis is the quick access to a diverse array of food, infinitely many parks, and a little bit of everything for anyone! I received both my Bachelor's and Master's from the University of Memphis and am very equipped to help new students with their transition from high school to college. I recruit for both Middle and East TN, and I can't wait to show you why I love Memphis and our university!
---
I assist students from:
States
North Carolina, Ohio, South Carolina, Virginia, West Virginia
Tennessee Counties
Public & Charter Schools in Davidson, Bledsoe, Blount, Bradley, Cannon, Cocke, Coffee, Franklin, Grundy, Hamilton, Jefferson, Loudon, Marion, McMinn, Meigs, Monroe, Moore, Polk, Rhea, Sequatchie, Sevier, Van Buren, Warren
---
Things I'd recommend to do in Memphis
There are so many parks all around Memphis! Find a quiet one, grab some pizza from Slim and Husky's, a blanket and some tunes, and enjoy nature!
---
Opportunities available at the University of Memphis
There are so many Registered Student Organizations that University of Memphis offers! I was heavily involved in Mighty Sound of the South, Student Government, and Multicultural Affairs. There is something for everyone, and if you can't find your match, create the space for you and your friends!
---