Tiger Food Lab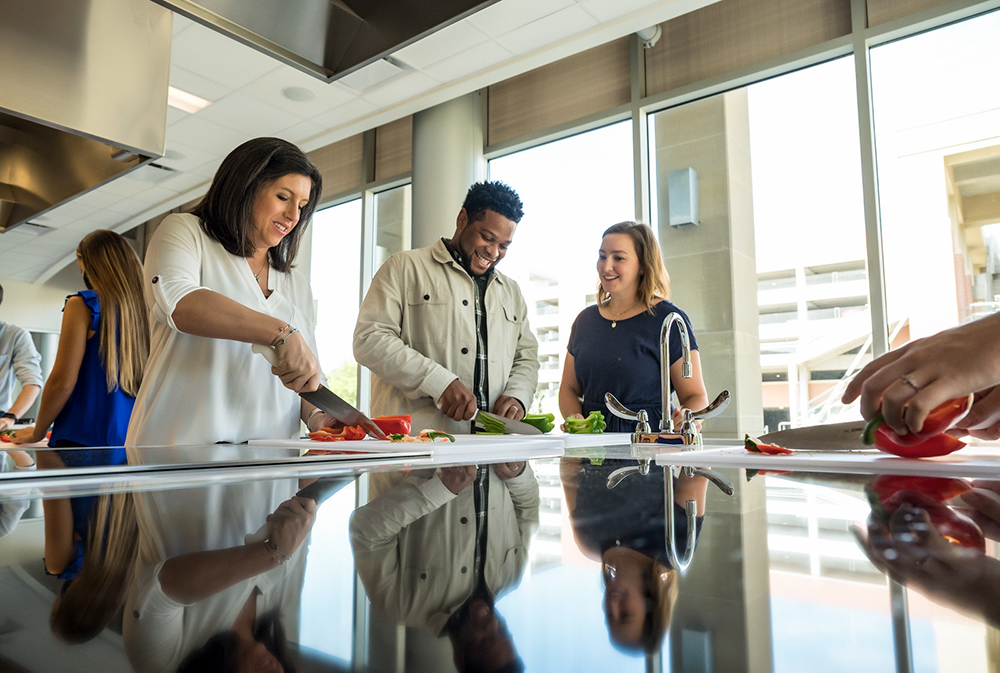 The R. Brad Martin Student Wellness Center is home to the Tiger Food Lab, a state-of-the-art teaching kitchen. Our registered dietitians, College of Health Sciences nutrition faculty and Campus Recreation Nutrition Services team use the Lab to teach cooking fundamentals to UofM students, faculty and the community. We host a variety of classes and programming which focus on healthy eating, nutrition for training, women's health, nutrition throughout the lifespan and more.
The Tiger Food Lab is equipped with 12 cooking stations, an instructor's station with overhead cameras and lecture/dining seating for up to 24 people. TV screens placed throughout the Lab allow students to follow along with the instructor and enjoy supporting visual materials while cooking. The Lab is outfitted with all the equipment and supplies to support academic and consumer cooking experiences.
The Campus Recreation Nutrition Services team develops and supports group programs throughout the year, including team building events, lunch and dinner classes, Camp CHEF, Food Fusion, community outreach programs, after-school cooking classes for K-12 and more. These programs are offered at a base price per person, with potential for price adjustment according to food, equipment and staffing needs.
For inquiries or additional information, contact: