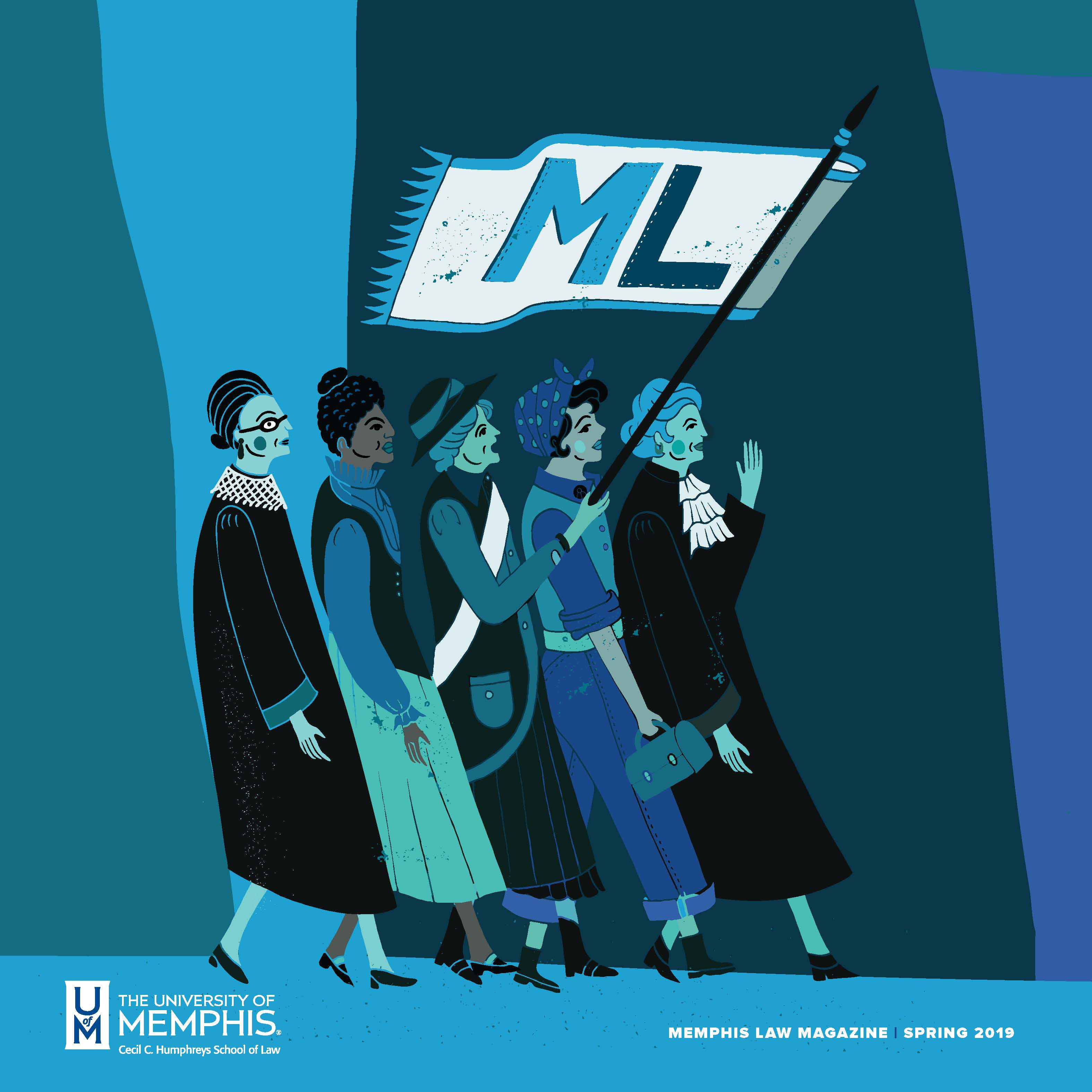 ML - An Award Winning Magazine:
CASE Awards:
2018 CASE GRAND AWARD (First Place) - Best Periodical/Magazine Cover; ML - Memphis Law Magazine, Spring 2018
2018 AWARD OF EXCELLENCE (Second Place) - Online Innovation/Experimentation; Memphis Law: An Immersive Augmented Reality Experience, ML Memphis Law Magazine, Winter 2017
2015 ML Issue #3 - Second Place in Southeastern Regional Category of Print and Digital Publications for Higher Education Publications
ADDY's (American Advertising Federation – Memphis, Awards):
2017 ML Issue #8
National Awards:
Silver – Magazine Design

Silver – Illustration Series
Regional:
GOLD – Best Publication Design/Magazine Design
Integrated Branded Content Campaign
Illustration Series
Augmented Reality
2016 ML Issue #3
GOLD - Best Publication Cover (Collateral Materials) (Sales & Marketing Category)
GOLD – Elements of Advertising, Illustrations
Three GOLD Awards for single illustrations
One GOLD Award for illustration (series)
2015 ML Issue #2
Three ADDY awards for Best Illustration and Illustrations in a Series
---

Every issue of our law school magazine is something special that we are proud to share with our alumni, friends, peers, and law school family across the country. However, this is the 10th issue, and as such, is something to celebrate!
So, we're celebrating women. Not only the women of Memphis Law, but the women breaking down barriers across a wide cross-section of businesses and industries, including the legal community. The women who have made their way into leadership positions throughout our traditionally male-dominated industry, blazing a trail for those who will succeed them.
It is always important for us to address important and timely issues within the pages of ML, and nothing seems more timely to us, both in society and within the halls of Memphis Law itself, than the way women are changing the culture as we know it.
Within this issue, you'll find out more about how we're also in the midst of an exciting, female-driven time in the life of our law school. You can also read our feature story detailing the progression of sexual harassment laws in our country and how the #MeToo movement has brought the issues back into the spotlight throughout the U.S. Additionally, there are wonderful profiles of alumni and students, featuring not only Judge Diane K. Vescovo (JD '80), but also an impressive spotlight of our current female student leaders, plus much, much more!
We're glad we can celebrate the impressive occasion of publishing our 10th issue, but even more so, we're excited to do so with an issue that features a wide variety of features, stories, profiles and photos celebrating many of the amazing women all around us.
Feel free to send us class notes and updates about your accomplishments. Please include your class year and a high-res head shot, if possible.
To request a hard copy, please email us and we will send you a copy as long as extras are available.
To download this issue as a PDF, please click here.
CONTACTING ML:
Ryan Jones - Executive editor
(901) 678-4910
rjones1@memphis.edu
University of Memphis
Cecil C. Humphreys School of Law
1 North Front St.
Memphis, TN 38103
---
ML Issue #1, Spring 2014 ML Issue #2, Fall 2014 ML Issue #3, Spring 2015
ML Issue #4, Fall 2015 ML Issue #5, Spring 2016 ML Issue #6, Fall/Winter 2016
ML Issue #7, Spring/Summer 2017 ML Issue #8, Winter 2017 ML Issue #9, Spring/Summer 2018