ML - MEMPHIS LAW MAGAZINE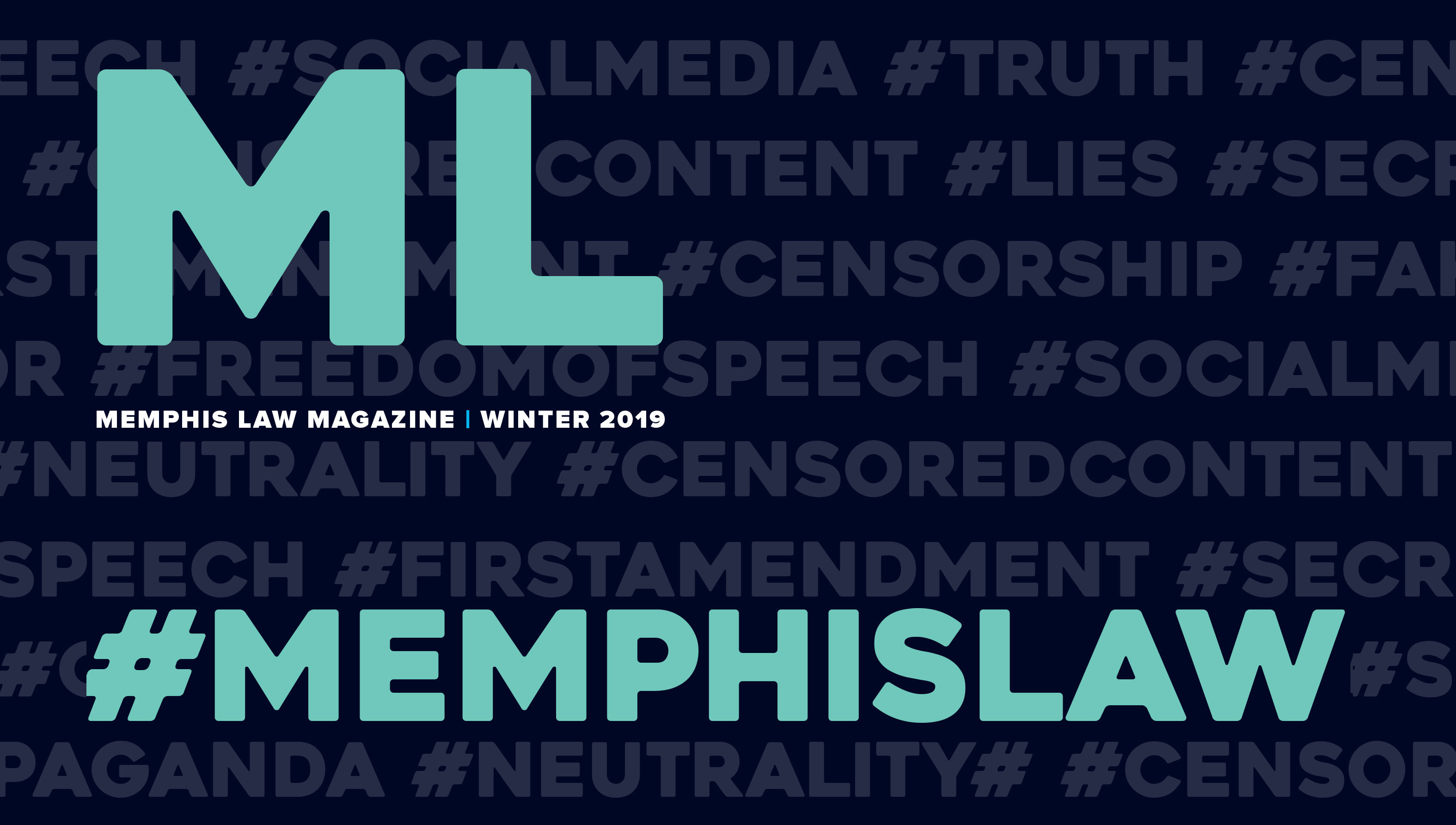 ---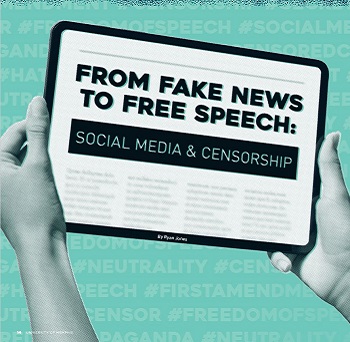 | Cover Story |
From Fake News to Free Speech: Social Media & Censorship

By Ryan Jones

Do social media companies have a right to silence and ban users that share racist and dangerous views or proliferate fake news? Are they today's "public squares" and governors of news, or are they platforms under the protection of the First Amendment and long-standing policies such as Section 230 of the CDA?
| Learn more about the issues surrounding social media & censorship >
---
| Features |
Law & Family

By Ryan Jones

Demarcus Davis and his daughter Bethany Davis are sharing a unique experience. The father-daughter duo are enrolled in law school at the same time, working toward their own respective dreams.

| Meet Demarcus and Bethany >

Respect Your Elders

By Ryan Jones

A look at one of our innovative and educational legal clinics. The Elder Law Clinic, one of the law school's longest-running legal clinics, allows our student-attorneys to assist an often overlooked segment of our community - the elderly.

| Read about the work our students are doing in the Elder Law Clinic >

A Legal Legacy: John Bobango (JD '83) and Mary Lauren Bobango Stewart (JD '19)

By Ryan Jones


One is a long-standing legal pillar in Memphis and the Mid-South. One is a recent graduate who embraced her family's legal heritage and is starting on her own unique path. The story of the father-daughter duo of John and Mary Lauren Bobango shows that all roads lead back to Memphis, family, and the law.

| Read more about this Father-Daughter Legal Duo >

Memphis Law News & Events

By Staff

Stay up-to-date with news and events happening at Memphis Law.

| Learn more about recent Memphis Law news>

Vetting the Vote

By Steve Mulroy


Professor Mulroy, author of the recently published book, "Rethinking US Election Law: Unskewing the System," goes into detail about our election system and the solution presented by proportional representation and Ranked Choice Voting.
Read the full magazine on Issuu >
---
Feel free to send us class notes and updates about your accomplishments. Please include your class year and a high-res head shot, if possible.
To request a hard copy, please email us and we will send you a copy as long as extras are available.
To download this issue as a PDF, please click here.
CONTACTING ML:
Ryan Jones - Executive editor
(901) 678-4910
rjones1@memphis.edu
University of Memphis
Cecil C. Humphreys School of Law
1 North Front St.
Memphis, TN 3810
---
ML - An Award Winning Magazine:
CASE Awards:
2018 CASE GRAND AWARD (First Place) - Best Periodical/Magazine Cover; ML - Memphis Law Magazine, Spring 2018
2018 AWARD OF EXCELLENCE (Second Place) - Online Innovation/Experimentation; Memphis Law: An Immersive Augmented Reality Experience, ML Memphis Law Magazine, Winter 2017
2015 ML Issue #3 - Second Place in Southeastern Regional Category of Print and Digital Publications for Higher Education Publications
ADDY's (American Advertising Federation – Memphis, Awards):
2017 ML Issue #8
National Awards:
Silver – Magazine Design
Silver – Illustration Series
Regional:
GOLD – Best Publication Design/Magazine Design
Integrated Branded Content Campaign
Illustration Series
Augmented Reality
2016 ML Issue #3
GOLD - Best Publication Cover (Collateral Materials) (Sales & Marketing Category)
GOLD – Elements of Advertising, Illustrations
Three GOLD Awards for single illustrations
One GOLD Award for illustration (series)
2015 ML Issue #2
Three ADDY awards for Best Illustration and Illustrations in a Series