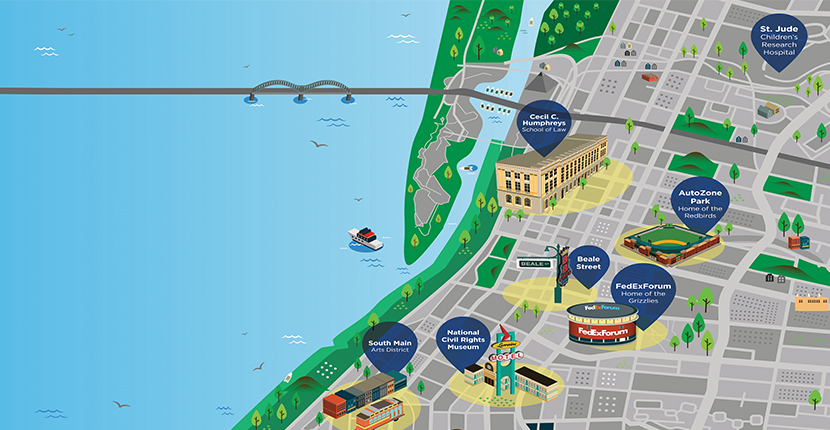 Neighborhoods & Communities
Variety, as they say, is the spice of life, and Memphis has gotta be one of the spiciest cities around. Variety can be found throughout the city: From the towering trees in Shelby Forest and Overton Park to the metal towers in metropolitan downtown, the Memphis area offers everything you could want and more.
Variety can be found not only in the landscaping, history, and music of the city but also in the character of each neighborhood: Each has its own personality that distinguishes it from all the others.
This is a brief peek at several of our neighborhood communities. You may want to visit the county's neighborhood directory to help you discover the perfect place to call home.
---
Downtown
Downtown is one of the most eclectic, diverse, and exciting places around, not to mention the home of Memphis Law. With a range of entertainment options that includes all types of music, art, theater, and dance, downtown is a fascinating cultural hub. Famous Beale Street offers great food, cool drinks, and hot Memphis music. The history behind the influential area is preserved in a number of museums and historical spots.
Downtown also has plenty of family friendly activities and entertainment. FedExForum attracts some of the most popular touring musical acts in the world, and the Memphis Grizzlies and University of Memphis Tigers Basketball team are great attractions for sports fans. Excitment in Downtown Memphis is just a short walk or trolley ride away.
Downtown's prime riverside real estate is made up of several dynamic neighborhoods, including Harbor Town on Mud Island, South Bluffs, the South Main Historic Arts District, and the South End.
Zip codes: 38103, 38104, and 38105
Miles from airport: 9
Population: 42,984
Average home prices:
38103: $223,479
38104: $174,868
38105: $60,084
---
Midtown
Midtown is another great area full of eclectic atmospheres, cultural opportunities, and beautiful scenery. Historic Cooper-Young has excellent food, drink, and entertainment, including plenty of opportunities for live music at Young Avenue Deli, and the widest collection of indie movies at Black Lodge Video. Cooper-Young has almost every cultural opportunity a person could want.
Overton Square is another area of Midtown that offers great food with places such as Bari Ristorante, Boscos Squared, Lafayette's, Golden India, Le Chardonnay, Babalu, Local Gastropub, Memphis Pizza Cafe, and the Bayou Bar and Grill. Overton Square is also home to the Malco movie theater Studio on the Square. Other places of note in Midtown include the Memphis Zoo, the Brooks Museum of Art, Memphis College of Art, the Levitt Shell and Overton Park and Golf Course. The University of Memphis main campus, Rhodes College, and Christian Brothers University also reside near Midtown.
Midtown/Chickasaw Gardens
Zip codes: 38111, 38112
Miles from airport: 6
Population: 60,409
Average home prices:
38111: $125,970
38112: $116,252
---
East Memphis
East Memphis is a commercial and residential powerhouse. There are many thriving businesses and great shopping opportunities in this neighborhood, with the Laurelwood shopping center housing some of the upscale stores in the area, as does the nearby Regalia shopping center, with stores such as Vineyard Vines and Oak Hall. Surrounding boutiques, shops, and restaurants dot the area.
With Audubon Park, the Memphis Botanic Garden, the Dixon Gallery and Gardens, and Lichterman Nature Center, there's no shortage of natural beauty and lovely surroundings in East Memphis.
East Memphis
Zip codes: 38117, 38119 and 38120
Miles from airport: 6
Population: 63,348
Average home prices:
38117: $199,417
38119: $160,197
38120: $308,105
---
To find out more about the neighborhoods in the Memphis community, including the suburban areas of Bartlett, Germantown, Collierville, Arlington and more, please CLICK HERE to learn more
Sources:
Tetrad, 2013 Population Estimates
Chandler Reports, 2013 Average Home Prices
Page Updated October 2014.