DOMINIQUE DEFREECE RECEIVES 2022 MBA CHAMPION OF JUSTICE AWARD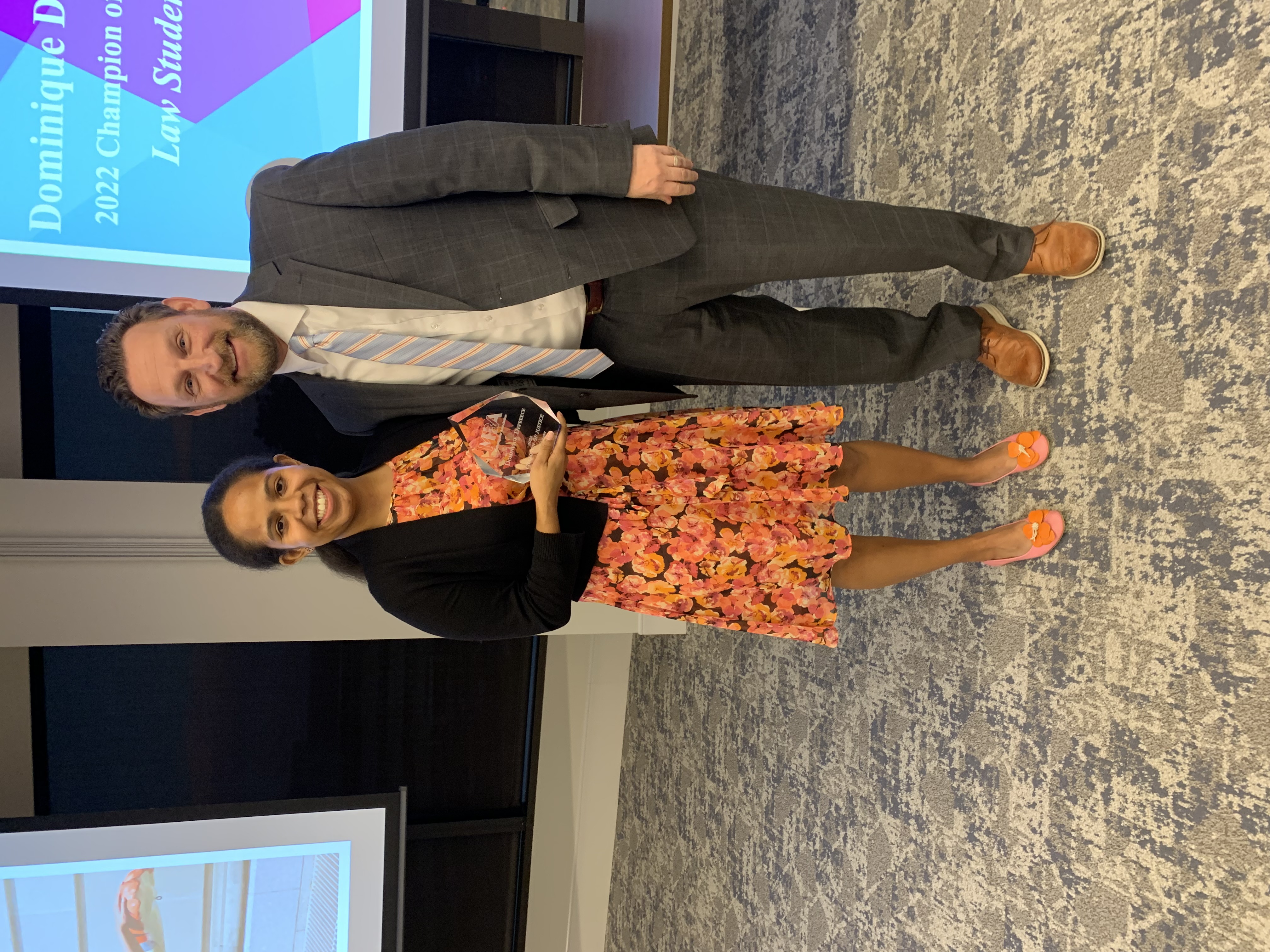 Memphis Law 3L Dominique Defreece was recently honored as a 2022 Champion of Justice for her pro bono efforts by the Memphis Bar Association (MBA). Each year the MBA's Access to Justice Committee recognizes judges, attorneys, law firms, legal departments, and law students who have displayed a commitment to pro bono service and the pursuit of access to justice. The Access to Justice Committee is a partnership between the Memphis Bar Association, Memphis Area Legal Services, the Community Legal Center and private attorneys with the mission to provide legal aid and education to under resourced members of our community.
"Dominique has demonstrated her commitment to pro bono service and access to justice in innumerable and various ways and epitomizes the kind of vision, leadership, and example that the Pro Bono Access to Justice Award is intended to highlight and reward," said Professor Donna Harkness in her nomination letter for Ms. Defreece.
While at Memphis Law, Dominique has put together an impressive history of engagement in projects that further access to justice and public interest in the Mid-South. As a 3L, she currently serves as the 2022-23 President of the Law School's Public Action Law Society (PALS), where she served as coordinator for the 13th Annual Alternative Spring Break Program (ASB). In that role she managed the scheduling of 63 ASB program participants among eight specially designed service tracks, coordinating a total of 2,150 hours of training and project services as part of ASB.
Additionally, Dominique has woven public interest law into the substance of her legal education, serving as a legal extern for the Shelby County Public Defender's Office during the summer after her 1L year, and now returning as a 3L to serve as Law Clerk for the P.D. during her 3L year. In addition, she served as a judicial law clerk for the Shelby County Chancery Court during the summer after her 2L year and as judicial extern for the Honorable Bernice Donald of the U.S. Court of Appeals for the 6th Circuit in the early summer of 2021.
Dominique was recognized at the MBA Access to Justice Committee CLE and Pro Bono Awards Ceremony on November 3rd at the law offices of Butler Snow.
"I was honored to receive this award," said Dominique. "Pro bono work is a tool to build a more just and equitable society."
"It was humbling to be recognized; I hope this award encourages others to seek out pro bono opportunities and to be intentional in how they give back."