MEMPHIS LAW ADVOCACY TEAMS FIND NATIONAL SUCCESS
This year saw Memphis Law's advocacy teams find more success than ever before.
Three Memphis Law teams reached Nationals this year. Our ABA National Appellate Advocacy Competition team, the BLSA Thurgood Marshall Advocacy Competition Team, and our National Mock Trial team all traveled and competed in their respective National Competitions, with two teams reaching their respective National quarterfinals. All three teams won several individual advocate awards as well.
Most recently, our ABA National Appellate Advocacy team traveled to Washington, D.C., where they competed in the National Finals of the National Appellate Advocacy Competition. The team of Madison Bennett Greene, Kylie Ronnow, and Scott Cheadle (on brief) reached the Quarterfinals before falling to the eventual champions. This puts them in the top 8 of the some 200 teams that competed. Ms. Bennett Greene was named the sixth best advocate in the National finals.
This success at Nationals follows the ABA team being named Regional Champions at the semi-finals in San Francisco in March. Madison Bennett Greene and Kylie Ronnow were undefeated and proceeded to Nationals. Kylie Madison and Everett Kalman were recognized as top advocates in the competition.
Our BLSA Thurgood Marshall Moot Court Advocacy Team of Jaske Goff and Iasia Peoples (and coached by Jarrett Spence) also advanced to Nationals after taking home 3rd place and winning Best Brief at the Southern Region of the Black Law Students Association ("SRBLSA") Conference and Competition.
At Nationals in Washington, D.C., the BLSA team of Jaske Goff and Iasia Peoples also reached the Quarterfinal rounds. Mr. Goff was named Best Advocate in the competition.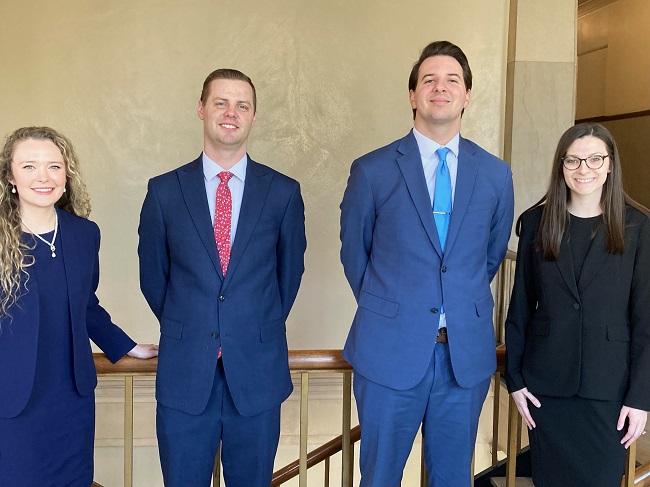 Additionally, the law school's National Trial Team - comprised of Peyton Barrow (2L), Annika Rush (2L), Kelsey McClain (2L), and Cody Tolbert (2L), and coached by Brigid Welsh, Ashley Finch, and Katie Ferguson - performed incredibly well at their regional competition. The team of Mr. Barrow and Ms. Rush were named Regional Champions and proceeded to Nationals.
The National Trial Team then travelled to San Antonio, Texas in late March to compete in the national rounds of the National Trial Competition, hosted annually by the Texas Young Lawyers Association. Peyton Barrow (2L) and Annika Rush (2L) were one of 30 out of 300 teams across the nation to qualify for nationals. Mr. Barrow and Ms. Rush participated in three very competitive preliminary rounds and were presented with Lewis F. Powell Jr. Medals for Excellence in Advocacy by the American College of Trial Lawyers. Fellow team members Kelsey McClain (2L) and Cody Tolbert (2L) participated in every practice and travelled as volunteer witnesses for the competition.
In other advocacy team news, our Constance Baker Motley Mock Trial team (Anthony Self, Alfred Dexter Dyson, Alexia McDermott, and Andie Adkins) came in 5th in the region at the SRBLSA competition and convention. The Wagner Moot Court travel team competed in New York City and both Duberstein Moot Court travel teams competed in New York City as well.