Connor Bankey
Admission Counselor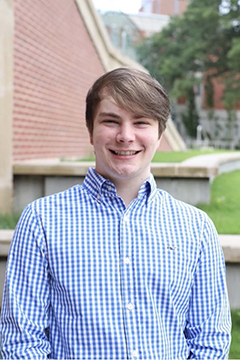 A little about me
 I am originally from Jackson, TN. I graduated from the University of Memphis with a Bachelor's Degree in Business Administration. I love the city of Memphis and all the great things it has to offer like Beale Street and the Civil Rights Museum. I am an Admissions Counselor for the West Tennessee area. I am so excited to be part of this great campus community and look forward to showing you all the reasons why!
---
I assist students from:
States
California, Connecticut, Delaware, Kentucky, Maryland, Massachusetts, New Jersey, New York, Pennsylvania, Rhode Island
Tennessee Counties
Crockett, Dyer, Fayette, Hardeman, Hardin, Henry, Lake, Lauderdale, McNairy, Obion, Tipton, Weakley
---
Things I'd recommend to do in Memphis
I'd recommend trying out some of the amazing BBQ places in Memphis like Central or One and Only. I'd also recommend seeing live music that Memphis has to offer!
---
Opportunities available at the University of Memphis
One of my favorite opportunities available at the University of Memphis is getting involved on campus. There are more than 200 opportunities to find a group of people that share the same interests! We also have great study abroad programs on every continent except Antarctica!
---