PhD in Applied Physiology & Nutrition (APHN)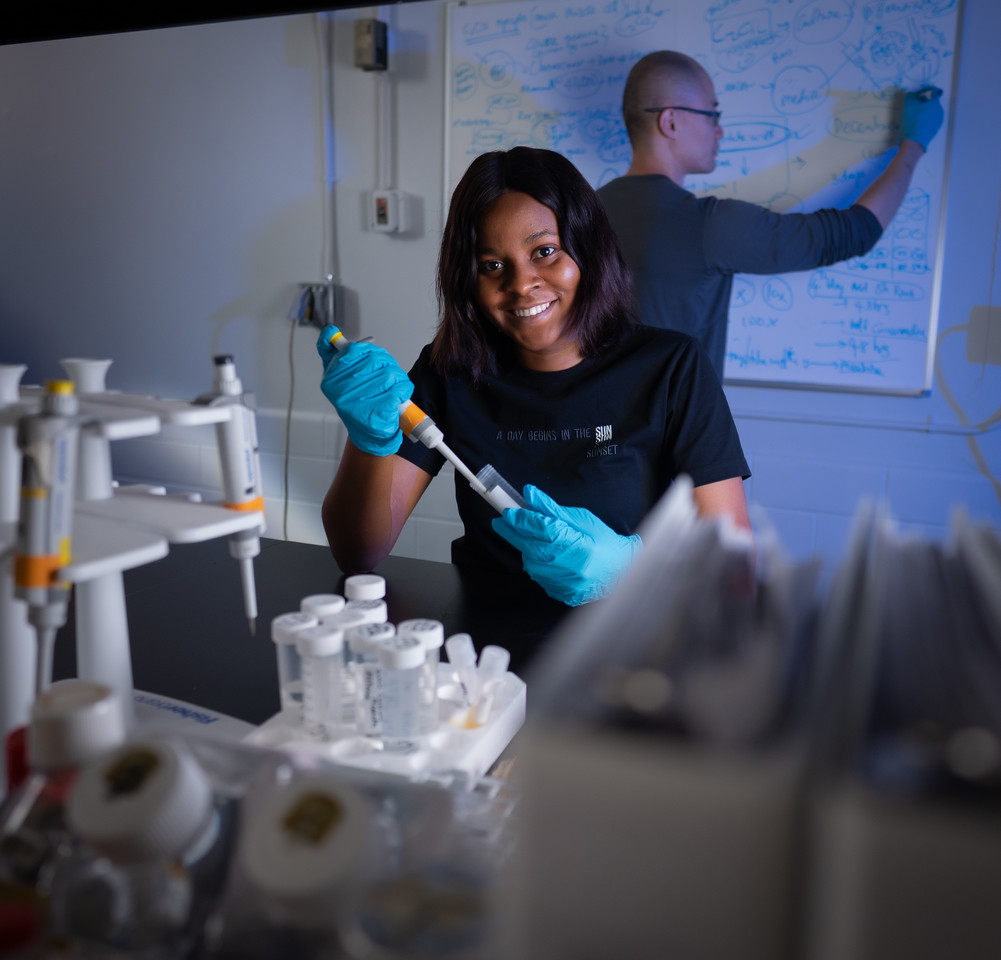 Admission to the Program
For optimal consideration:
Fall 2022 semester admission materials should be submitted by May 1, 2022
International students' materials should be submitted by April 1, 2022
Official deadline for Fall: August 10, 2022
---
About
The PhD program in Applied Physiology and Nutrition (APHN) is an interdisciplinary, research-intensive program that provides training in basic and translational science. The focus of the program is on the role of nutrition in health and disease and areas of study include immunophysiology and -metabolism, circadian biology and bioenergetics. You will work closely with faculty who are experts in their respective fields. As part of the coursework in the PhD program you will learn the biochemical basis and application of nutrition.
Graduates will be able to contribute as leaders and collaborators in at least one research specialty area within APAN. You are expected to continually contribute to the research activities conducted in at least one of the laboratories supporting the APAN program under the direction of a resident faculty mentor.
Major: Applied Physiology & Neuromechanics (APPN)
Concentration: Applied Physiology & Nutrition (APHN)
The APAN PhD program has two entry points:
Post-bachelor's (minimum of 81 credit hours total)
Post-master's (minimum of 45 credit hours total)
Post-bachelor's Admission (Phase 1 for Post-bachelor's Admission into PhD Program)
Requires the completion of a minimum of 36 credit hours (8000-level courses when available) for the post-bachelor's portion
12 credit hours of designated research/statistics courses required
12 credit hours of specified ESMS or NUTR courses
6 credit hours of electives approved by the doctoral committee required
Must maintain an overall GPA of at least 3.00
6 credit hours of applied project or thesis required
Successful written and oral defense of applied project or thesis required
Fall and spring doctoral seminar participation required
Successful completion of Oral Master's Comprehensive Exam required as part of the thesis/applied project defense
MS degree awarded with a major in Health Studies and a concentration in Exercise, Sport & Movement Sciences, or a major in Nutrition with a concentration in Nutrition Science (depends upon whether designated ESMS or NUTR courses were completed)
Post-master's Admission or (Phase 2 for Post-bachelor's Admission into PhD Program)
Requires completion of a minimum of 45 credit hours (8000-level courses when available) for the post-master's portion
6 credit hours of research/statistics required beyond the initial 12 credit hours (Note: If any of the research/ statistics courses designated for post-bachelor's admission have not been completed, they must be taken during the first year of matriculation in the post-master's program, but they do not count toward the 45 credit hours required in the program of study.)
24 credit hours of doctoral committee-approved courses including 12 credit hours of supervised research
Must maintain an overall GPA of at least 3.00
Residency & Professional Scholarship required
If an applied project or thesis was not completed as part of the master's degree, then either must be formally completed and defended prior to the dissertation proposal (Note: In this case, the 6 credit hours do not count toward the 45 credit hours required for the program of study.)
Fall and spring doctoral seminar participation required until Doctoral Exams passed.
Successful completion of Written and Oral Doctoral Comprehensive Exam required before dissertation proposed
15 credit hours of dissertation chaired by a Full Graduate Faculty member in the APAN program required
Successful written and oral defense of dissertation required
---
Research
Advanced research facilities and equipment are available to support this degree:
Human Performance Center
Center for Nutraceutical and Dietary Supplement Research
Biochemistry and Molecular Biology Laboratory
Bone Densitometry and Body Composition Laboratory
Cardiorespiratory/Metabolic Laboratory
Exercise Instructional Laboratory
Musculoskeletal Analysis Laboratory
Exercise Training Intervention Laboratory
---
For more info:
Dr. Marie van der Merwe, Program Coordinator
mvndrmrw@memphis.edu