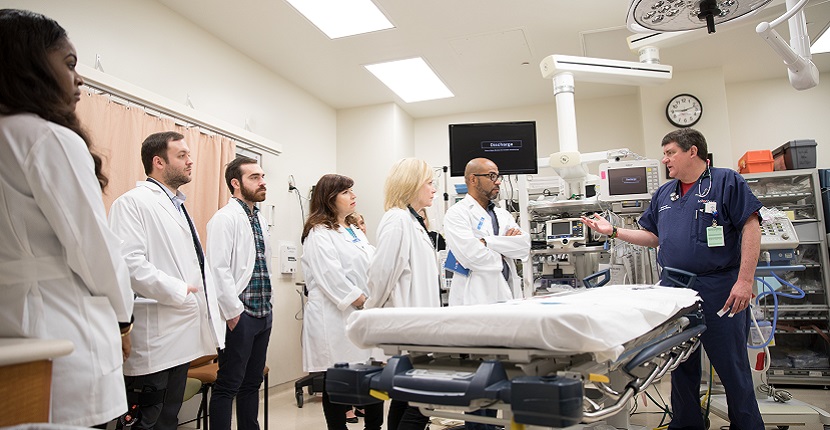 MEDICAL-LEGAL PARTNERSHIP CLINIC
The Medical-Legal Partnership (MLP) Clinic is an interdisciplinary course in which Memphis Law students represent low-income pediatric patients at Le Bonheur Children's Hospital and their families. The MLP Clinic is part of the Memphis Children's Health Law Directive (Memphis CHiLD), a collaborative effort among the School of Law, Memphis Area Legal Services (MALS) and Le Bonheur to address the legal and social issues that impact child and family health though direct legal services, education and systemic advocacy. Memphis CHiLD is the first medical-legal partnership of its kind in the region.
Under the supervision of the professor and clinic director, MLP Clinic students may handle cases involving one or more of the following I-HELP areas:
Income and insurance (including public benefits and public and private health insurance),
Housing (including landlord-tenant matters and utilities),
Employment and education (including unemployment and IEP's),
Legal education and counsel (providing education and training to health care professionals and the community), and
Personal and family safety (domestic violence and other family law matters).
To complement their casework, students participate in weekly classroom sessions designed to explore the legal services they are providing, the legal, policy and ethical issues that affect patients' health, and the ways that health outcomes and health care access for low-income children can be enhanced by bringing together health and legal professionals. In both the case and classroom components of the Clinic, students engage in a series of ongoing interactions with the attorney and social work team that MALS has devoted to the Memphis CHiLD, as well as doctors, residents, medical school students, social workers, and other Le Bonheur faculty and staff."
To apply to the MLP Clinic, click HERE.
Faculty:
Assistant Professor of Law

Director, Medical-Legal Partnership Clinic
---
News:
PROFESSOR RAMSEY QUOTED IN EVICTION/LANDLORD FOCUSED ARTICLE IN COMMERCIAL APPEAL
MLP Clinic director, Professor Katy Ramsey, was interviewed by the Commercial Appeal for an article focused on how unemployed Memphians can protect themselves from evictions for the remainder of the year, with some landlords being concerned the loss of income in the coming months could set off a wave of foreclosures. Click here to read more.
COMMERCIAL APPEAL ARTICLE FOCUSES ON RESTARTING OF EVICTION HEARINGS
A recent article in the Commercial Appeal focused on the looming housing and health crisis caused by the resumption of eviction hearings in Tennessee. MLP Clinic Director Katy Ramsey is extensively quoted throughout the article.
MOTHER JONES FEATURES PROFESSOR RAMSEY IN HOUSING RENTAL LAW FEATURE
MLP Clinic Director Katy Ramsey was interviewed for an article in the national publication Mother Jones regarding a controversial housing rental law-related lawsuit which allegedly was designed with the intent to discriminate minorities in Minnesota.
ASSOCIATED PRESS ARTICLE FOCUSES ON LANDLORD LAWSUIT RESPONSE TO EVICTION BAN
As millions of Americans struggle to pay their rent during the coronavirus pandemic, landlords are going to courts, claiming that the national eviction moratorium unfairly strains their finances and violates their property rights. MLP Clinic director Katy Ramsey is quoted extensively in the article.
MLP CLINIC STUDENT HEATHER BORNSTEIN PENS OP-ED IN DAILY MEMPHIAN
MLP Clinic student-attorney, and Memphis Law Health Law Society president, Heather Bornstein wrote an op-ed in the Daily Memphian focused on how evictions in the time of the pandemic will result in increased homelessness and a new public health crisis.
PROFESSOR KATY RAMSEY PUBLISHES EVICTION ARTICLE IN THE CONVERSATION
MLP Director Katy Ramsey wrote an article in The Conversation publication regarding how landlord-leaning eviction courts are about to make the national housing crisis drastically worse.
THE CONVERSATION PUBLISHES Q&A WITH PROFESSOR KATY RAMSEY
The Conversation recently asked MLP Clinic director Katy Ramsey about the Centers for Disease Control and Prevention recent order banning evictions of people who lost work as a result of the pandemic.