JAMES S. GILLILAND LEGAL CLINIC
---
For more than 20 years, the University of Memphis James S. Gilliland Legal Clinic has enabled student attorneys to make the connection between legal theory and legal practice by offering them the opportunity to represent actual clients under close clinical faculty supervision. Student attorneys are specially licensed by the Tennessee Supreme Court. The James S. Gilliland Legal Clinic is located on the lower level of the law school building, with a separate exterior entrance plaza for clients. James S. Gilliland Legal Clinic facilities include a research library, interview rooms, conference rooms, and offices equipped with state-of-the-art technology.
The following subject-specific Clinics operate as part of the University of Memphis James S. Gilliland Legal Clinic:
During a three-week orientation period, supervising faculty introduce student attorney to skills, and ethics in the subject area of the designated Clinic. All clinics help student attorneys develop core legal skills, regardless of subject area, making the clinical experience transferable to any area of practice.
Specific emphasis is placed on:
Client interviewing and counseling
Fact and witness investigation
Formal and informal pretrial discovery
Communication with opposing counsel, court staff, and other key personnel
Negotiation and settlement
Drafting of letters, motions, pleadings, briefs, advanced directives, and/or other legal documents
Motions practice and court filing
Statutory interpretation
Use of experts
Mediation preparation
Trial preparation and trial advocacy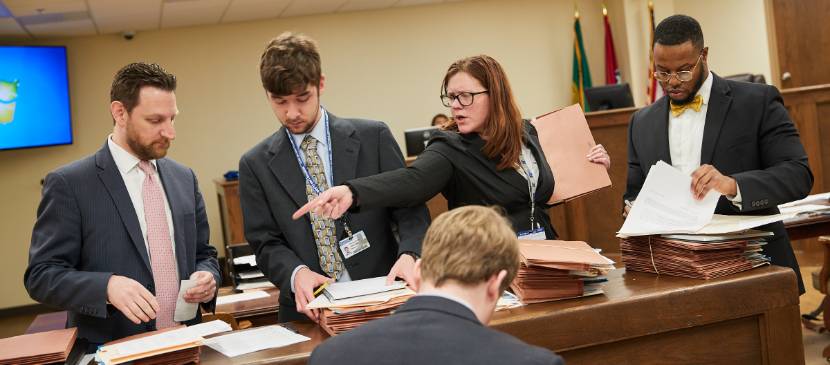 The clinical program adheres to a client-centered approach, requiring the student attorney to visualize her/himself in the client's circumstances. This approach allows students an opportunity to explore the various roles attorneys assume in society, including trial attorney, transactions attorney, interviewer, negotiator, counselor, mediator, facilitator, community builder, legislative advocate, and officer of the court. Student attorneys also are introduced to holistic legal practice, focusing on representation in all forums in which the client may have a legal problem or need a legal solution.
The University of Memphis James S. Gilliland Legal Clinic fulfills a critical community service by providing free legal services to under-represented clients – including children, the elderly, and victims of consumer fraud – thus developing first-hand knowledge of ways attorneys can promote social justice and use their law degrees in service to society.