COMMUNITY PARTNERS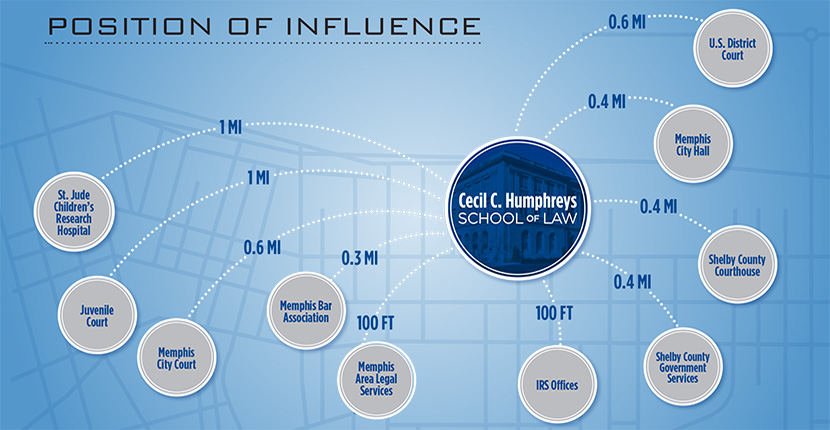 Memphis Law partners with a number of local law firms, governmental entities and offices, non-profits, hospitals and legal services in our clinic and externship efforts.
Eviction Settlement Program
Professor Ramsey, director of the Medical-Legal Partnership clinic, has worked with Professor Wendy Bach, director of the Advocacy Clinic at UTK Law, and Tennessee Alliance for Legal Services to develop a program to address the eviction crises in Tennessee brought on by COVID-19. This novel project provides direct legal representation for those facing pandemic-related evictions, using CARES Act funds to help those in need due to business closure/ job loss, lack of childcare, or death or illness of a close family member with COVID-19. To learn more about this program, click here.
Housing Adjudication
The Housing Adjudication Clinic partners with the Memphis Housing Authority, an agency established under Tennessee law in 1935. Specifically, the Clinic works with Memphis Housing Authority on its Housing Choice Voucher Program. To learn more about the Memphis Housing Authority, click here.
Mediation
The Mediation Clinic often works with the Memphis District Office of the U.S. Equal Employment Opportunity Commission to mediate employment discrimination claims. To learn more about the EEOC's mediation program, click here.
Medical-Legal Partnership
The Medical-Legal Partnership Clinic is part of the Memphis Children's Health Law Directive (Memphis CHiLD). Through the Memphis CHiLD program, the Clinic partners with Le Bonheur Children's Hospital and Memphis Area Legal Services to provide a range of legal services and advocacy for patients and their families at Le Bonheur. To learn more about Le Bonheur Children's Hospital, click here.
Neighborhood Preservation
The Neighborhood Preservation Clinic partners with the similarly named Neighborhood Preservation Inc., a nonprofit organized to strategically address vacant and abandoned property in Memphis. To learn more about NPI, click here.