Irma Singarella
Associate Professor, Health Sciences Librarian
Office
Office-Baptist Memorial Health Care Library (Health Sciences Library), Room 2001 Park Avenue Campus
Office Hours
By appointment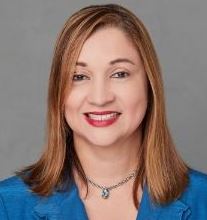 About
Dr. Irma Singarella provides leadership and direction for the overall operations of the Health Sciences Library, since August 2017. As a member of the faculty, she participates in research activities, the University Libraries Collection Development program, and serves as a subject liaison. She provides users' assistance and research support to faculty and students. Some of her academic appointments are: Community of Researchers Scholars: Health Spaces and Technology Research Community Member (2019-Current); Liaison Librarian: Lowenberg College of Nursing and School of Communication Sciences and Disorders (2017-Currrent).
Work Experience
She was Associate Professor and the Library Director, at the Medical Sciences Campus at the University of Puerto Rico (2008-2017). She also served as Assistant Dean of Technology Integration and Information Access, Medical Sciences Campus University of Puerto Rico (2009-2010).
Education
She earned her undergraduate degrees in Humanities and Social Sciences, and has two master's degrees, including Public Administration, and Library and Information Sciences. She also holds a doctoral degree (Ed.D.) in Administration and Supervision in Education and a Post graduate certificate in Learning Technologies and Distance Education from the University of Puerto Rico, Mayagüez Campus. She was a fellow at the National Library of Medicine/AAHSL Leadership Program (2009) and she received a Level II Designation in the Consumer Health Information Specialization Program of the Medical Library Association.
Research Interest
Her research areas include: Mobile technology and information services; Health sciences libraries' online resources usage and patterns, Health Literacy and underrepresented populations, and Mentorship among academic librarians.
Professional Organizations
She has been active in diverse professional organizations and committees. She was the Southern Chapter/Medical Library Association Conference Chair in San Juan Puerto Rico, (2015), and has been a member of the SC Program Committee, (2013-14), Professional Development, Bylaws, and Research Committees. She is active in the Medical Library Association (MLA), including the MLA Scholarship for Underrepresented Students Committee Chair (2019-2020), and is a Nursing and Allied Health Resources and Services (NAHRS) section member.
She was an active member of the Association of Academic Health Sciences Libraries (AAHSL) as well as the Consortium of Biomedical Libraries (CONBLS), and the Puerto Rican Association of University Professors (APPU).
Personal Interest
Personal interests include reading, exercise, biking, and travel.
She is bilingual (Spanish and English), and a certified Zumba@, Pro Pound and Primary Indoor Cycling Instructor.