Charles A. Lessman
Professor
Office
UofM Central Campus, Life Sciences 223
Office Hours
By appointment or when office door is open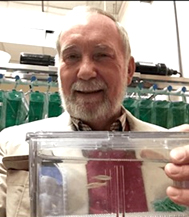 About Dr. Lessman
Dr. Charles A. Lessman joined the Faculty in 1988 as an associate professor and in 1993 he was promoted to the rank of professor. Dr. Lessman received his Ph.D. from the Department of Genetics & Cell Biology at the University of Minnesota. He was a Mellon Postdoctoral Fellow in the Department of Population Dynamics, at the Johns Hopkins University. He served as an assistant then associate Professor at St. Francis Xavier University in Nova Scotia, Canada and currently is a Professor in the Department of Biological Sciences at the University of Memphis. He has been a visiting professor at the University of Iowa, the Vanderbilt University and at St. Jude Children's Research Hospital. Dr. Lessman's research focus is on reproductive and developmental biology and he has employed a number of different model organisms but most recently has used zebrafish. He teaches Cell Biology, Developmental Biology, Cell Physiology, Vertebrate Cell Culture and offers Undergraduate and Graduate research projects on zebrafish genetics, reproduction and development.
Education
B.A. Psychology, minor: chemistry, University of Minnesota; M.S. Zoology, University of Minnesota Dept. of Zoology; Ph.D. Genetics-Cell Biology, Minor: biochemistry, University of Minnesota; Post-Doctoral Fellow Johns Hopkins University, Dept. of Population Dynamics, Division of Reproductive Biology, Baltimore, Md.
Research Interests
Reproduction in vertebrates, especially time-course of gonad dynamics in individual transparent Casper zebrafish.
Effect of Endocrine Disrupting Chemicals (EDCs) on puberty and reproduction of zebrafish.
Centrosome and microtubule dynamics in the oocyte-egg transition.
Identification, screening and mapping of motility mutants in zebrafish.