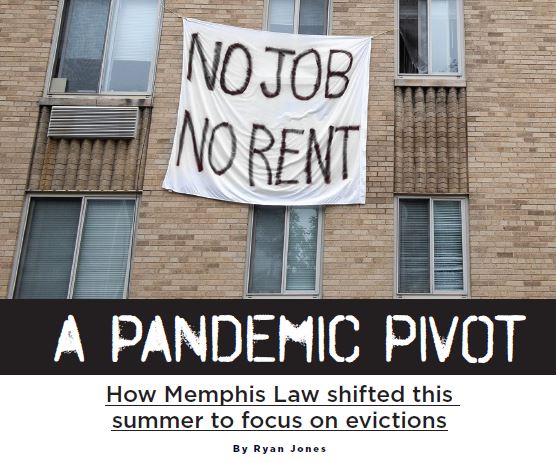 ---
NECESSITY IS THE MOTHER OF INVENTION, as they say. That certainly holds true for the many Memphis Law programs, clinics, courses, students, faculty and staff as they have dealt with the unprecedented challenges presented by the COVID-19 pandemic.
When colleges and universities across the state announced the cancellation of in-person classes due to the COVID-19 pandemic, law professors and students were scrambling to find out how their classes would continue.
Perhaps none more so than those involved in Memphis Law's Medical-Legal Partnership (MLP) Clinic at Le Bonheur Children's Hospital. Not only was the work currently being done with patients now put on hold, but all future cases at Le Bonheur were going to be put off for at least the rest of the semester.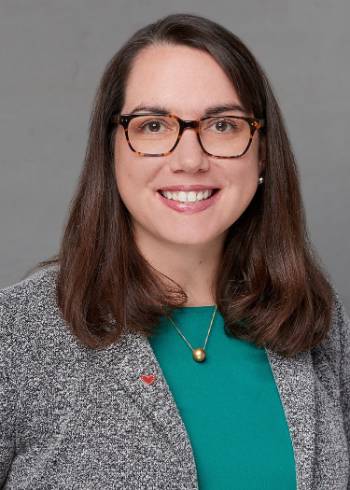 Professor Katy Ramsey, director of the MLP Clinic, wanted to find a meaningful way to help her students take on a health-related response directly tied to this health crisis. "I had recently been a part of several conversations about what other states and local jurisdictions were doing with regards to evictions," Ramsey said. "There had started to be a trend of governors, mayors and local leaders imposing moratoriums on evictions while this crisis is ongoing."
"We were looking at both a health crisis and an economic crisis here," she said. "In an economic crisis, people are less likely to be able to pay their bills and rent. We've been told that the remedy to this health crisis is to stay at home. So it's very inconsistent to think that we could both be allowing numerous evictions to proceed, which ultimately results in higher degrees of homelessness, while also asking people to stay at home and socially isolate."
In short, the higher numbers of evictions were going to result in higher rates of COVID-19 cases. These eviction and foreclosure legal proceedings had to be halted in order to protect vulnerable citizens during this pandemic and mitigate further community transmission.
It's estimated that anywhere from 20 to 28 million American renters are dangerously close to eviction. Even before COVID-19 hit the country, America faced the worst housing crisis in a century. According to Harvard's Joint Center for Housing Studies, 20.5 million families already struggled to pay the rent, with only one in four eligible renter households receiving financial assistance. According to the Eviction Lab at Princeton University, four evictions were filed every minute in 2016, when the national unemployment rate was 4.7%. As of this writing, unemployment is close to three times that level.
Reinforcing the massive toll that the pandemic has had on renters, the University of California, Berkeley Terner Center for Housing Innovation estimates that 50 million renters live in households that suffered COVID-19 related job or income loss, with almost 40% occurring in low-income households. The demand for financial assistance is at an all-time high, with a 92% increase in daily rental assistance requests and food pantry requests increasing by as much as 2,000% in some states.
Many states, including Tennessee, enacted a patchwork of temporary eviction moratoriums and the federal government also issued a partial ban on evictions. However, these quickly expiring moratoriums will soon no longer protect homeowners
and tenants unable to make their payments because of COVID-19 lockdowns. Many of these orders have begun to expire already, with even more scheduled to do so after this magazine goes to print. Once they do, residents are facing a possible flood of non payment legal actions. The COVID-19 Eviction Defense Project (CEDP) predicted recently that by the end of September, more than 20 million U.S. renters — many of them Black and Latino located in big cities — will be at risk for eviction.
To put this in even greater perspective, Emily Benfer, chair of the American Bar Association's Task Force Committee on Eviction and co-creator of the COVID-19 Housing Policy Scorecard with the Eviction Lab at Princeton University, recently told CNBC, "We have never seen this extent of eviction in such a truncated amount of time in our history."
"We can expect this to increase dramatically in the coming weeks and months, especially as the limited support and intervention measures that are in place start to expire," Benfer elaborated. "About 10 million people, over a period of years, were displaced from their homes following the foreclosure crisis in 2008. We're looking at 20 to 28 million people in this moment, between now and September, facing eviction."
With the need for help extremely evident, Ramsey started reaching out to legal aid organizations and fellow practitioners across the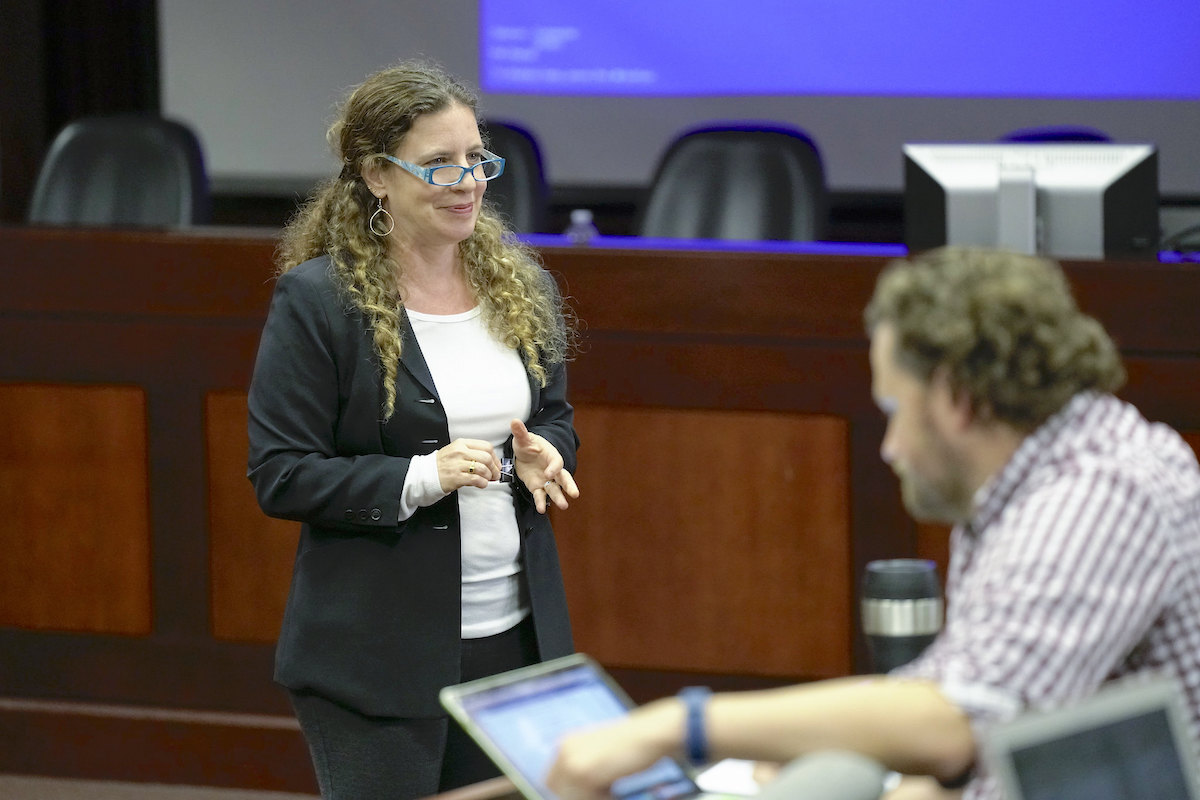 state. Her research eventually led her to the University of Tennessee College of Law and Professor Wendy Bach, director of the Advocacy Clinic at UTK Law.
"I was looking for something meaningful for our students to take on that was a direct response to this crisis," Bach said. "Legal services attorneys are facing a wave of eviction-related work. There is a moratorium on eviction proceedings now. But when that's lifted, the number of people dealing with these situations will skyrocket. And the proceedings will move very fast."
The two professors began to think about how their cross-state clinics and students could work together on the problem. In doing so, they realized that their actual in-person clinic classes were scheduled on the same exact date and time, which meant they could combine their efforts and bring all of their students together virtually — using Zoom sessions — to find answers to our state's larger eviction issues related to the COVID-19 crisis.
"Tennessee does not have strong tenant protection laws, so evictions are always a problem and tenants don't have a lot of recourse," Ramsey said.
The overall course morphed into a sort of three-part project around evictions — a statewide survey project; the drafting of model pleadings for attorneys to use as templates; and a communications group that researched policy, drafted recommendations for change, wrote op-ed pieces for local newspapers and put together FAQ and "Know Your Rights" documents for those in need, both attorneys and tenants. County courts in Tennessee have discretion about whether they will accept eviction filings during this time, and sheriffs can interpret how they want to proceed with executing writs that were issued prior to court closures throughout the state. So, the clinics brought on a third partner in the Tennessee Alliance for Legal Services (TALS) to tackle the survey portion of the project.
Students from the two schools developed a set of standardized questions and called sheriff's offices, general sessions courts and court clerks offices in the 95 counties across the State of Tennessee, where they asked these questions in order to determine how evictions were being handled in each county.
"The information was important for TALS to have when they received calls to their helpline," UT Professor Bach said. "They wanted to be able to accurately answer questions for clients about how to best deal with situations in their home counties."
Secondly, the students undertook a "pleadings" portion of the project where they drafted model pleadings and model answers for attorneys to use as templates in these eviction cases.
"We heard from several legal aid attorneys that they used these pleadings immediately and prevented evictions based on the research that the students did, which was really awesome," said Ramsey.
The model answers were drafted in anticipation of the flood of eviction filings that occur when courts reopen.
"We wanted to give legal aid attorneys around the state, as well as possibly pro se tenants, a template that listed out legitimate defenses and counter-claims, that they would have immediate access to that they might not normally have the time or resources to put together," noted Ramsey.
Students in the communications section of the project took a more public-facing approach to the problem by researching policy issues and eviction laws in relation to public health emergencies and then drafting opinion pieces for local news outlets detailing why people should care about eviction issues and why there ought to be a longer moratorium on evictions during this crisis. Additionally, these clinic students spent time crafting "Know Your Rights" and FAQ informational pieces for tenants to help them know what to expect when going through this process.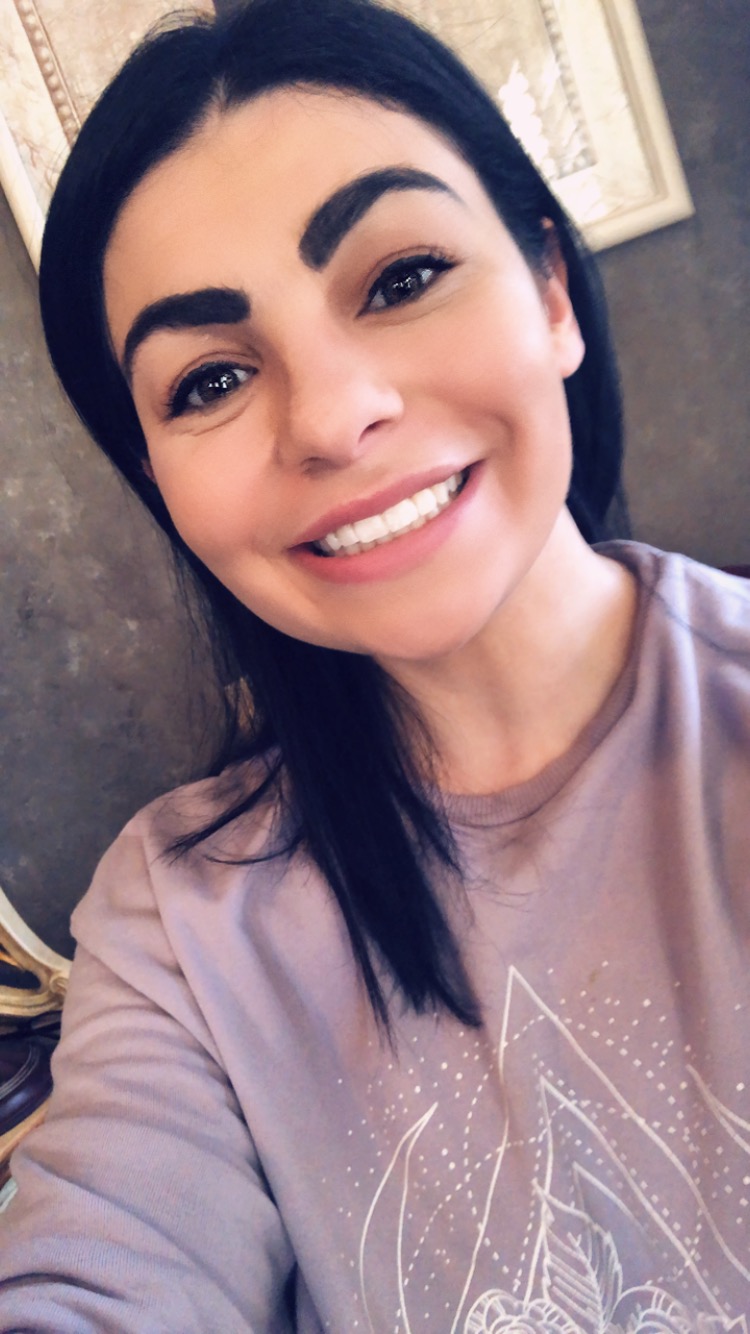 Memphis Law student Heather Bornstein is president of the law school's Health Law Society and was a student in this innovative new evolution of the MLP Clinic. She and her partner at UT, Allen Heaston, researched past pandemics like the Spanish Flu, where these sorts of policies were not implemented, and the results were dire.
"Because there is no precedent from any state on eviction moratoriums, it was really difficult to understand the effects of having one," Bornstein said. "What we do know is NOT having one has disastrous effects." "We looked into what happened during the Spanish Flu pandemic in 1918, and if what happened then carries over to today, we're about to have a significant housing crisis," Tennessee College of Law student Allen Heaston said.
All of this fast-moving change as a result of COVID-19 could have torpedoed the learning of some students and their classes. But those in this unique adaptation found the experience enlightening and fruitful.
"I've learned so much from having the opportunity to continue our clinic work remotely," said Memphis Law student and clinic participant Rose Logan. "Zealous advocacy includes being prepared, flexible and innovative and being a student-attorney during this crisis has empowered me to think outside of the box to remain diligent about my future casework and clients."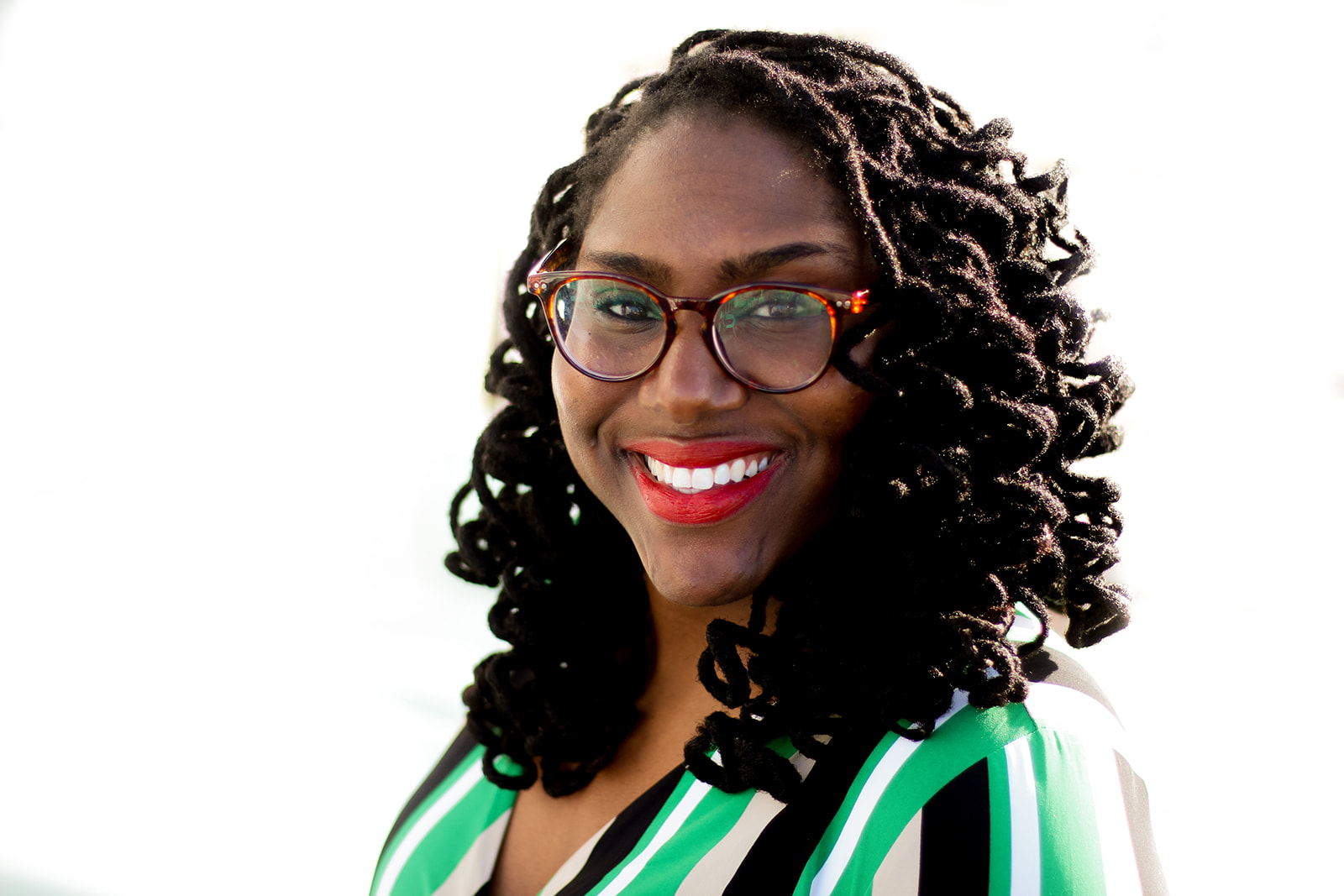 "This was obviously very different work than our students anticipated at the beginning of the semester," Ramsey said. "But it was also very impactful and real work."
EVICTION SETTLEMENT PROGRAM
After the groundwork was laid by our MLP Clinic and its eviction-related work, local Memphis and Shelby County government, courts, and legal and housing organizations coordinated a new $2 million program designed to limit pandemic-related evictions. But this new Eviction Settlement Program (ESP) is also an attempt to address the issue of housing insecurity in a different manner that could help reduce the area's homelessness issue going forward.
The ESP provides free legal representation to tenants facing eviction because of lost income due pandemic-related illness, business closure/ job loss, lack of childcare, or death or illness of a close family member with COVID-19. The University of Memphis School of Law Legal Clinic provides legal representation alongside attorneys from Memphis Area Legal Services. Through law school legal clinic professors Katy Ramsey and Danny Schaffzin, the Legal Clinic is partnering with a core group of organization including Neighborhood Preservation Inc., Memphis Area Legal Services, Innovate Memphis, Shelby County and the City of Memphis to design the program. Shelby County and the City of Memphis together are seeding the program, including the significant pool money to negotiate preeviction settlements through the allocation of federal CARES Act funds each has received.
Nearly 30 local attorneys, including professors Ramsey and Schaffzin, as well as Alex Bissell, the law school's Medical-Legal Clinic staff attorney, represent tenant-clients through the program. Additionally, approximately 15 volunteer Memphis Law students have been training and will participate under the supervision of the volunteer attorneys.
A uniquely innovative part is how this program fills a gap in the way issues of housing insecurity have traditionally been addressed.
Pre-eviction programs have long existed for tenants struggling to pay rent, director of Shelby County Community Services Dorcas Young Griffin recently told The Daily Memphian in a related interview. "Now we have a relationship in the court where in real time we can see the cases coming through and we can intervene with the landlord and tenant and say, 'Hey, we have a way we can settle this, keep this person stable and (the landlord) will get some money.' We have not had that gap filled with the court," she said. "Long-term, if we can institutionalize this partnership with the courts, the law school and Memphis Area Legal Services ... we are going to catch even more people who are falling through the cracks."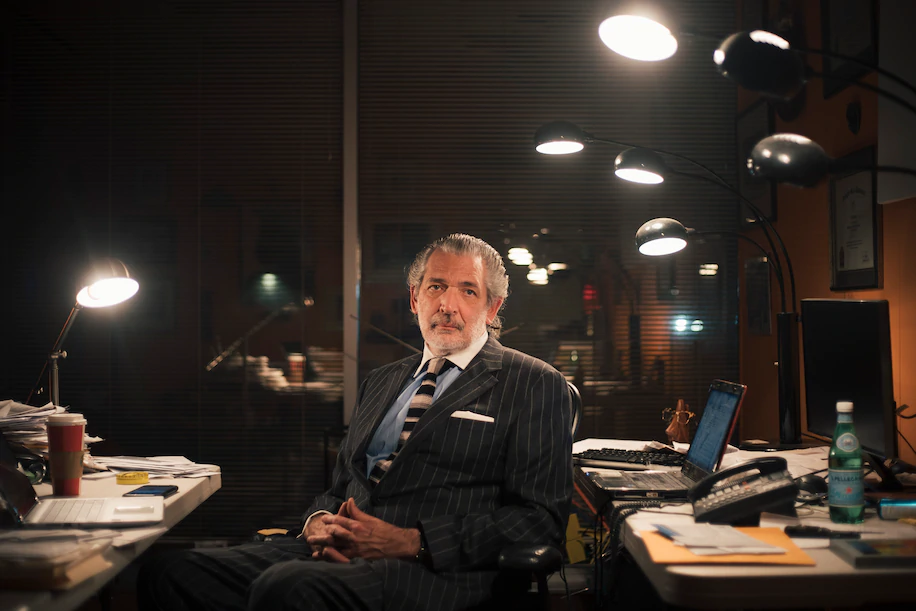 According to attorney Webb Brewer, a longtime advocate for tenants and homeowners facing foreclosure in Memphis, this entire program is unique. Brewer is working as a consultant on the project and is helping to train the law students and attorneys participating in the program.
"This is not 'We'll pay your rent for two or three months if you meet these criteria,'" Brewer said in a recent interview with The Daily Memphian. "This is much more tailored, and we'll be trying to negotiate and get landlords to accept some of the pain if they have a guarantee of receiving X amount of money and a commitment the tenant will pay X amount."
With the looming uptick in the housing crisis across the country due to the COVID-19, innovative programs like this are going to be models for how to successfully help those in need of safe and reliable housing throughout this pandemic and beyond. It's also the sort of nimble and unique collaboration and programming that law schools, including Memphis Law, will be able to utilize in educating and training future attorneys in these ever-changing times.
"I am hopeful this ESP will help us during COVID-19," said Young Griffin, director of Shelby County Community Services. "But I actually think we have birthed a potential best practice for after COVID as well." Communities across the country had a housing security problem long before this recent pandemic, but with tools and programs like these, and with willing partners like the University of Memphis School of Law, the way forward seems slightly more encouraging.