M. Danielle Gunter, PhD, RN, CPN
Director for Clinical Education, Clinical Associate Professor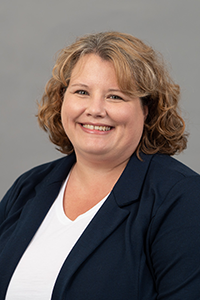 Professional Overview
Dr. Gunter is an graduate from the University of Memphis Loewenberg College of Nursing BSN class of 2002. She began her nursing career at St. Jude's Children's Research Hospital and after relocating to Texas she continued working with the pediatric oncology and bone marrow transplant population for many years. Eventually she moved into hospital department and organization administration, but still continues to be active as a nurse researcher in this field. Her area of study is primarily focused on psychosocial support of children/adolescents with chronic illnesses, especially during times of transition in their health management or development.
She began her academic nursing career at the University of the Incarnate Word teaching pediatric nursing, foundational skills, leadership and management, quality improvement, health policy, nursing theory, and resource management.
In the graduate program her skills as a nurse leader helped guide master's and doctoral students toward effective critical thinking and health program development at the organization and community level.
She helped improve the simulation program through a Texas Higher Education Authority Nursing Innovation grant which provided for faculty development on simulation design and implementation, and facility improvements.
Dr. Gunter joined the Loewenberg College of Nursing as the Director for Clinical Education in 2021. Her areas of expertise are in program development, quality improvement, leadership and management, healthcare finance/policy, and simulation. She has a strong background in curriculum development and implementation, as well as program evaluation and nursing accreditation.
She is an active member of the Association of Pediatric Hematology/Oncology Nurses (APHON) and currently serves as chair of the Evidence Based Practice and Research committee. She is also a member of the American Nurses Association, Sigma Theta Tau, and is a certified pediatric nurse (CPN).
In her role as the Director for Clinical Education she helps to ensure our students receive quality clinical education experiences through thoughtful collaborations with our community clinical partners. She helps to coordinate clinical orientation, policies, student placements, preceptorships, and the part-time clinical faculty hiring process.
PhD in Nursing, University of Texas at Tyler, Tyler, TX
MSN, University of the Incarnate Word, San Antonio, TX
BSN, University of Memphis, Memphis, TN
Families
Health policy
Holistic care
Interprofessionalism
Nursing administration
Nursing workforce
Palliative care
Pediatrics
Simulation
Technology
American Nurses Association
Association of Pediatric Hematology Oncology Nurses
Sigma Theta Tau
UIW Presidential Teaching Award Nominee (2011, 2015, 2017, 2018, 2019, 2020, 2021)
UIW Provost Legacy Award 2018
TNA/Sigma Nurse Imagemaker Award 2016
Nightingale Excellence Award 2015
Gunter, M.D. & Duke, G. (2019). Social support to reduce uncertainty in childhood cancer in south Texas: A Case Study. Journal of Pediatric Hematology/Oncology Nursing, 36, 207-218.
Gunter, M. D. & Duke, G. (2018). Reducing Uncertainty in Families Dealing with Childhood Cancers: An Integrative Literature Review. Pediatric Nursing, 44(1), 21-37.
Gunter, M. D. (2017). Safety, Staffing, and the Use of Evidence Based Practice Projects on Nursing Units. APHON Counts (non-peer reviewed quarterly newsletter). Fall 2017.
Muñoz, L.R., La France, Dominguez, D., Goei, K., Herbers, S., Gunter, M.D.,....Jones, M.E. (2014). Text messaging as a tool to increase physical activity in college students. The Physical Educator, 71, 437-453.
Parker, R.A., McNeill, J.A., Pelayo, L.W., Goei, K.A., Howard, J., Gunter, M.D. (2011). Pediatric clinical simulation: A pilot project. Journal of Nursing Education, 50(2), 105-111.
Gilliland, I.; Nadeau, J., Williams, S., Munoz, L., Parker, R., Cook, J., McNeill, J.et al. (2010). Remembering wartime experiences: The role of spirituality among retired military nurses. Journal of Spirituality and Mental Health, 12(3), 224-239.