Jeremy N. Whittaker, Ph.D., MBA (he/him/his)
Associate Dean for Student Success and Inclusion
Office
2502L Community Health Building
Office Hours
8 a.m. to 4:30 p.m.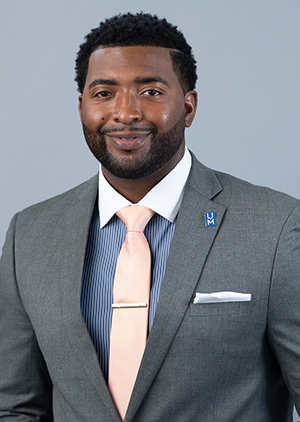 About Jeremy Whittaker
Dr. Jeremy N. Whittaker is a result driven catalyst of positive transformation with an extensive background in higher education leadership, strategic institutional holistic support programming, intercultural development, and personalized student engagement. A proud native of Memphis, TN, where he graduated from Christian Brothers High School, he recently transitioned into the role of Assistant Dean for Nursing Students and graduate professor within the nationally ranked Loewenberg College of Nursing at The University of Memphis. In this role, Dr. Whittaker oversees Recruitment and Admissions, Progressions, Scholarships, Academic Advising, Student Conduct, and Student Affairs for nursing students at both LCON campuses which are located at Lambuth and Memphis.
With more than a decade of experience in higher educational leadership, Dr. Whittaker has held administrative leadership roles within Student Affairs, Enrollment Management, Multicultural-Diversity Affairs, Academic Support/Counseling, Athletics, and Career Services. Jeremy's proven track record in higher education also includes his tenure as the Executive Director of Student Affairs and Regional Campus Dean at Cambridge College in Boston, MA. Additionally, during his time at the University of Arkansas at Little Rock he is credited for his work within the Academic Success Center and collaborative efforts with the Winthrop Rockefeller Foundation for the implementation and success of the African American Male Initiative (AAMI) program. He most recently dedicated his time and efforts as the Chief Operations Officer for the behavioral health and educational services foundation ABC's of Life, Inc. where he spearheaded community partnership and vendor support efforts that increased state and federal contracted services by over 60%.
Dr. Whittaker's research interests are highlighted within the focus areas of student wellness and help-seeking behavior, minority male retention, disability support services, and international student engagement. Dr. Whittaker is a member of the National Association of Student Personnel Administrators (NASPA) and he has enjoyed the pleasure of conducting workshops at a multitude of institutions nationally in which he highlights his philosophy that engagement is inextricably bound to learning. He states, "students who feel that they truly matter to an institution are much more likely to be retained, persist, and ultimately graduate. Therefore, we must ensure the necessary resources are accessible to assist in this effort."
While balancing the responsibility of being a college student athlete, he attained a Bachelor of Business Administration with emphasis in Organizational Management and Finance from Southern Arkansas University. Following an appointed internship with the United States Department of Education, Dr. Whittaker also attained a Master of Education (M.Ed.) in Higher Education Leadership/Student Affairs and Master of Business Administration (MBA) from the University of Arkansas-Little Rock. In addition, he accomplished his doctoral degree (Ph.D.) in Urban Higher Education Leadership from the Executive Ph.D. program at Jackson State University and recently completed the Diversity, Equity, and Inclusion in the Workplace certification program from the University of South Florida Muma College of Business.
Dr. Whittaker also remains quite active in civic engagement through recent partnerships with the City of Memphis Youth Services MPLOY Summer Initiative as well his involvement with Big Brothers & Big Sisters of Greater Memphis, Kappa Alpha Psi Fraternity, Inc., and appointment as a member of the Junior Achievement of Memphis & the Mid-South Young Professionals Board. Additionally, he is a nationally certified Youth & Adult Mental Health First Aid Instructor and enjoys being a member of the National Alliance of Mental Illness (NAMI) Memphis Chapter.