Garrett Pilgrim, M.A.
Adjunct Faculty
Office
300 Meeman Journalism Building
Office Hours
As posted on syllabi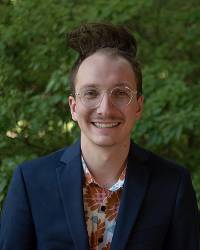 Education


M.A., Journalism, University of Memphis
B.A., Journalism with a concentration in advertising, University of Memphis
About Prof. Garrett Pilgrim
Prof. Garrett Pilgrim has worked as a copywriter, photographer, videographer, marketing manager and web designer. Currently, he leads marketing and technology for Udeany, a personal finance company, and owns his own business, Mayflower Originals.
Before Udeany and Mayflower Originals, Prof. Pilgrim worked as a graduate assistant at the University of Memphis. During his graduate studies, his paper, Holy Smokies! Information Design, Humor, and Trail Safety, won the top student paper in visual communication at the 44th AEJMC Southeast Colloquium.
Prof. Pilgrim teaches courses in visual media, multimedia storytelling and web publishing. He also freelances with work in graphic design, photography and web development. Outside of work, he spends time enjoying good stories in movies, books and video games as well as exploring nature in National Parks.