News and Events
Meeman Matters: The Department Newsletter
Read the April 2019 issue>
Read the December 2018 issue>
Read the August 2018 issue>
Read the April 2018 issue>
Read the December 2017 issue>
Read the August 2017 issue>
Read the April 2017 issue>
Read the December 2016 issue>
Read the August 2016 issue>
---
Voice Workshop by Local News Anchors Katina Rankin and Alexa Lorenzo
The Department of Journalism & Strategic Media held a workshop Voice taught by Local 24 News anchor Katina Rankin and Fox 13 reporter Alexa Lorenza on Jan. 25, 2019. Students learned diction, delivery tips and TV appearances at the workshop.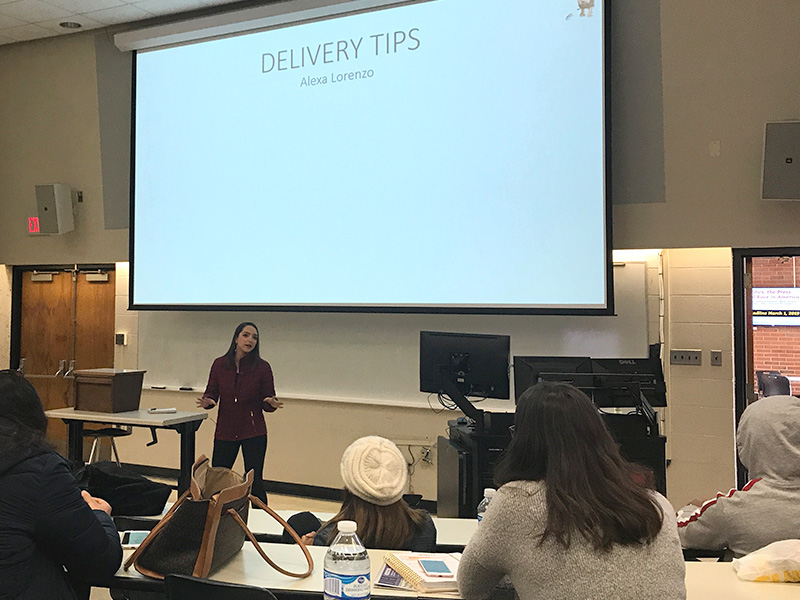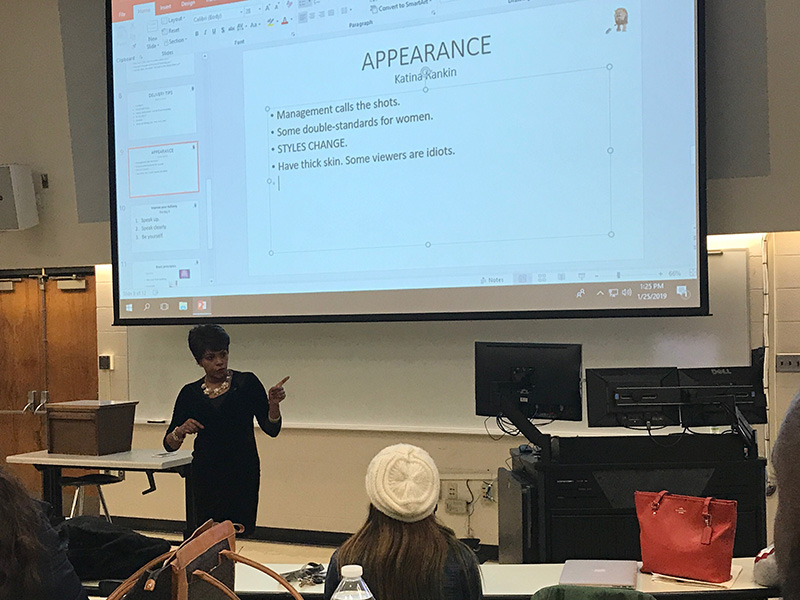 ---
From MLK to BLK: Documentary Film Premiere
The department premiered "Once More at the River: from MLK to BLM," a documentary film produced by journalism faculty and students about a story of activism in Memphis on Jan. 22, 2019. The film covered 20 local activists and officials reflecting on the past fifty years in Memphis, discussing the impact of both activism and the city's history on the lives of African Americans today. They tell us the story of activism in the city from Dr. King's assassination to MLK50, the 50th anniversary of his assassination, how it compares to the rest of the US, and what to look forward to in the future of the nation.
The film, directed by Roxane Coche, a former journalism faculty member and co-produced by Joe Hayden, a journalism professor and Roxane Coche and Caleb Suggs, a journalism student, attracted not only journalism students and faculty but also local community members.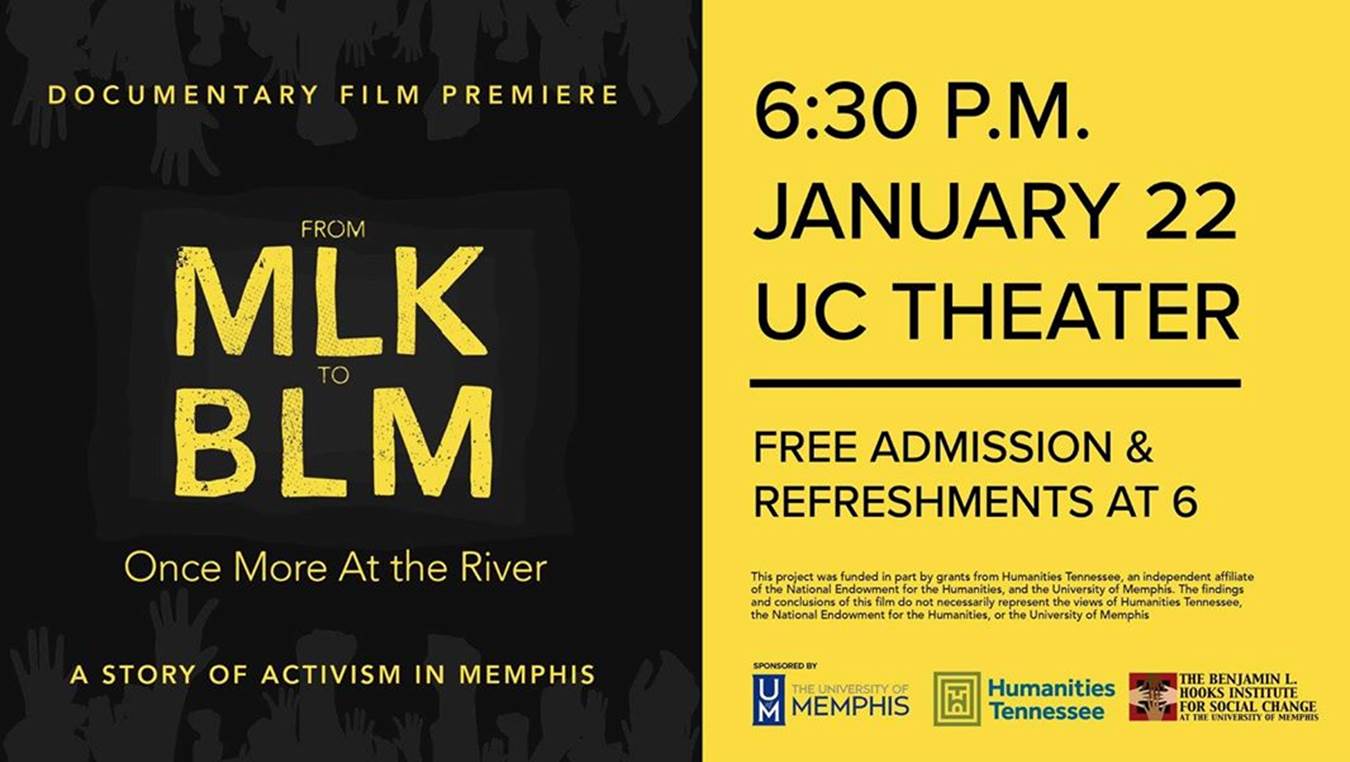 ---
Upcoming Event: Jemele Hill as Guest Speaker for Norm Brewer Lecture on March 12, 2019
Jemele Hill, a sports journalist who writes for the Atlantic, will serve as the guest speaker for the 2019 Norm Brewer Freedom of Speech lecture series. Hill worked nearly 12 years for sports conglomerate ESPN. She wrote a column for ESPN.com's Page 2 and formerly hosted ESPN's His and Hers. In June 2013, she succeeded Jalen Rose on ESPN2's Numbers Never Lie. In February 2017, Hill and Michael Smith became co-hosts of SC6, the 6 p.m. (ET) edition of ESPN's flagship SportsCenter. Hill remained in that role until February 2018, when she began to write for ESPN's website The Undefeated. She joined The Atlantic in October 2018.
---
Pennington Abroad Awards help JRSM majors study abroad
The Department of Journalism and Strategic Media is now offering awards to study abroad through the Pennington Abroad Awards. Each recipient receives $1,000 toward a study abroad experience offered at the UofM (summer, semester or full academic year). These awards are reserved to Journalism and Strategic Media majors who have at least a 2.5 GPA. To complete the 2019 application, click here. For more information, contact Dr. David Arant.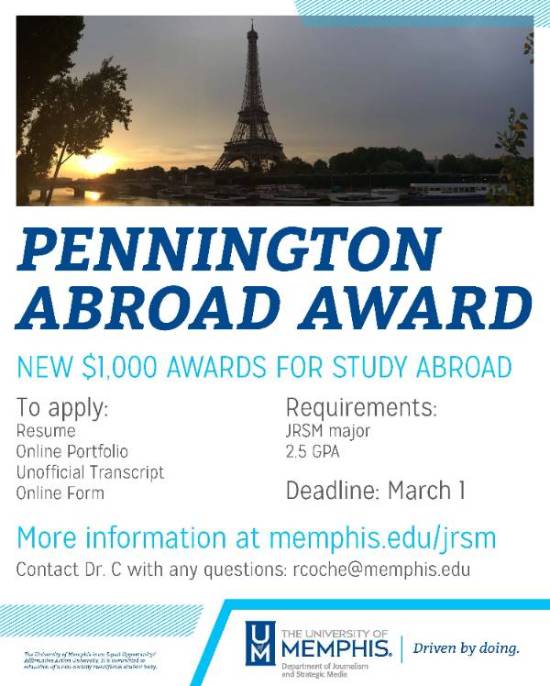 ---
Graduate Student and Faculty Research Colloquiums and Twitter Chats
The Department plans Research Colloquiums for the 2019 Spring Semester in order to engage graduate students and faculty in research efforts. And this semester the department plans three on these dates: February 22, March 29, and April 19. Stay tuned on the details. Coming soon.
The Department also planned two twitter chats for graduate students in the 2019 Spring Semester. One is on 7:30 to 8:30 p.m. Feb. 6 (Tuesday) and the other is to be on 7:30 to 8:30 p.m. April 17 (Wednesday) using the hashtag #meemangrad.