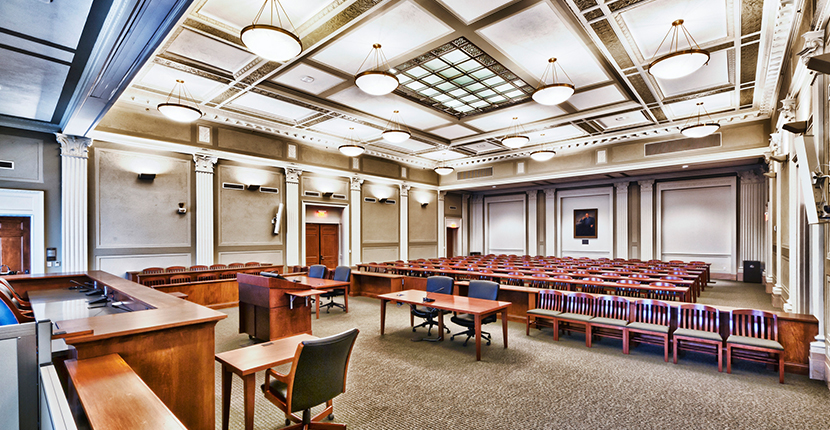 Schedule a Visit
Come visit us in our historic, state-of-the art facility today. During the semester, we conduct admissions tours Monday through Friday at noon. We do not schedule tours on school holidays, weekends, one week before exams, or during exam weeks.
During this time, law student ambassadors from the Admissions Office are available to give tours of our facility and to answer questions about law school for prospective students and their families. If you would like to schedule a tour, please send a message to lawadmissions@memphis.edu.
Can't make it to Memphis right away? Take a tour online!
First-Year Class Visits
In the fall and spring semesters we allow prospective students to observe a first-year class. Please be aware that you must sit through the entire class. Leaving early causes a class disruption and will not be allowed. To schedule a class visit, contact lawadmissions@memphis.edu.
Meeting with an Admissions Representative
Law Admissions staff are pleased to meet with prospective students to answer questions about Memphis Law, but an appointment is required. To schedule a Zoom or in-person appointment, please contact us at lawadmissions@memphis.edu.
Meeting with the Tennessee Institute for Pre-Law (TIP) Director
The Access & Multicultural Affairs Interim Associate Dean Jacqueline O'Bryant, is available to meet with applicants interested in the TIP program by appointment only. To schedule an appointment, please contact Dean O'Bryant at jmbrynt2@memphis.edu.
Traveling to Memphis Law
If you are traveling from out of town to Memphis Law, we want to make your trip as smooth and enjoyable as possible.