STUDENT SERVICES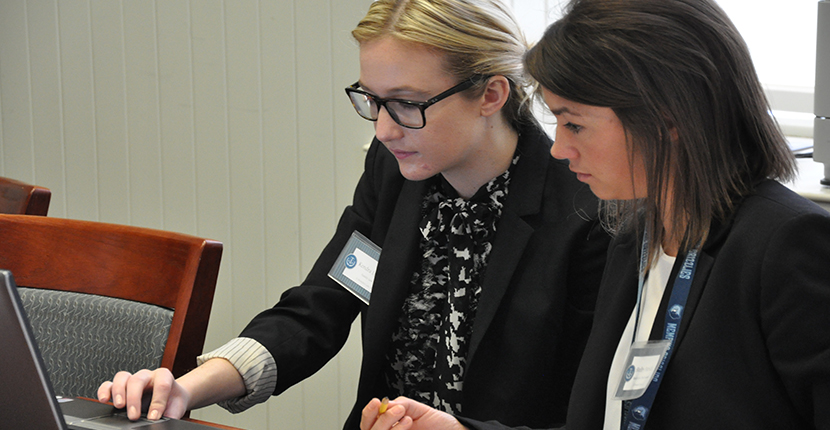 The Memphis Law CSO offers you a wide range of career development services, including:
Individual Counseling
You can set up one-on-one counseling appointments to review resumes and cover letters and to talk about career goals. If you do not have time for a meeting, you can drop off or email a resume or cover letter to lawcareerservices@memphis.edu. The materials will be critiqued and returned within approximately two days.
You are encouraged to schedule a career counseling session at least once during each year of your law school tenure. You may drop by the office or send an email to lawcareerservices@memphis.edu to schedule an appointment.
Due to National Association for Law Placement (NALP) regulations, you may not schedule an individual counseling session until after November 1 of your first year at Memphis Law. However, you may attend all of our programs. This regulation was designed to allow you to become acclimated to law school and comfortable with your studies.
Mock Interview Training
Mock interviews provide you with the opportunity to practice your interview skills in a realistic setting and to receive feedback to improve your performance. We hold mock interviews before on-campus employer interviews at the beginning of each semester. Local attorneys conduct the mock interviews. Interview sessions typically last 30 minutes and include feedback from the participating attorneys at the end of the session. The attorneys who participate in our mock interviews are often the same attorneys who conduct on-campus interviews.
Seminars and Events
We present many events throughout the year to familiarize you with basics such as writing resumes, and to expose you to a variety of practice areas. Panel discussions, career fairs, and other CSO events bring attorneys and students together to explore career possibilities. Recent programs have included:
"Eat, Drink and Be Hired" covered dinner and professional etiquette to assist students in preparation for lunch interviews and cocktail receptions. Students learned everything from tipping the valet to working a crowd.
"Resume/Cover Letter 101" focused on do's and don'ts in cover letter and resume writing.
"Handling Callback Interviews" helped students understand callback interviews and offers of employment.
"Beyond OCI"addressed common misconceptions about the legal job market, including the misconception that most entry-level positions (including summer associate positions) are obtained through on-campus interviews. The program gave students some starting points to search for jobs outside the four walls of law school.
"A Day In the Life Series," co-sponsored by the Memphis Bar Association, is an ongoing series of programs featuring local attorneys offering insight into what it is like to practice in a variety of different settings including non-traditional careers in law.
You may sign up for events through Symplicity.
Resource Center
The CSO library contains career books, interview guides, lists of Tennessee law firms broken down by city, and other helpful publications.
The Career Services Manual can be found in the Documents Library of Symplicity. This manual is a go-to resource with career planning ideas as well as several templates for resumes, cover letters, and the like.
The CSO also contains a work area with computers and a laser printer that may be used by students and alumni for the exclusive purpose of preparing resumes, cover letters, and other correspondence related to their job search. You may use our fax machine for sending and receiving employment-related correspondence.
Job Postings
All employment positions are posted using Symplicity. You can find out detailed information about the postings in Symplicity where you will also be able to create PDF versions of your resume, cover letter and transcript and store these documents on the system. On-campus interviews are managed through Symplicity.
Memphis Law is also a PSLawNet subscriber. If you are primarily interested in public interest or government positions, PSLawNet gives you an opportunity to access thousands of domestic and international opportunities on the PSLawNet database. The website contains information on more than 10,000 public sector organizations. You must register to access the data, but registration is simple and free.
On Campus Recruiting
We coordinate on-campus job interviews in the fall and spring semesters.