STUDENT SERVICES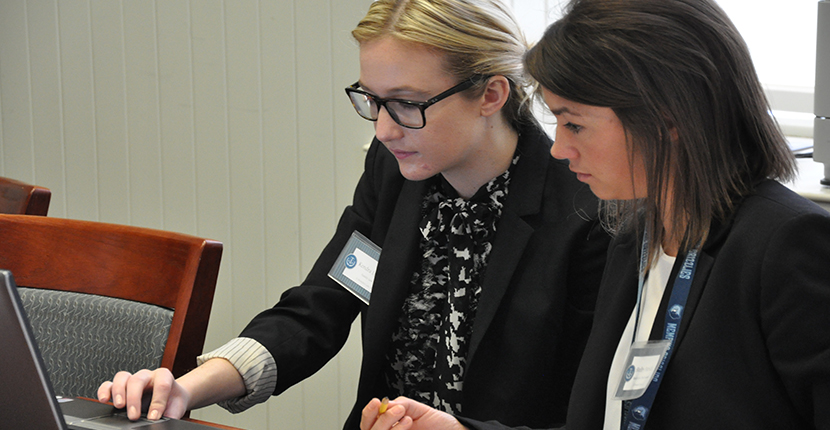 The Memphis Law CSO offers you a wide range of career development services, including:
Individual Counseling
You can set up one-on-one counseling appointments to review resumes and cover letters, and to talk about career goals and job search strategies. You are encouraged to schedule a career counseling session at least once during each year of your law school tenure. You can set up a virtual or in person meeting in Symplicity, under "Counseling Appointment."
Mock Interview Training
Mock interviews provide you with the opportunity to practice your interview skills in a realistic setting and to receive feedback to improve your performance. Students can request a mock interview by emailing lawcareerservices@memphis.edu. Interview sessions typically last 20 minutes and include feedback at the end of the session. From time to time, local attorneys participate in mock interviewing. These opportunities are publicized by the Career Services Office.
Seminars and Events
We present many events throughout the year to familiarize you with basics such as writing resume, job search strategies, and etiquette. We also hold events such as the "Day In the Life Series," featuring local attorneys offering insight into what it is like to practice in a variety of practice areas, as well as nontraditional legal careers. Panel discussions, career fairs, and other CSO events bring attorneys and students together to explore career possibilities.
Resource Center
The CSO office (Room 236) contains hard copies of many informative handouts, and CSO staff can direct you to job search sites and other helpful online resources. Many resources are also available in the Symplicity Document Library.
The CSO also contains a work area that may be used by students and alumni for the exclusive purpose of preparing resumes, cover letters, and other correspondence related to their job search. You may use our fax machine for sending and receiving employment-related correspondence. Students may also participate in on campus interviews or virtual interviews in our office or conference room.
Job Postings
Employment opportunities are posted on Symplicity. You can find out detailed information about the jobs in Symplicity, where you will also be able to upload your resume, cover letters, transcript, writing sample, and references, and store these documents on the system. On-campus interviews are also managed through Symplicity.
Memphis Law is also a PSJD subscriber. If you are primarily interested in public interest or government positions, PSJD gives you an opportunity to access thousands of domestic and international opportunities on the PSJD Database [new link = https://www.psjd.org/]. The website contains information on thousands of public sector organizations. You must register to access the data, but registration is simple and free.
On Campus Recruiting
In addition to Job Postings, we coordinate on-campus interviews (OCI) for employers who choose to interview on campus in the fall and spring semesters. Most employers do not participate in OCI, so be sure to check Symplicity and to reach out to employers of interest. CSO staff would be happy to assist you with learning how to research employers.
Job Fairs
The Career Services office holds an annual Public Interest and Experiential Learning Fair and will also publicize various job fairs across the nation. Be sure to check the blog, the CSO Facebook Group for Students, or in the CSO Office for such information.