Emily Srisarajivakul, Ph.D., LSSP
Assistant Professor
Office
Psychology Building Room 310
Office Hours
By appointment only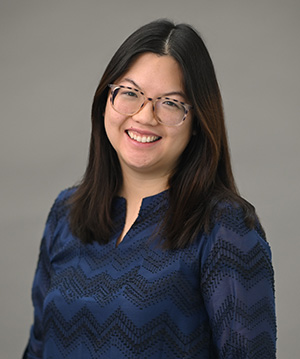 Education
Ph.D., Georgia State University
M.Ed., Georgia State University
Ed.M., Harvard Graduate School of Education
B.S., Northwestern University
Research Interests
School climate and safety
Cultural humility and the use of positive psychological interventions in schools
School-based consultation to promote equity
Representative Publications
Dr. Srisarajivakul's interdisciplinary research spans the fields of school psychology and counseling psychology with a focus on investigating the practices of school staff to improve school climate and safety among children and adolescents. She works with undergraduate and graduate students in her research laboratory, the Center for Research on Diversity, Equity, and Well-Being in Schools.
Golden, A. R.,

Srisarajivakul, E.N.,

Hasselle

, A., Pfund, R., & Knox, J.

(2023)

.

What was a gap

is now

a chasm: Remote schooling, the digital divide, and educational inequities resulting

from the COVID-19 pandemic.

Current Opinions in Psychology

.

doi

:

10.1016/j.copsyc.2023.101632

Srisarajivakul, E. N.

, McPhee, K., Choe, E., Rice

,

K., Varjas, K,

Meyers, J.,

Davis, D., &

Graybill, E. (2023)

.

The Cultural Humility Scale for Students: Development and initial

validation.

Journal of School Psychology

,

99

,

doi

: 10.1016/j.jsp.2023.101224

Choe, E., Srisarajivakul, E.N., & Davis, D. (2021). Protecting victims of bullying: The protective roles of self-esteem and self-forgiveness in past victimization and current depressive symptoms. Journal of School Violence. doi: 10.1080/15388220.2021.1930015
Choe, E., Srisarajivakul, E.N., Davis, D., DeBlaere, C., Van Tongeren, D. R., & Hook, J. N. (2019). Predicting attitudes towards lesbians and gay men: The effects of social conservatism, religious orientation, and cultural humility. Journal of Psychology and Theology, 47(3), 175-186. doi:10.1177/0091647119837017
Rice, K., Srisarajivakul, E.N., Meyers, J., & Varjas, K. (2018). Multilevel confirmatory factor analysis of the Self-Assessment Survey. School Psychology Quarterly, 34(3), 318-327. doi: 10.1037/spq0000295.
Courses Taught
Dr. Srisarajivakul teaches classes at the graduate and undergraduate levels. These courses generally focus on providing psychological services to children and adults from diverse cultural backgrounds and worldviews. These courses include the following:
PSYC 7805

–

Psychological Consultation

PSYC 7-8614B – Intervention and Consultation Practicum in School Psychology
PSYC 3030 – Multicultural Psychology: Understanding Diversity in our Communities