Dr. Michael Perez
Assistant Professor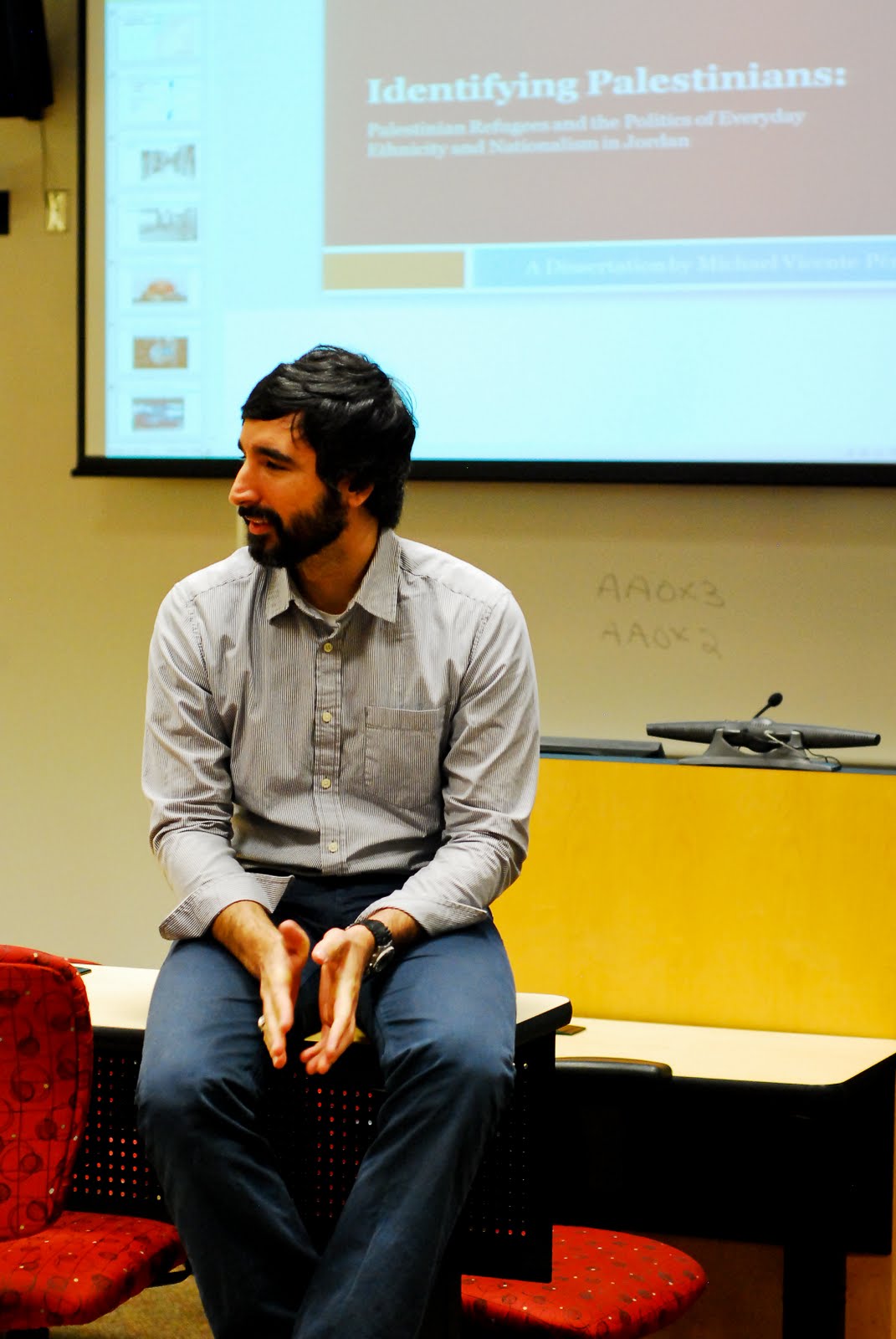 About Dr. Pérez
Dr. Pérez received his PhD in Cultural Anthropology at Michigan State University in 2011. He currently holds the Human Rights seat for the Members' Programmatic Advisory and Advocacy Committee (MPAAC) in the American Anthropological Association (AAA).
In his dissertation, Identifying Palestinians: Refugees and the Politics of Ethno-National Identity in Jordan, Dr. Pérez examined the everyday politics of Palestinian identity among refugees in Jordan. Through an analysis of everyday symbols, discourses, and practices in United Nations refugee camps and urban neighborhoods in Amman, he showed how ethnicity and national identity among Palestinians reflected an engagement with both local and transnational factors: first, with Jordanian nationalism and state policies of exclusion and, second, with the national politics of Palestine. His dissertation also examined how refugee status functioned as a national identification grounded in experiences of displacement and exile and a diasporic relation to the Palestinian homeland.
Dr. Pérez has also examined the struggles of stateless Palestinian refugees in the Gaza refugee camp in Jordan. After 50 years of statelessness, his research considers how Palestinians understand, challenge, and survive the limits of non-citizen status. This project focuses on the various forms of precariousness Palestinians encounter in the practice of everyday life and the ways they creatively confront the existential challenges of their marginal status. It is fundamentally concerned with the intersections of statelessness and everyday decisions and practices in the making of a meaningful life.
Dr. Pérez is currently working with Dr. Matthew Ingalls of the American University in Dubai on a new project focused on the meaning and practice of Islam among Muslims in Chile. Part of a larger interest in the contemporary practice of Islam in Latin America, this research seeks to understand the local dimensions of global Islam.
Publications:
2021 "The Stateless as Minority in Jordan" in Minorities: Ethnic, Religious and Political groups in (Trans)Jordan 1921-2016. (Eds.) Oahes, Idir and Paolo Maggiolini (eds.), Muted. Palgrave Press.
2019 Palestinian Refugee Women and the Jenin Refugee Camp: Reflections on Urbicide and the Dilemmas of Home in Exile. https://doi.org/10.1177%2F0042098018811789
2018 Repetition and Extraordinary Living in the Gaza Camp. Writing with Light: Cultural Anthropology https://culanth.org/photo_essays/16-repetition-and-extraordinary- living-in-the-gaza-camp (with Elena Boffetta)
2018 Materializing the Nation in Everyday Life: On Symbols and Objects in the Palestinian Refugee Diaspora. Dialectical Anthropology. (Online First, Journal Assignment Pending https://link.springer.com/article/10.1007%2Fs10624-018-9505-x)
2018 Surviving Statelessness in Jordan. Middle East Critique. Special Issue: Studying the Everyday in the Middle East: Power, Performance, and Survival. 27(3): 275-288 (https://www.tandfonline.com/doi/full/10.1080/19436149.2018.1471179)
2018 "Free Speech" Against Critique. South Atlantic Quarterly. 117(1): 202-211. (https://read.dukeupress.edu/south-atlantic-quarterly/article/117/1/202/133460/Free-Speech-against-Critique)
2014 Between Religion and Nationalism in the Palestinian Diaspora. Nations and Nationalism 20(4): 801-820. (https://onlinelibrary.wiley.com/doi/abs/10.1111/nana.12081)
2010 Human Rights and the Rightless: The Case of the Gaza Refugees in Jordan. International Journal of Human Rights. 15(7): 1031-1054 (https://www.tandfonline.com/doi/abs/10.1080/13642987.2010.482911)
Selected Awards:
2019 University of Memphis Faculty Research Grant for "Beyond Diaspora Islam: Transnational Networks and the
Localization of Islam in Chile and Argentina"
2019 Global Religion Research Initiative International Collaborative Research Grant, Notre Dame University for "Beyond
Diaspora Islam: Transnational Networks and the Localization of Islam in Chile and Argentina"
2018 American Academy of Religion Collaborative International Research Grant
2016 Council of American Overseas Research Center Senior Fellowship
2015 Global Innovation Fund for Study Abroad Program in Jordan
2010-2011 Montgomery County Community College Faculty Diversity Teaching Fellowship
2007 Wenner Gren Foundation Dissertation Completion Research Grant
2006 Fulbright IIE Doctoral Dissertation Research Award
Courses Taught:
Refugees and Displacement in the Modern World
Anthropology of the Middle East and North Africa
The Culture and Practice of Human Rights
Collective Memory and Violence
Anthropology of Islam and Muslim Practice
Islam and Popular Culture