Dr. Ranganathan Gopalakrishnan
Assistant Professor
Office
Engineering Science Building 320
Office Hours
Appointment Only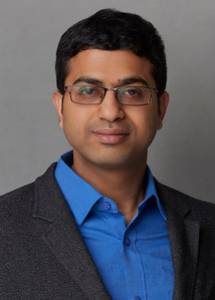 Professional Background:
Ph. D., University of Minnesota – Twin Cities, Minneapolis, MN, U. S. A. August 2013.
Bachelor of Technology (Mechanical Engineering), National Institute of Technology, Tiruchirappalli, India. May 2008.
Scholarly Interests:
I am an Assistant Professor in the Department of Mechanical Engineering at the University of Memphis.
Our research focuses on applying aerosol science and technology to Additive Manufacturing (AM) processes as well as fundamental aspects of aerosol science. In our group, we do broadly two types of research:
Aerosol Deposition of ceramic materials for low-cost processing of coatings of diverse materials for renewable energy, biomedical and defense applications.
Langevin Dynamics modeling of collision processes in aerosols and dusty plasmas.
By applying basic principles of aerosol particle motion, we pursue a "table-top" approach to engineering wherein we develop models validated by rigorous experimental testing to advance aerosol-based AM. We also work on fundamental problems in aerosol science to understand the transport and dynamics of particles and to exploit them for manufacturing applications. We make extensive use of Computational Fluid Dynamics (CFD), Molecular Dynamics (MD), Brownian Dynamics (BD), Monte Carlo (MC) simulation methods modeling aerosol dynamics. These simulations are used to guide our experiment design and validation. Our lab is equipped with state of the art aerosol measurement facilities that includes:
several designs of Differential Mobility Analyzers ("long" and "nano") for real-time sizing of 1.9 nm to 500 nm aerosols,
Condensation Particle Counters (Kanomax FMT 3650) capable of counting individual particles down to 1.9 nm,
Optical Particle Sizer (TSI 3330) that is capable of real time monitoring of 0.3 to 10 micron particles in air.
We have a well-stocked lab space (700 sq. ft.) with an internal network for standardized, particle-free compressed air for particle research (Quincy QOF3), chemical fume hood, glove box, box furnace, several high-precision translation stages for manufacturing research, aerosol generation apparatus such as electro-hydrodynamic (EHD) spray units, powder dispersers, tube furnace, aerosol nebulizers, and necessary safety gear to pursue dry and wet chemistry as part of our aerosol based AM research and fundamental aerosol research. We have several vacuum systems to carry out aerosol deposition at pressures ~100 Pa and up to 20 SLPM of gas flows, planetary ball mill for powder processing, solar simulator for assessing photovoltaic properties of coatings.
If you would like to know more details about our various projects and work in progress, feel free to contact me at rgplkrsh@memphis.edu