Lindsey Stewart
Assistant Professor
Office Hours
by appointment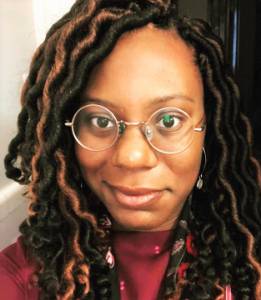 About Professor Stewart
Lindsey Stewart joined the department in 2017. Previously, she was a Post Doctoral Mellon Fellow at Wellesley College. Her teaching and research interests are in black feminism, African American Philosophy, and social and political philosophy. Being a native Southerner (born and raised in Louisiana), her approach to research and teaching is particularly informed by an attentiveness to regional dynamics in the US. Her research focuses on developing black feminist conceptions of political agency, with special attention to the intersection of sexuality, region, religion, and class.
Lindsey Stewart is currently working on a manuscript, tentatively titled, Fever, which explores how six beloved black feminist writers and artists— Harriet Jacobs, Ida B. Wells, Zora Neale Hurston, Harriet Tubman, Billie Holiday, and Aretha Franklin—were intellectually shaped by the endemic fevers of their times. Yellow Fever. Influenza. Small Pox. Fever argues that the conjure by which black women treated fevers also lent them important insights of political diagnoses and spiritual cures. Politically, this tradition helped them diagnose what I consider to be national "fevers" of their times, such as slavery, lynching, and segregation. Spiritually, this tradition taught them to heal the soul through leaning into what I call spiritual "fevers," such as abolitionism, the blues, and "sanctification" in Black churches. Looking at the history of black feminist thought through the lens of fever not only offers a fresh way of looking at these figures, but it also invites us to reflect on the fevers of our times. Most important, it asks us to consider what the conjuring tradition of black feminism can offer us today both politically and spiritually.
Publications
The Politics of Black Joy: Zora Neale Hurston and Neo-Abolitionism (Northwestern University Press)
"'That's Why I Do What I Do': Southern Black Feminism in Philosophy" (Philosophy Compass)
"'An Inside Thing to Live By': Refusal, Conjure, and Black Feminist Imaginaries" (Hypatia)
"'Count It All Joy': Black Feminist Interventions in the Abolitionist Tradition" (British Journal for the History of Philosophy)
"'Something Akin to Freedom': Sexual Love, Political Agency, and Lemonade" (in The Lemonade Reader).
"'Tell 'Em Boy Bye': Zora Neale Hurston and the Importance of Refusal" (Signs).
"'I Ain't Thinkin' 'Bout You': Black Liberation Politics at the Intersection of Region, Gender, and Class" (in Philosophy In/Of the South).
"Work the Root: Hoodoo Love Rituals, Black Feminism, and Practices of Freedom" (Hypatia)