Karly Poyner
PhD Student
Office Hours
Contact for office hours or appointment.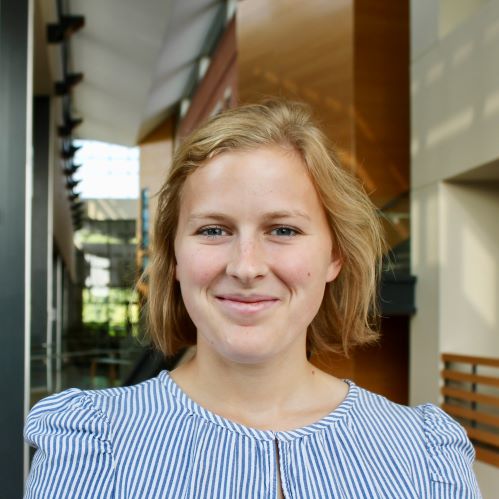 Education
M.A. in Communication and Liberal Arts Studies Ball State University
B.S. in Communication Studies Grace College and Theological Seminary


Honors and Awards
University of Memphis Doctoral Studies Scholarship 2020
Top Student Paper in CSCA Intercultural Communication Interest Group 2020
3 Minute Thesis BSU Runner Up 2020
BSU Graduate Student Recognition Award 2020
Quintilian Scholar Award 2018
Annual Grace College Communitas Speaker 2018
Miller Merit Award 2015-2018
Honors Scholarship 2015-2018
Annual Optimist Oratorical Speech Contest Judge 2017
Annual Grace College Communitas Speaker 2017
Public Relations Project Member 2017
Annual Educators Appreciation Breakfast Guest Speaker 2016
Publications
Poyner, K. Coats of fire: Rhetorical identity negotiations of feminist evangelical Christians. Kaleidoscope. Accepted May, 2020. Draft due August 2020.
Poyner, K. "Jesus made a feminist out of me": Communication of dual evangelical and feminist identities. (Published master's thesis). Ball State University, Muncie, Indiana.


Conference Presentations
Baker, C., Holden, D., & Poyner, K. L. (2017) Poor discussion: How undergraduate students react when social-political questions are asked. Paper presented at the Communitas conference. Winona Lake, IN.

Poyner, K. L. (2018) MBTI: An institutional advantage or hinderance? Paper presented at the Communitas Conference. Winona Lake, IN.

Poyner, K. L. (2018) She's beauty but not grace: How Hillary Clinton lost the Jeremiad vote. Paper presented at the Communication Research Conference. Munice, IN.

Poyner, K. L. (2019) Techfeminism: Effective use of feminist rhetoric in a techno world. Paper presented at the Central State Communication Association conference. Omaha, NE.

Poyner, K. L. (2019) She's beauty but not grace: How Hillary Clinton lost the Jeremiad vote. Paper presented at the Organization for the Study of Communication, Language, & Gender conference. Cincinnati, OH.

Poyner, K. L. (2020) On the edge of breaking female teenage nostalgia: A close textual analysis. Paper accepted at the Central State Communication Association conference. Chicago, IL. [Event Canceled]

Poyner, K. L. (2020) Coats of fire: Rhetorical identity negotiations of feminist evangelical Christians. Paper accepted at the Central State Communication Association conference. Chicago, IL. [Event Canceled]

Poyner, K. L. (2020) Coats of fire: Rhetorical identity negotiations of feminist evangelical Christians. Top Student Paper accepted at the Central State Communication Association conference. Chicago, IL. [Event Canceled]

Poyner, K. L. (2020) "Jesus made a feminist out of me": Communication of Dual Evangelical and Feminist Identities [Thesis] to be presented at Ball State University's Women's Week Conference. Muncie, IN. [Event Canceled]


Research in Progress/Research Experience
Graduate Researcher, Dr. Marek Muller, Ball State University. 2018-2019
Graduate Researcher, Dr. Marcy Meyer, Ball State University. 2019-2020
Thesis, "Jesus Made Me a Feminist": Communication of Dual
Evangelical Feminist Identities, Dr. Glen Stamp, Dr. Carrie
Shue, Dr. Beth Messner 2019-2020


Grants
Communication Studies Department Travel Grants
Central States Communication Association- Spring 2019, Omaha, NE, $350, funded
Organization of the Study of Communication, Language, & Gender – Fall 2019, Cincinnati, OH, $350, funded
Central States Communication Association – Spring 2020, Chicago, IL, $350, funded


Professional Associations
Central States Communication Association 2018-Present
Organization for the Study of Communication, Language, & Gender 2019-Present