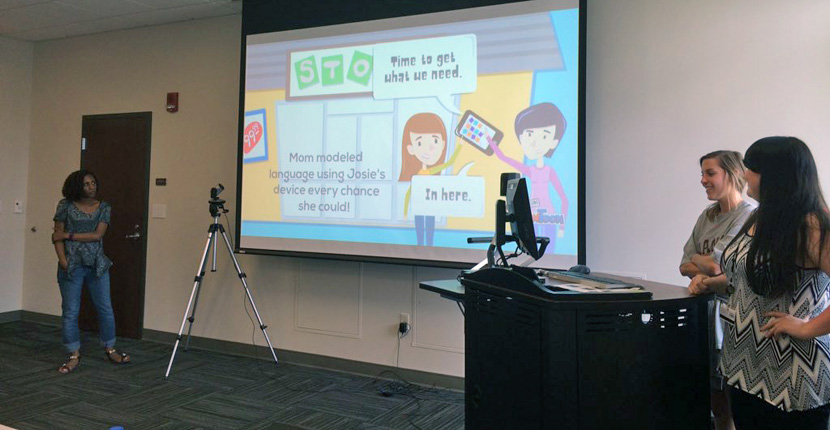 Augmentative and Alternative Communication (AAC) Workshop
When: Tuesdays and Thursdays, June 13-29, 2017;
8:30 a.m. to noon
Meets one evening per month in the Fall term
The due date for applications is Monday, May 15.
Where: School of Communication Sciences & Disorders, UofM Park Ave. Campus, 4055 N Park Loop
Facilitator: Vicki Haddix, M.S., CCC-SLP
This workshop will have 10 meetings and an online component.
This workshop is designed for professional SLPs and certified teachers working with children and young adults with complex communication needs. In order to ensure that participants will be able to complete assignments required to earn CEU's, interested persons will need to complete an application for review by the facilitator. If approved, you will be allowed to enroll in the workshop. Each cohort will be limited to 16 persons.
The fees for the workshop are $1500 per person. Payment must be made in full before the first class meeting on June 13. A 100% refund, minus a $25 processing fee, will be given to participants who withdraw before the first class session at 8:30 a.m. on June 13. A 50% refund will be available to participants who withdraw between the first class meeting and the third class meeting at 8:30 a.m. on June 20. Any participants who withdraw after the 3rd class meeting are not eligible for a refund. In order to cancel your registration, you must notify the instructor via email of your intention to not participate in the workshop.
Group rates are available for employers sending 2 or more employees. Split payments can only be made via check. Please see the payment options page for more information about paying by check or credit card.
Vicki Haddix joined the UofM as a Clinical Professor in the School of Communication Sciences & Disorders in 2015. She worked for 10 years in Boston Public Schools, the last 5 coordinating AAC services in the district. She has presented on AAC at numerous conferences, including ASHA, ATIA and ISAAC.
Speaker Disclosure:
Financial—Employee of the University of Memphis
Nonfinancial— No relevant nonfinancial relationship exists.