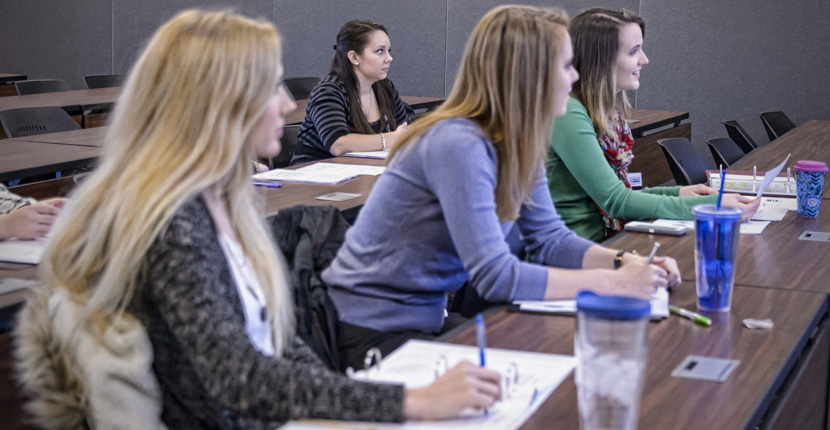 Apply to our Program
Welcome prospective students! For admission to the Fall 2021 professional degree programs (AuD and MA) in the School of Communication Sciences and Disorders, students are required to use a centralized application service known as the Communication Sciences & Disorders Centralized Application Service (CSDCAS). All applications will be reviewed only through CSDCAS.
Please note that admission for the professional degree programs occurs only in the fall term each year. All application materials for the professional degree programs (including academic transcripts, official Graduate Record Examination (GRE) scores, 3 letters of recommendation, personal essays, analysis essay, and video uplink) must be received and verified by CSDCAS by February 1st for the following Fall admissions class.
For links to the application sites and specific details about the application process for the Master's degree in Speech-Language Pathology or the Doctor of Audiology degree, click the link below:
Applications will be accepted throughout the year for the PhD program, however, applications submitted by February 1 will be considered for funding for the following Fall semester.. For specific details about the application process for the PhD in Communication Sciences and Disorders, click the link below:
Notice about Professional Licensure
You are applying for admission to a program that may lead to professional licensure. The following questions relate to your potential ability to receive licensure.
Have you ever been convicted of a felony or crime(s) other than minor traffic offenses? Yes No
Have you ever been denied licensure for the profession for which you might apply for licensure or had discipline imposed by another state's licensing board? Yes No
Have you ever had a civil suit judgment entered against you or entered into an adverse civil settlement? Yes No
If you answered "yes" to any of the questions above, it is possible that you may be denied licensure at the conclusion of the degree program to which you are applying. Please review the licensure requirements specific to the discipline by contacting the specific licensing board. It is your responsibility to understand the criteria necessary for licensure and to ensure compliance with those criteria. If you have any questions about the licensure requirements and your ability to be licensed, please contact Ms. Marilyn Wark for Speech Language Pathology and Dr. Jennifer Taylor for Audiology. Also, you should be aware that criminal convictions may make you ineligible to participate in any clinical experiences included in your program, therefore necessitating your removal from the program and/or impacting your ability to successfully complete course and program requirements.
Your signature on your CSDCAS application shall serve as your acknowledgment that you are aware of the potential impact if you answer yes to any of the questions above, that you have conducted due diligence in determining your potential eligibility for licensure, and that you are aware that certain factors may prevent your eligibility for licensure.
Tours
In order to protect the health of prospective students and our faculty and staff, we are offering a limited number of in-person tours that will be capped at no more than 5 participants. There will be 2 in-person tours available on each of the following dates:
September 25
October 30
November 20
December 11
The first tour will start at 11 a.m. and will meet in the building lobby. The second tour will start at 11:45 a.m. in Community Health Building, Room 2009.
For those who are not able to attend an in-person tour, we are offering Virtual Open Houses of the program that will feature an opportunity to learn about the admissions process and speak with current faculty and students. There is no cap on participants for the Virtual Open Houses. All Virtual Open Houses for Fall 2020 will start at 1:00 p.m. (CST). They will be held on the following dates:
September 11
October 16
November 6
December 4
Please email us to reserve your spot on one of our upcoming tours or to attend a Virtual Open House.
We encourage prospective students to view our virtual tour and connect with us on Facebook or Twitter to learn more about events and programs happening in the School and Clinic. We can answer your questions via email as well.