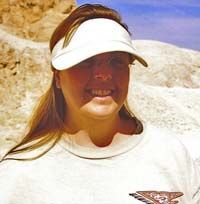 Dr. Suzanne L. Onstine
Associate Professor of Egyptology & Ancient History
Email
sonstine@memphis.edu
Office Hours
Contact Instructor
Education
MA and PhD in Near and Middle Eastern Civilizations from University of Toronto [concentration in Egyptian art and archaeology]
Research and Scholarly Activities
Research Interests
Current Research Project
TT 16; the tomb of Panehsy in Dra abu el-Naga, Luxor, Egypt
In 2007 I was awarded an ARCE fellowship to study the tomb of Panehsy, a man who held the unusual title of "overseer of the chanters of the offering table of Amun". During my doctoral research I discovered very few men who were chanters - as opposed to the innumerable women who were chantresses in cult ceremonies. I was therefore hopeful that an investigation of the largest monument of one such man would shed some light on the title and the duties associated with being a chanter/chantress. In two subsequent seasons I continued this research as a full scale epigraphic project, documenting the beautiful painted relief and the many inscriptions on the walls. The image at the top of this page of Panehsy and his wife Tarenu is from the rear wall of their tomb. As the epigraphic phase draws to a close we are preparing for conservation and cleaning in the tomb. If you would like to contribute to this project, tax-deductable donations can be made through the University of Memphis. For details, please e-mail me.
Publications
"Singing", entry in UCLA encyclopedia of Egyptology [in press]
"Gender and Religion in Ancient Egypt", Religion Compass [in press]
"Mesaid Miscellanea", Journal of the Society for the Study of Egyptian Antiquities vol. 32(2005) [published 2007].
The Role of the Chantress (Smayt) in Ancient Egypt (2005, British Archaeological Reports, London)
"Musician Priestesses in Ancient Egypt", The Ostracon. Vol. 13, no. 2; Summer 2002
"Women in Ancient Egypt" Egypt Revealed June, 2001
"The Relationship between Re and Osiris in the Book of Caverns", Journal of the Society for the Study of Egyptian Antiquities vol. 25 (1995) [published 1998].
Resources
Advising
Currently I serve as the faculty mentor for the Epsilon Nu chapter of Phi Alpha Theta and for the Egyptology Graduate Students Association [EGSA]. Both are official RSOs at the University and sponsor lectures and social activities for students. EGSA has a Facebook group you can join if you are a UM student in Egyptology.
Previously taught classes:
1110 World Civilizations I: prehistory to 1500 AD
3320 The Ancient World
4063/6063 Ancient Nubia
4320/6320 Ancient Near East
4323/6323 Egypt of the Pharaohs
7320/8320 Women and Gender in the Ancient World
7320/8320 Social History
7320/8320 Predynastic Egypt
7070/8070 Religion in Ancient Egypt
7070/8070 Social History