MSG STEPHEN GRAHAM. - Senior Military Instructor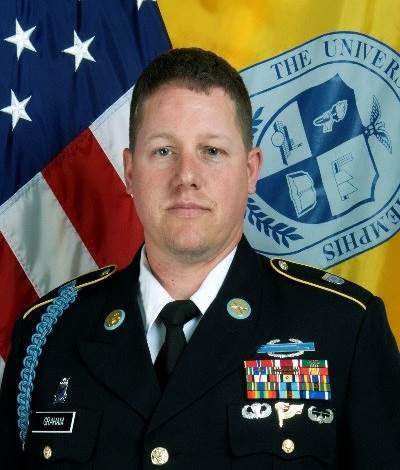 Master Sergeant Stephen L. Graham is a native of Mauldin, SC and entered the Army in November 2000 as an Infantryman where he attended One Stop Unit Training at Fort Benning, Georgia.
Over his career, Master Sergeant Graham progressively served in leadership positions in his career management field. These leadership positions include Infantry Rifleman, Infantry Team Leader, Infantry Squad Leader, Bradley Section leader, Drill Sergeant, Infantry Platoon Sergeant, Operations Sergeant, Infantry First Sergeant, and currently serves as the Senior Military Instructor at the University of Memphis ROTC.
His military education includes: the Primary Leadership Development Course; Basic Noncommissioned Officer Course; Senior Leaders Course; First Sergeant's Course; Drill Sergeant School; Airborne School, Pathfinder School, Air Assault School, and the Master Resilience Trainer course. He attained an Associates in General Studies.
Master Sergeant Graham's previous assignments include: 3rd BDE 82nd Airborne, 1-505 P.I.R, 2 ID 2-9 INF (M), 2-58 INF Fort Benning, GA; Region 5 DCE, Chicago, IL and 3rd BDE 101st Airborne, 1-187 INF. He has three deployments to Iraq, and Afghanistan.
Master Sergeant Graham's awards and decorations include: Bronze Star Medal (2); Meritorious Service Medal (2); Army Commendation Medal (7); Army Achievement Medal (9); Army Good Conduct Medal (5th Award); National Defense Service Medal (w/ Bronze Star); Global War on Terrorism Service Medal; Noncommissioned Officer Professional Development Ribbon (4th Award); Overseas Service Ribbon (2); Army Service Ribbon; Iraq Campaign Medal; Parachutist Badge, Air Assault Badge, Pathfinder Badge, Drill Sergeant Badge, Combat Infantryman Badge and Expert Infantryman Badge.
Master Sergeant Graham is married to Carrie Graham and has two children, a daughter Kayla and a son Casey.