Spring 2021 BME Senior Design Team Winners
Read below for the winning teams for Spring 2021- a three way tie.
Congratulations Team Babysitters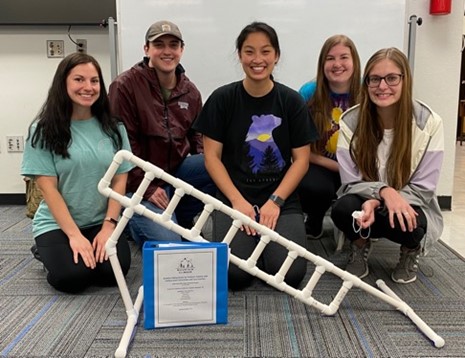 The Babysitters from left to right: Julia Byrd, Brian Howell, Nancy Pont Briant, Madison Brown and Anna Olberding.
Team advisors (not pictured): Ms Susan Anderson PTA, Lebonheur Children's Hospital
From Team Babysitters:
Our device was created for a three year old child with spina bifida to assist in independent movement from a laying position to an up-right sitting position. Device is durable, lightweight but stable and can accommodate a range of mobility needs. Once our prototype was built and we started sharing our design, many professionals in the medical field identified other populations that our device could help, such as the elderly or pregnant patients. Recognizing all of the other populations we could assist with our design helped us realize that biomedical engineers can have a positive impact on society and significantly improve the lives of others. We thoroughly enjoyed this project and working with our advisor Ms. Susan Anderson, PTA, Lebonheur Children's Hospital.
Congratulations Team Biotech Tools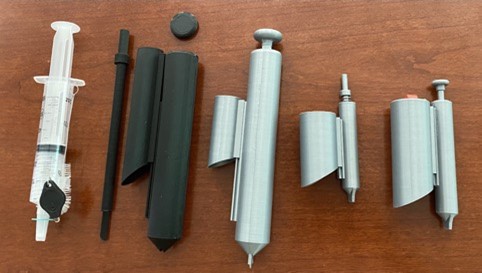 Team members: William Guyton, Ian Johnson, Benjamin Silberberg and Tifahri Yusuf
Team Advisor: Jolieke van Oosterwijk, PhD, US Biologics, Memphis, TN.
Problem Statement: Excision of DNA bands from agarose gels with a scalpel is a tedious and imprecise method, complicating downstream processing. The use of a wall-outlet UV or blue light source is bulky and immobile, creating unnecessary exposure to skin and eyes.
From Team Biotech Tools:
We are so excited to be selected for first place! This picture above displays the different design iterations we created before reaching our most current design, the Queen Cutter, (as seen on the far right). Thank you to our mentor/sponsor Dr. Jolieke van Oosterwijk, US Biologic.
Congratulations Team Feet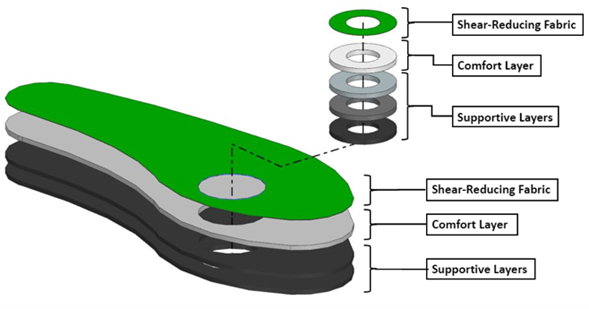 Team members: Alexis Pellerin, Tyler Garvey, Jalil Jackson and Phuong Khau
Team Advisor: Bernard Grisoni, PhD, External BME Professor, University of Memphis
Problem Statement: Patients with diabetes may experience foot ulcers that can result in an amputation. The Total Contact Cast is the current gold standard but makes daily wound cleaning challenging, is relatively expensive, and restricts mobility.
From Team Feet: We enjoyed learning the different steps and methods used to create a product including manufacturing, labeling, packaging, and designing a product virtually via computer aided design. The team treated the process very seriously as if designing our own product that could eventually be patented. Thank you to our mentor/sponsor Dr. Bernard Grisoni, University of Memphis.