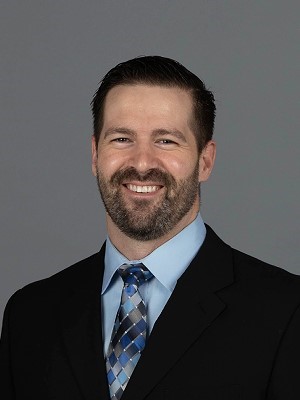 Safely seeing inside the body with sound
by creating novel ultrasound devices and imaging techniques
Dr. Carl D. Herickhoff
Assistant Professor
ET321E Biomedical Engineering Department
carl.herickhoff@memphis.edu
https://www.memphis.edu/ultrasound/
Twitter: @CarlHerickhoff
(901) 678-2614
Research interests: Research focuses on novel ultrasound imaging devices and systems for specific clinical applications to enable diagnosis and/or treatment. Current interests include cylindrical and scalable transducer array design and fabrication, intravascular elasticity imaging, waveform inversion techniques, and superharmonic contrast and flow imaging.
Education:
B.S. (magna cum laude) Electrical Engineering, University of Notre Dame, South Bend, IN, May 2005
M.S. Biomedical Engineering, Duke University, Durham, NC, May 2009
Ph.D. Biomedical Engineering, Duke University, Durham, NC, May 2011
Brief Research Summary:
Dr. Herickhoff and team are focused on developing novel transducers and approaches to ultrasound imaging (and therapy) to improve human health. Research work includes application-specific ultrasound array design, fabrication, integration, and testing, as well as simulation and implementation of new imaging algorithms. Current projects include end-to-end system customization for transcranial neuroimaging, dual-frequency arrays for superharmonic contrast imaging, catheter arrays for intravascular elasticity imaging, and a waveform-inversion-based quantitative body scanner. As of 2020, Dr. Herickhoff has 14 journal articles, 2 book chapters, 1 patent, and over 20 conference abstracts and proceedings papers. He has mentored or co-mentored over a dozen students (ranging from undergraduates to post-doctoral fellows) and is a regular reviewer for 5 refereed journals related to ultrasound, medical imaging, and biomedical engineering. He is an active member in the American Institute of Ultrasound in Medicine (AIUM), the IEEE Ultrasonics, Ferroelectrics, and Frequency Control (UFFC) Society, the Acoustical Society of America (ASA), and the Biomedical Engineering Society (BMES).
Publications:
https://scholar.google.com/citations?user=gZ60DSgAAAAJ

Honors/Distinctions:
2010 Best Student Paper Finalist, 2010 IEEE International Ultrasonics Symposium