Thipkanok (Ping) Wongphothiphan
Visiting Assistant Professor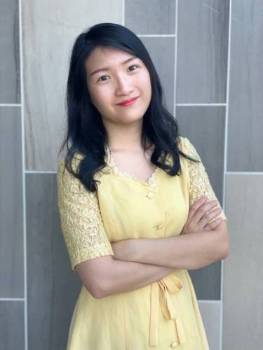 About
Ping is a Visiting Assistant Professor in Health Communication and joined the department in Fall 2022. Ping's research spans media effects, strategic health communication, and health psychology because she believes that effective strategic health communication starts from understanding audiences' psychological mechanisms and individual differences. Her recent experimental studies investigated how vaccine-hesitant parents process types of health messages differently. Additionally, the influence of conspiracy beliefs was also considered to find the most effective message format to increase vaccine-hesitant parents' intention to have their child vaccinated. Ping is specialized in quantitative research methods and advanced statistical modeling.
Education
University of Oregon, Ph.D. in Communication and Media Studies, 2022
Birmingham City University, M.A. in International Journalism, 2014
Prince of Songkhla University, B.A. in International Business, 2012
Sample Publications
Chansiri, K. & Wongphothiphan, T.* (2021). The indirect effects of Instagram images on women's self-esteem: The moderating roles of BMI and perceived weight. New Media & Society. doi:10.1177/14614448211029975.
* Shared first authorship
Chansiri, K., Wongphothiphan, T., & Shafer, A. (2020). The indirect effects of Thinspiration and Fitspiration images on young women's sexual attitudes. Communication Research. doi:10.1177/0093650220952231.
Chansiri, K., Wongphothiphan, T., & Shafer, A. (2019). Dying for clear skin: A health-belief-model-informed content analysis of acne sufferers' beliefs toward isotretinoin on message boards. Journal of Communication in Healthcare, 12(1), 68–79. doi:10.1080/17538068.2019.1572351.