Sue Johnson: Home of Future Things
September 16 – On view through November 11
Artist Lecture: September 15, 7 pm (ACB 310)
Opening Reception: September 16, 5-7:30 pm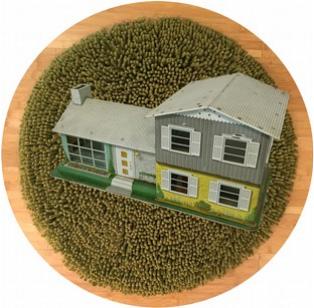 Image: Sue Johnson, Shag Lawn, 2016. 48 in. diameter, vinyl floor decal. Courtesy of the artist.
Sue Johnson: Home of Future Things is an exhibition featuring works by the artist Sue Johnson that considers the cyclical nature of mass consumption. The exhibition features small-scale works on paper as well as floor-to-ceiling vinyl panels and decals that the artist has designed—transforming the gallery into the interior of an ideal, modern home. As the exhibition title suggests, Johnson envisions a world in which the home is nostalgic and familiar yet also reduced to an empty space existing simply to house various things.
Johnson's work makes various art historical allusions ranging from ancient Greek mosaics and 17th-century Dutch still-life paintings to Dada and Pop collages. Despite spanning a vast expanse of time and place, these references share a common fascination with commodities and excess that Johnson remixes through a 21st-century lens. Specifically, her work is rooted in the Dutch still-life tradition of vanitas—images that contemplate the transience of life through the display of objects with symbolic meaning. Her process intentionally blurs the boundaries between the real and imagined,historical and timeless, hand-painted and digital. What results is an immersive environment constantly tugging at our sense of reality.
View the gallery guide to Sue Johnson's Home of Future Things here.