GREGORY BOLLER
Chair, Associate Professor, Department of Marketing & Supply Chain Management
Email
gboller@memphis.edu
Office Hours
by appointment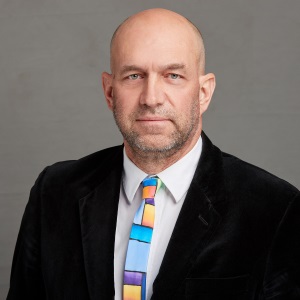 Biography
Greg is an Associate Professor of Marketing, former Director of MBA Programs and Chairman of the Department of Marketing and Supply Chain Management. Greg holds BS, MS and PhD degrees in Marketing from Penn State University. In addition to marketing, his training includes psycholinguistics, rhetoric, and poetics. Greg has been at the University of Memphis since 1988, and teaches creativity & innovation, negotiation, global marketing strategy and philosophy of science.
Greg's current research interests center on food marketing (focus on obesity), cultures of innovation, and innovation methodology. His work has been published in The Journal of Consumer Research, The Journal of Advertising, The Journal of Business Research, Journal of Current Issues and Research in Advertising, The Journal of Marketing Management, The Journal of Healthcare Marketing, Advances in Consumer Research and the Proceedings of the Pacific Sociological Association.
Greg regularly conducts creativity, leadership and communications training seminars for companies (e.g., ALSAC/St. Jude, Baptist Memorial Hospital, FedEx, AutoZone, and Williams Sonoma) and executive development programs. He has served as an advertising consultant to the US Navy. Greg served as political research consultant to ABC News, the Foundation for National Progress, and the National Institute on Media and the Family. He also served as a lobbying strategy consultant for the National Hardwood Lumber Association and Family Business First.
In addition to his academic and consulting responsibilities, Greg is an enthusiastic member of the Memphis theatre community. Greg recently finished one term as a member of the Theatre Memphis Board of Directors, and two terms as a member of the Germantown Community Theatre Board of Directors (was Board President during the 2004 - 2005 season). Currently, Greg is serving as a member of the Theatre Memphis Season Selection Committee, and beginning a term as a member of the New Ballet Ensemble Board of Directors. As an actor, Greg's favorite roles include Richard in Richard III (Theatre Memphis; 2011), Stanley in A Streetcar Named Desire (Theatre Memphis; 2004), and Shannon in The Night of the Iguana (Theatre Memphis; 2008).
Research
Selected Publications
(1992), "An Empirical Assessment of SERVQUAL," Journal of Business Research, 24, 3, 253‑268, with Emin Babakus. (Note: Recently recognized as the most influential article in the Journal of Business Research during the last decade).
(1993), "The Effects of Argument Structure and Affective Tagging on Consumers' Product Attitudes," Journal of Consumer Research, 20 (September), 294‑302, with James M. Munch and John L. Swasy.
(1997), "Firm-Level Political Behavior in the Global Marketplace," Journal of Business Research, 40, 113 - 126, with Bruce Keillor and O.C. Ferrell.
(2003), "The Globalization of the Tortilla in Mexico," in Advances in Consumer Research, Vol. 30, Association for Consumer Research , with Terrance G. Gable.
(2003), "Consumer Research, Superordinate Inquiry and Politician-Targeted Marketing and the Political Customer in the United States," in Advances in Consumer Research, Vol. 30, Association for Consumer Research , with Terrance G. Gable.
(2003), " Gender and the Role of Empathy in Experienced Presence within Computer Mediated Communications," in the proceedings of the 2003 Annual Summer Educators' Conference of the American Marketing Association, Chicago, IL., with Stef Nicovich and T. Bettina Cornwell .
Teaching
Dr. Boller teaches MKTG 75555 -- Creativity & Innovation, MKTG 3010 -- Principles of Marketing (Honors), and the PhD seminars MKTG 8215 -- Ethical Criticism of Marketing Science and MKTG 8217 -- Theory Construction and Evaluation.