William Hill Professor in Cybersecurity
Dr. Dipankar Dasgupta
Department of Computer Science
Dipankar Dasgupta, IEEE Fellow, ACM Distinguished Speaker
Director, Center for Information Assurance
Professor of computer science
The University of Memphis
Memphis, TN 38111, USA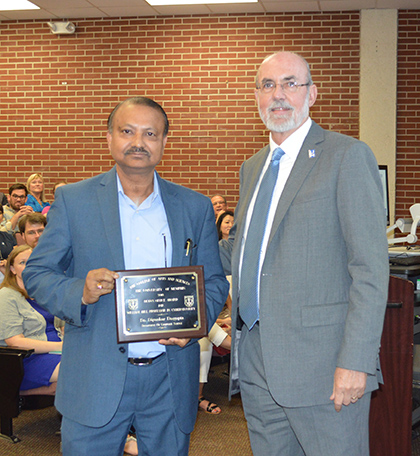 Dipankar Dasgupta is a Professor of Computer Science at the University of Memphis. He joined UofM in January 1997 and since then he has been significantly involved in research, education and service activities. Dr. Dasgupta is at the forefront of research in applying bio-inspired and machine learning approaches to cyber defense. Some of his groundbreaking works, like digital immunity, negative authentication, cloud insurance model, and Auth-Spectrum put his name in Computer World Magazine and other News media. Prof. Dasgupta is an Advisory Board member of Geospatial Data Center (GDC), Massachusetts Institute of Technology since 2010, and worked on joint research projects with MIT.
Dr. Dasgupta published and two textbooks, two edited volumes and several co-edited journals and conference proceedings. His latest textbook on Advances in User Authentication is published by Springer-Verlag, August, 2017 (already having 2730 downloads according to Bookmetrix).. Dr. Dasgupta's multidisciplinary research resulted in more than 250 publications with 15000+ citations and having h-index of 57 as per Google scholar. He received five Best Paper Awards at international conferences (1996, 2006, 2009, 2012 and 2017) and two Best Runner-Up Paper Awards (2013 and 2014):. Among many other awards, he is the recipient of 2012 Willard R. Sparks Eminent Faculty Award, the highest distinction and most prestigious honor given to a faculty member by the University of Memphis. Prof. Dasgupta received the 2014 ACM SIGEVO Impact Award, and also designated as an ACM Distinguished Speaker. Since 2007 he has been organizing Symposium on Computational Intelligence in Cyber Security (CICS) at the IEEE Symposium Series on Computational Intelligence (SSCI) and annual Cyber Security Summit at Memphis.
In addition to Prof. Dasgupta's research and creative activities, he also spearheads the University of Memphis's education, training and outreach activities on Information Assurance (IA). He is the founding Director of the Center for Information Assurance (CfIA) which is a National Center for Academic Excellence in Information Assurance Education (CAE-IAE) and in Research (CAE-R). He is leading the University's CAST (Cluster to Advance Cyber-Security and Testing) initiative (funded by the FedEx Corporation) in promoting cross-disciplinary information security research. He has been involved in forming the National Cybersecurity Preparedness Consortium (NCPC) and continually receiving DHS/FEMA projects. Because of the center's wide range of activities, the University of Memphis is in the forefront of information security research, education, and outreach in the state as well as in the region.