2018 First Time PIs
Cristina Maria Cervone, Associate Professor, Department of English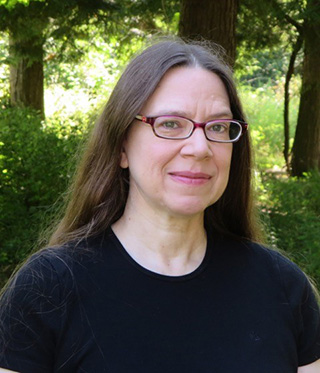 Cristina Maria Cervone was an External Faculty Fellow at the Stanford Humanities Center in 2016-17, where she continued work on her second monograph, Vernacular Poetics of Metaphor: Middle English and the Corporate Subject.
Drawing on current research on cognition, Vernacular Poetics of Metaphor extends the argument of Cervone's first book, Poetics of the Incarnation: Middle English Writing and the Leap of Love (University of Pennsylvania, 2013), to examine certain elastic properties of fourteenth-century English that both enabled poetical thought experiments and were forged by such innovations. The book's claim that metaphor was an important element in—perhaps even vital to—the vernacular's emerging qualities is new; moreover, it engages questions of contemporary interest: how does thought work? Is metaphor fundamental to thought? Medieval practice, like current theory, suggests perhaps so.
Cervone's recent co-edited book (Readings in Medieval Textuality: Essays in Honour of A. C. Spearing; Brewer, 2016; with D. Vance Smith) exhibits some of the most exciting formalist trends in medieval studies today. Her current projects include a collaborative, multi-disciplinary and cross-subfield investigation of the nature of Middle English lyric.
Cervone has previously received support from Harvard University's Radcliffe Institute for Advanced Study (Fellow, 2011-12, Summer Fellow, 2013, 2014, 2016, 2018) as well as Notre Dame's Medieval Institute (A. W. Mellon Postdoctoral Fellow 2007-8), the Woodrow Wilson National Fellowship Foundation (Charlotte W. Newcombe Doctoral Dissertation Fellow, 2002-3), and the Huntington Library (2002).
Susan Elswick, Assistant Professor, Department of Social Work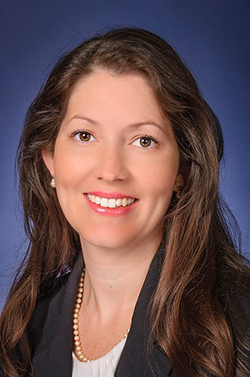 Susan Elswick obtained her Master of Social Work at University of Tennessee in 2006 and her Doctor of Education in Instructional and Curriculum leadership with a specialty in Applied Behavior Analysis at the University of Memphis in 2011. Served as an adjunct instructor at the University of Tennessee College of Social Work Memphis Campus from 2008-current. Served as a clinical assistant professor at the University Of Memphis Department Of Social Work Memphis from 2012-2015. She served as assistant professor and BA Program Director from 2015-current at the University of Memphis Department of Social Work.
Dr. Susan Elswick has taught both undergraduate and graduate level courses in her time as a professor. She has taught over thirty sections of master's level courses in the areas of human behavior in the social environment, field education/ field seminar, social work practice with children and families, and school social work. She has also taught 8 sections of undergraduate content and curriculum in intro to social work, school social work, and social response to the human need. She has served as field liaison and field instructor for both graduate and undergraduate students since 2008.
Dr. Susan Elswick has over 15 years of clinical mental health experience that includes community mental health, case management, residential programming, ABA-based programming, school-based programming, parent coaching, integrated behavioral health, infant mental health, and home-based services. Dr. Elswick is the CEO/ Founder of Behavior Services of the MidSouth LLC. Her research interests include assessment and intervention for children with both academic and behavioral difficulties, the use of Response to Intervention in multiple settings, improving outcomes for students through effective teacher training and supports, the use of evidence-based interventions and services to correct maladaptive behaviors in order to improve outcomes for children and families, the use of expressive art therapies/ experiential therapies in the field of social work practice, and the use of informatics and technology in the field of social work.
Dr. Elswick is the author of fifteen peer reviewed journal publications, two monographed books, and served as the editor for one book publication. She also has over thirty referred conference presentations. She has received more than $1 million in internal and external grants to date. She was also awarded the NASW-TN West Branch Social Worker of the Year in 2017, and was awarded the prestigious Gary Lee Shaffer Award for Academic Contributions to the Field of School Social Work by the School Social Work Association of America (SSWAA) in 2018. This is the highest honor that can be bestowed on a school social work faculty member.
---
Thang Hoang, Assistant Professor, Department of Physics and Materials Sciences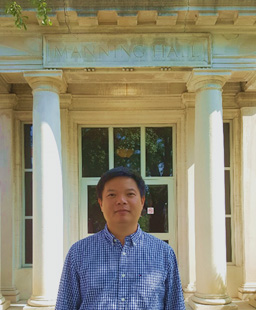 Dr. Hoang has been awarded two grants from the National Science Foundation (NSF) and the Oak Ridge Associated Universities (ORAU). The three-year grant from NSF amounts $361,177 to support his project titled "Directional Superradiant Light Emission from Epsilon-Near-Zero Plasmonic Nanochannels". The project utilizes experimental and theoretical approaches to help realize new materials and structures that enable controlled light emission for use in next generation energy efficient electronics, such as nanoscale lasers, as well as well advanced optical communications and sensing technologies. The project also supports undergraduate and graduate student involvement in research as a means of encouraging pursuit of advanced study and research careers in nanophotonics.
The 2018 Ralph E. Powe Junior Faculty Enhancement Award (36 faculty awarded nationwide) in Physical Sciences from ORAU supports Dr. Hoang's research on dual-band plasmon resonances for efficient nanophotonics. Dr. Hoang's long term research goal focuses on the electronic and photonic nanomaterials. He has been interested in using linear and non-linear optical spectroscopies to study properties of novel materials and structures at the nanoscale. By combining the miniaturized dimensions of novel materials with the high speed data rates and enhanced bandwidths achieved by photonic and plasmonic devices, he is working towards the practical implementation of ultra-broadband optical communications, optical processing and sensing, and efficient energy harvesting devices as well as fundamentals of the light-matter interaction at nanoscale.
---
Kathryn Howell, Associate Professor, Department of Psychology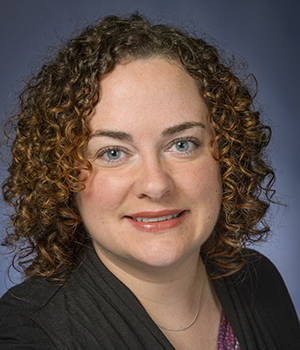 Dr. Kathryn Howell is an Associate Professor in the Department of Psychology at the University of Memphis. She has been awarded a three-year grant from the National Institutes of Health to study resilience in youth exposed to adversity.
Guided by the social-ecological theory of resilience, Dr. Howell and her colleagues in the Department of Psychology (Idia Thurston, James Murphy) and School of Public Health (Hongmei Zhang) are examining the relationship between maternal experiences of adversity and youth resilience in a sample of 300 mother-child dyads from the Memphis community. Using a mixed methods design, their goal is to understand how individual, relational, community, and cultural aspects of resilience are affected by the type and severity of adversities experienced across the family system.
Such knowledge can inform the development of strengths-based interventions that enhance youth functioning and reduce intergenerational adversity.
---
Wesley James, Associate Professor, Department of Sociology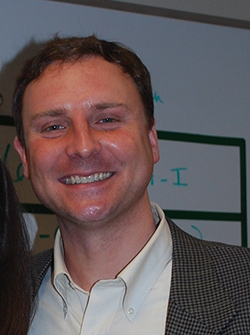 Wesley James currently serves as Associate Professor of Sociology and Director of Graduate Studies. He received his Ph.D. from Mississippi State University in 2009.
Dr. James' primary research interests are medical sociology, demography, and rural health. He is currently PI on a grant evaluating health and education outcomes in the Mississippi Delta. Currently, his research agenda is focused in three areas: (1) U.S. mortality disparities across time and place, (2) social determinants of health, mortality, and life expectancy in rural America, and (3) issues related to access to health care in the Mississippi Delta.
Dr. James is an active member of the Southern Demographic Association and Population Association of America. He has been recognized with excellence in teaching as the 2013 recipient of the W. Russell Smith Award, the highest teaching honor in the College of Arts and Sciences at The University of Memphis. His research has been recognized by the Population Association of America, as it sponsored Dr. James to speak at a Congressional Briefing on Capitol Hill about health in rural America. Dr. James has been published in American Journal of Public Health, Social Science and Medicine Population Health, Demographic Research, Population Research and Policy Review, Journal of Rural Health, International Journal of Environmental Research and Public Health, Sociological Spectrum, Journal of Maps, and others.
---
Nicholas W. Simon, Assistant Professor, Department of Psychology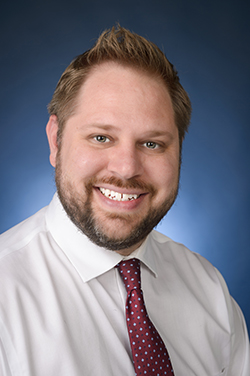 Persistent reward-seeking despite high risk of punishment is a hallmark of many psychiatric disorders. Understanding the mechanisms underlying these motivational factors is critical for the development of precise treatments for optimizing pathological decision-making, as wells as detection of functional biomarkers that predict vulnerability to mental disorders.
Dr. Simon, an Assistant Professor of Psychology, was awarded a Young Investigator Grant from the Brain and Behavior Research Foundation to study the role of dopamine circuitry in regulating responses to rewards and punishment during decision-making.
He has also received awards from the National Institute of Drug Abuse throughout his career to study the relationship between decision-making and substance abuse. He has published highly cited work in multiple prestigious neuroscience journals, including The Journal of Neuroscience, Biological Psychiatry, and Neuropsychopharmacology. Dr Simon is widely recognized for his expertise in the integration of intricate behavioral assessments with cutting edge electrophysiology.
---
Thomas Watson, Assistant Professor, Department of Computer Science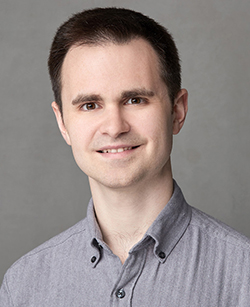 Thomas Watson is an Assistant Professor of Computer Science. He received an NSF CRII grant to support his research on computational complexity, in which the aim is to prove theorems that explain the fundamental limitations of computation under resource constraints. The most classic computational resources are running time and memory space, but two other resources, namely the amount of communication between different parties and the number of queries to the input, have become increasingly important with the trends toward cloud computing and big data.
Dr. Watson's recent research has uncovered deep connections between communication complexity and query complexity, and has applied these connections to resolve several fundamental and long-standing open problems in other areas of theoretical computer science. This project helps to identify the boundary between what can and cannot be solved by efficient computational processes.