William Hill Professor in Biology
Dr. Duane McKenna
Department of Biological Sciences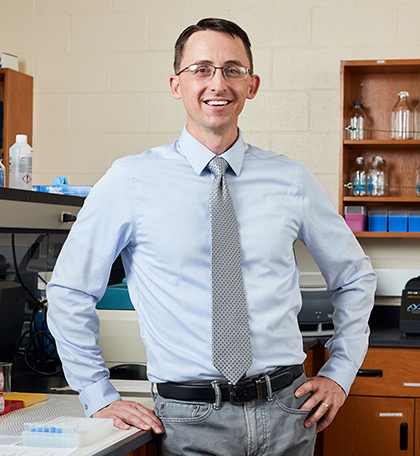 Dr. McKenna came to the University of Memphis Department of Biological Sciences in early 2010. He has a PhD in Organismal and Evolutionary Biology from Harvard University, a MS in Entomology from the University of Illinois (Urbana-Champaign), and a BS in Biology and Chemistry from Western Michigan University. He teaches BIOL 4100/6100 Evolution, BIOL4900/6900 Entomology, and BIOL4092/6092 Biodiversity. His research interests include the phylogeny and evolution of insects, the genomic basis of plant-feeding in beetles, and interactions between beetles and plants on ecological and evolutionary time scales. Related interests include the evolution of insect genomes and geographic patterns of insect diversity and endemism. He is involved in studies of insect biodiversity worldwide, with a particular focus on tropical forests. In recognition of the worsening global biodiversity crisis, many of his research projects have conservation biological goals and implications.
Research in the McKenna lab involves a dynamic group of undergraduates, graduate students, postdocs, visiting scientists, volunteers, and a large number of collaborators worldwide. Dr. McKenna leads the 1,000 Weevils Phylogeny and Evolution Project (1K Weevils) and is a core collaborator on several major international projects, including the 1,000 Insect Transcriptome Evolution Project and the Insect 5,000 Genomes Project. He collaborates extensively with scientists at the US Department of Agriculture (USDA) on issues relating to economically-important insects and currently has active research funding from the US National Science Foundation and the USDA.
He is a faculty member in the University of Memphis Department of Biological Sciences and a faculty Associate of the University of Memphis Program in Bioinformatics, Feinstone Center for Genomic Research, Ecological Research Center, Center for Research and Innovation in STEM Teaching and Learning, and Computational Research on Materials Institute. Additionally, he is a Research Associate of the Harvard University Department of Organismic and Evolutionary Biology. He serves on the editorial board of two scientific journals. He has been extensively involved in developing and implementing education opportunities for elementary, middle, and high school students, and the general public in the subject areas of insects and biodiversity, including local programs with Shelby County Schools, Meeman-Shelby Forest State Park, the Memphis Botanic Garden, the Pink Palace Museum, and other organizations.