The University of Memphis Model of Engagement
Engaged Scholarship is built upon reciprocal relationships between universities and communities. It requires that educators and students venture beyond the halls of academia to connect with residents and community stakeholders, all of whom play an equally integral role in the Engaged Scholarship process.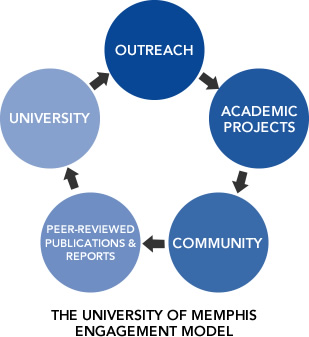 At the University of Memphis, Engaged Scholarship:
Involves academic projects that engage faculty members and students in a collaborative and sustained manner with community groups.
Connects university outreach endeavors with community organizational goals.
Furthers reciprocal relationships between the university and the community.
Entails shared authority in the research process from design to implementation.
Results in excellence through such products as peer-reviewed publications, peer-reviewed collaborative reports, documentation of impact, and external funding.

Select the option below that would be the best example of an Engaged Scholarship activity.
Working on a group project with other students
Collaborating with someone from the community on a research project
Inviting your parents to campus for a visit
Yes! Working with community stakeholders to design and implement a research project would be an example of an Engaged Scholar activity.
Not quite. Although that might be a worthwhile activity, it wouldn't necessarily be an example of an Engaged Scholarship activity because you may not be interacting and engaging with members of the community.