THE BELHAVEN REPUBLIC A DELTA BLUES, 1793-1795
January 20 – March 3, 2017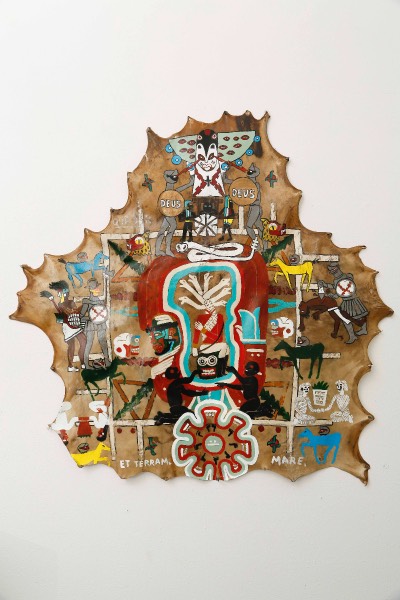 Featuring new work by the Los Angeles-based artist Umar Rashid (Frohawk Two Feathers) (b. 1976, Chicago), the exhibition advances Rashid's ongoing colonial history of the Frenglish Empire (1658-1880)—a fictionalized empire of his creation merging France and England. This chapter of Frenglish history, detailing the events leading to the attempted siege of Memphis, is the first to directly address chattel slavery within the empire and in the interior of North America. Influenced by the geography and cultures of the Mississippi Delta, the exhibition marks Rashid's first time exhibiting in the American South.
The exhibition is a visual manifestation of Rashid's colonial narrative, one that adroitly weaves fact and fiction, historical past and contemporary present. His portraits, drawings, flags, maps, battle scenes, and other artifacts continue the long history of Frengland—an ongoing project Rashid began in 2006. His empire has developed a complex, global history, much like the trajectory of actual colonial enterprises. Similarly, his work references a panoply of cultures that collapse geography and time. Stylistically, Rashid alludes to Egyptian art and architecture, Native American hide paintings and ledger art, Persian miniature painting, and illustrated Spanish colonial manuscripts to name but a few.
Rashid's compelling cast of characters are diverse and often of mixed race and ethnicity. His world is not guided by simplistic dichotomies of white and black, master and slave, captor and captive, but challenges viewers to consider the range of humanity involved in a global empire. Thus, his people of color are just as likely to be heroes as villains, revealing the duplicity and complicity of these individuals but also acknowledging their agency as historical actors.
Download the full narrative text of Rashid's The Belhaven Republic (A Delta Blues), 1793-1795 here.