Shemeka Hamlin-Palmer, PhD, MPH
Clinical Assistant Professor
Office Hours
By appointment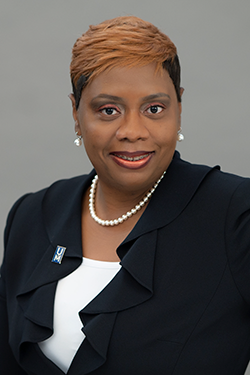 About Shemeka Hamlin-Palmer
Dr. Shemeka Hamlin-Palmer's professional development has been grounded in theories and methods found in the field of social and behavioral science. In addition to teaching, she has dedicated over 15 years to working, partnering and collaborating with CBOs, health care organizations and other academic institutions to reduce the impact of health disparities, including HIV/AIDS, substance abuse, mental health, cardiovascular disease, obesity and cancer in minority populations throughout the United States.
Throughout her professional matriculation, she held various positions such as clinical quality assurance director, health and wellness center manager, project coordinator, research scientist, student researcher and graduate research assistant which assisted with her growth in addressing health disparities among high risk minority populations.
Dr. Hamlin-Palmer has received rigorous training from the Substance Abuse and Mental Health Services Administration, the Center for Disease Control and Prevention and the Mississippi State Department of Health.
Education
Post Baccalaureate Certification Program, Health Informatics Management and Systems (HIM) - Tougaloo College -2013
PhD Clinical Health Sciences - University of Mississippi Medical Center - 2013
MPH Health Education, Promotion and Behavioral Change - Jackson State University - 2004
BS Healthcare Administration - Jackson State University - 2002