Welcome from the Dean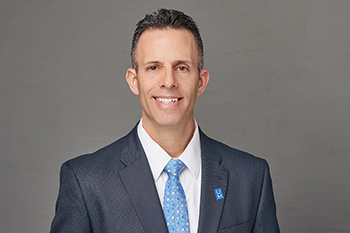 Welcome to the College of Health Sciences! We currently employ well over 50 full-time faculty and staff, while servicing over 1800 declared majors.
We've recently added new programs in Nutrition Science and Medical Assisting, and online programs in Exercise Nutrition and Healthcare Leadership. We also just launched our Sport Coaching concentration and a minor in Nutrition, Health and Wellness.
The Tennessee Higher Education Commission recently approved two new doctoral programs in the College of Health Sciences. Our PhD in Applied Physiology and Neuromechanics includes two concentrations — Applied Biomechanics and Applied Physiology & Nutrition. We are developing a Doctorate in Physical Therapy to be offered at UofM Lambuth, date to be announced. These are the first doctoral programs for the College of Health Sciences and will provide an excellent opportunity for students to be trained as future clinicians and scientists.
Finally, we have developed a partnership with Methodist Le Bonheur Healthcare for our new Surgical Technology continuing education program.
In addition to our academic expansion, our research program has also grown significantly. We've hired several excellent scientists and have expanded our labs, which are now extremely well-equipped. We have developed a strong research focus in health science-specific inquiry, at both the cellular and applied levels. Our personnel are leaders in their respective disciplines, publishing their research findings in top-tier peer-reviewed journals, and receiving national and international recognition for their work.
We constantly seek to improve the service that we provide to students and I welcome all feedback to assist us in this goal. If I can personally be of service to you, please feel free to contact me directly.
We thank you for your continued support.
Sincerely,
Richard J. Bloomer, PhD
Dean, College of Health Sciences
rbloomer@memphis.edu
901.678.4316
See Dr. Bloomer's Curriculum Vitae (CV) for his education, experience, publications, honors/awards and more.