What Louis Stokes means to us.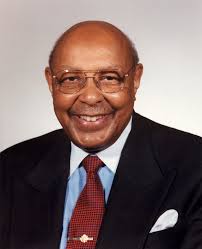 "I'm going to keep on denouncing the inequities of this system, but I'm going to work within it. To go outside the system would be to deny myself—to deny my own existence. I've beaten the system. I've proved it can be done—so have a lot of others."

- Louis Stokes
It is so fitting for former U.S. Representative Louis Stokes to have such an important national program named for him. He spent his entire career fighting for civil rights, equality and social and economic justice as a civil rights lawyer and 30 years in the United States Congress. Born (1925) and educated in Cleveland, Ohio, Mr. Stokes spent three years in the U. S. Army (1943-46). Following his military service Stoke attended Western Reserve University (1946-48), and later earned his Doctor of Laws Degree from Cleveland Marshal Law School in 1953.
As a practicing lawyer, he participated in several U.S. Supreme Court cases, including the landmark "stop and frisk" case Terry v. Ohio. His unforgettable arguments in this precedent–setting case defined the legality of police search and seizure procedures.
Mr. Stokes was elected to the United States Congress in 1968 and became the first African American member of Congress from the State of Ohio. He served fifteen consecutive terms in the U.S. House of Representative, ranking 11th overall in House seniority serving 30 years in office (1998).
During his tenure in Congress, Rep. Stokes served on a number of key house committees including:
House Appropriations Committee
House Select Committee on Assassinations
Ethics Committee
House Intelligence Committee Appropriations Subcommittee on Veterans Affairs
HUD and Independent Agencies
In addition to these positions, Rep. Stokes served as:
Dean of the Ohio Congressional Delegation,
Founding member of the Congressional Black Caucus
House Select Committee to Investigate Covert Arms Transactions with Iran
Pepper Commission on Comprehensive Health Care
Congressional Black Caucus Health Braintrust
Since his retirement he has continued to serve the community as:
Partner at Squire, Sanders, and Dempsey L.L. P., a global law firm
Distinguished Visiting professor at the Mandel School of Applied Social Sciences, Case Western Reserve University
Vice chairman of the PEW Environmental Health Commission at the Johns Hopkins School of Public Health
Chairman of the Advisory Committee on Minority Health
Mr. Stokes lives in Silver Springs, MD, with his wife of more than 50 years, Jeanette Jay. They have four children, and seven grandchildren.
Awards and Honors
Buildings Named for:

Louis Stokes Cleveland Department of Veterans Affairs Medical Center
Louis Stokes Annex of the Cleveland Public Library
Louis Stokes Health Sciences Center at Case Western Reserve University
Louis Stokes Museum
Louis Stokes Science Library, Howard University
Several National institutions, including Howard University in Washington, D.C., and the National Institutes of Health, have recognized Mr. Stokes by naming certain buildings in honor

Scholarships and Programs:

Louis Stokes Health Scholars Program (Congressional Black Caucus Foundation, Inc.)
The Louis Stokes Alliances for Minority Participation (LSAMP) Program (est. 1991) by the National Science Foundation (NSF)

Recipient of 26 honorary doctorate degrees from colleges and universities
Congressional Distinguished Service Award (2003)
Karamu House Hall of Fame (2007)
Sources